Stalwart of the Montesa trials team Rob Edwards got his break with a semi-official AJS. John Moffat has an hour with the modest Tees-sider.
If you enjoy reading this, you might also like An Hour with the Banks or Moto Memories, in Issue 68. If you'd like to read more news, reviews and features, why don't you subscribe to Classic Dirt Bike magazine with one of our latest deals?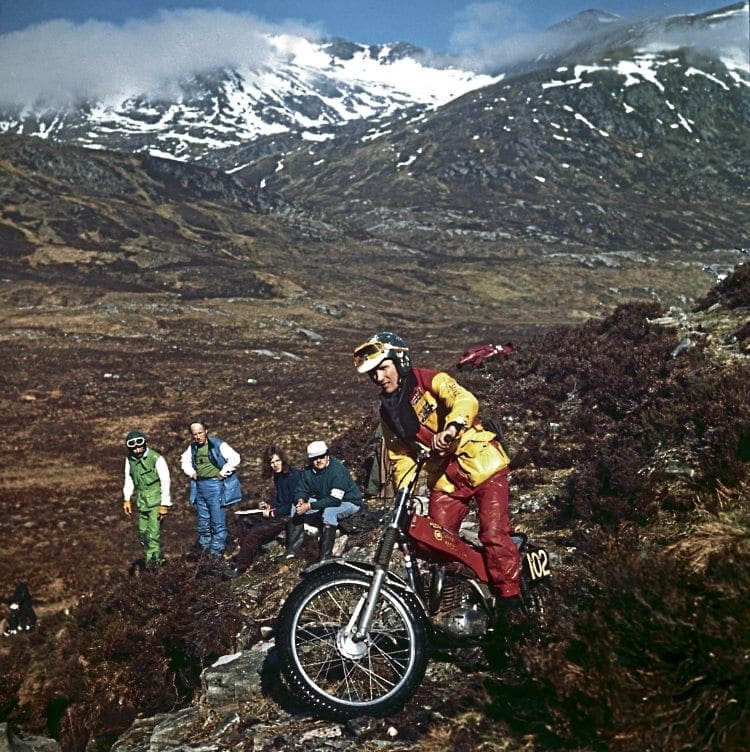 On a slightly misty morning, I venture into the spacious marquee erected by the Richmond Motor Club for the centenary Scott Trial.
Upon entering I spot a couple walking towards me, about to take their leave, having studied the plethora of old Scott photographs and memorabilia on display.
The man was instantly recognisable as Rob Edwards, the top-flight trials rider and brand ambassador for Montesa Motorcycles, a marque that he will be forever associated with.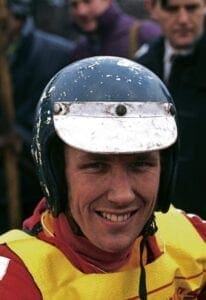 Before I get a chance to speak, Rob says: "What's happened with Trials Guru, there have been no new items posted since May?"
It turns out the former Thornaby-on-Tees fitter and turner is an avid follower of my sporting website and he is correct, I had been busy and omitted to add new material for a few months.
Rob introduces me to his wife of 17 years, Bev, and we all take a seat for a cup of tea and a chat.
With the wide smile that immediately reminds you of why he was such a popular rider with trials fans, Rob answers my first short and direct question: "You want to know why I disappeared from the trials scene?
"Well that would take more than an hour to explain fully as it wasn't what people believed or what was reported in the trials press at the time.
I" had contracted what is known as Churg-Strauss Syndrome which, in short, is an auto-immune condition that causes inflammation of blood vessels and quite honestly it's not a good thing to have.
"It was commonly thought I had picked up a bug or parasite on my South American tours for Montesa in the 1970s. But I'm still here and that is the main thing. I owe a lot to Bev, who has not only learned all about trials, but how to call 999 without panicking over the years. I owe her a lot."
Rob left school and secured an apprenticeship at Head Wrightson, a major employer on Teesside, a large heavy industrial firm based at Thornaby.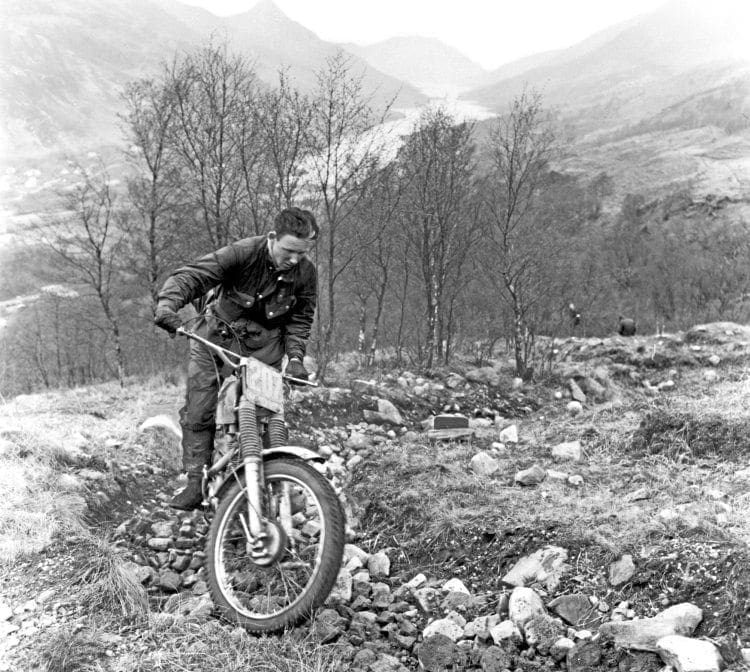 It specialised in the manufacture of large industrial products made of cast or wrought iron, which were used for boilers, railway chairs, naval ships, and many bridges across the world.
Rob: "I really wanted to ride motorcycle trials and my job at Head Wrighton's just got in the way of what I really wanted to do with my life. One day my manager, Jack Welham said to me, in earshot of a number of my workmates, Robbie, you have got to make up your mind, do you want to be a fitter or a motorbike rider?
"As he turned and began to walk away with a smug smile on his face, I shouted back at him – 'I have made up my mind Jack, I'm going to be a motorbike rider' – and that was that. From that day onwards I never looked back really."
I ask Rob how he became interested in the sport: "My Dad, Bob Edwards, was not a competitor but he was heavily involved as an organiser and was a keen observer at local events. He was responsible for me becoming so interested in trials at an early age.
"Tony Clarke, a local Thornaby lad, would get to where we were observing and say, come on Rob I've had enough for today, he would hand me his 250 BSA and there was no stopping me. I would be 14 years old at the time. Tony would say, don't forget, I've to ride home and the bike has no lights."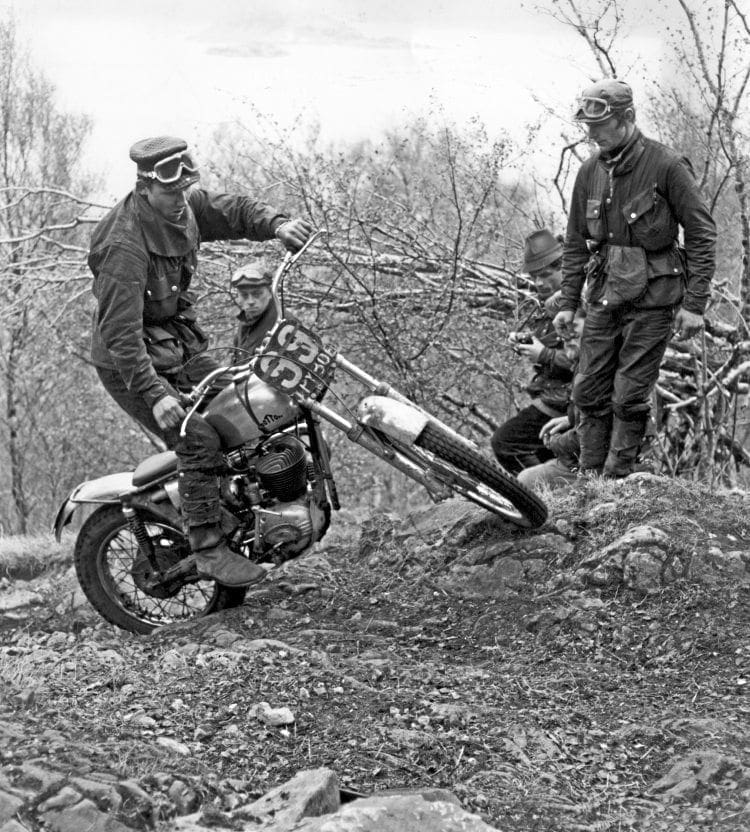 Were there any riders that you were inspired by in trials when you started? Rob answers without hesitation: "It was Gordon Blakeway – I admired, respected and looked up to him, using a modern term, Gordon would have been labelled as my mentor."
You will always be associated with the name Montesa, but you rode for other factories? Rob: "Yes I did, it all started with AJS with a semi-factory ride using my own bike, which I had bought from Comerfords in 1964 and modified it to works specification for the 1965 Scottish when I replaced Mick Andrews in the official team.
"My name was put forward to AJS by Gordon Blakeway and Gordon McLaughlan. I rode my AJS in two Scottish Six Days and many national events, but my first SSDT was in 1963 on a Cotton with support from Doug Marshall Motorcycles of Marske-by-the-Sea. I failed to finish that year due to missing two sections at Ben Nevis, which was a bitter disappointment.
"Things moved on, I rode a private Bultaco in 1966 and then I rode for Cotton, first on the Villiers powered models in 1967-68 then the 170cc Minarelli, which became the Cavalier production model. I had a special heavy flywheel weight, using a brass band riveted to improve the bottom end power. I won the 200cc cup at the SSDT, but didn't receive any thanks for the achievement.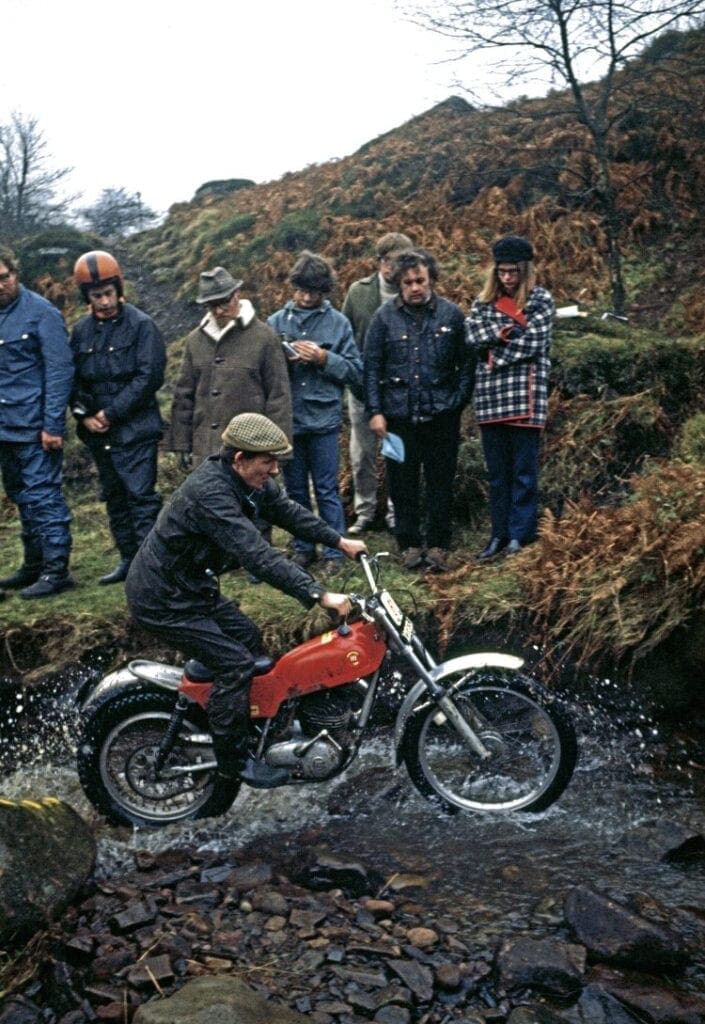 "I travelled a lot with farmer Brian Hutchinson at that time and we had a lot of fun. Those were the days of the Austin A55 and Mini pick-ups."
What was it like being contracted to Cottons? Rob: "After winning the Alan Jefferies Trial, I decided to treat the Minarelli to a set of piston rings. I rang the factory up and in due course they posted a set of rings to me.
"Unfortunately, I broke one when fitting them, I rang Cottons for another set. Two weeks later they still hadn't arrived. When I phoned them, the top man answered the phone.
"He said that he wasn't going to send me any more rings until I explained exactly what I had done with the others. It was then I decided it was time to move on. When Pat Onions was in charge of the competition shop there was never a problem."
Things began to go downhill when the management structure changed and Rob knew he had to move on.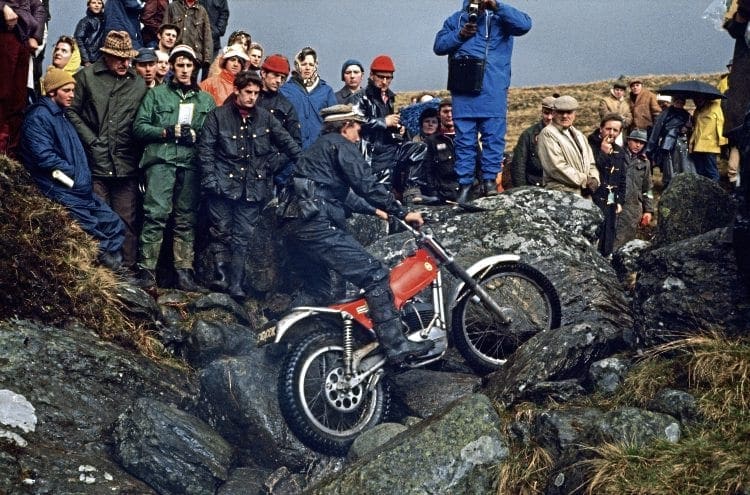 His first port of call was Comerfords as it were heavily into supporting riders, but he eventually signed for Montesa through John Brise, who was the UK importer at the time and became part of the UK Montesa team with Don Smith, Lawrence Telling and Gordon Farley.
Edwards joined Montesa for the 1970 season in a period that would see the main Spanish manufacturers dominate the trials scene and produce more trials motorcycles than before and perhaps since.
Rob is a man who likes to talk about other riders he knows in the sport, but I wanted him to talk about his life as a professional rider and his achievements. He is a modest individual who appears to be happiest talking about his comrades and many friends made over the years.
What was the best Montesa you ever had from the factory, or a memorable one? Rob: "When I joined Montesa there was only one model available, the Cota 247.
"This bike, compared with some of the bikes I had ridden, was incredible, plus the fact that I was now a member of the Montesa camp, which gave me a massive psychological boost.
"During a practice session close to the Barcelona factory with Pedro Pi, I tested his Montesa and for some unknown reason it was just a tiny bit better. Pedro insisted that it was a standard bike, however I finally persuaded him to box it up and send it to England for me. I had some really good rides on it and I still have this bike, which was then UK registered as LDC299L.
"My love for this particular bike lasted until Malcolm Rathmell turned up for one of our many practice sessions on the new 348 prototype, which eventually led to the production Malcolm Rathmell Replica in 1976.
"One section we had consisted of several tight turns up a steep bank. I was really struggling on my 247, whereas Malc could just float up it and to add insult to injury, the part where I had real problems, he could take one hand off his handlebars and wave to me.
"Eventually, I conceded and got aboard the 348. After three cleans I had to admit that the Cota 348 was considerably better than my Cota 247."
Rob added: "The Cota 348 Montesa was as close as it gets to being rideable straight out of the box. Malc and I have always differed on footrest height. Our riding styles were very similar; in so much as we were both at our happiest using bottom gear in sections.
"However, we were poles apart when it came to footrest height. I dropped the rests by 18mm and for me it transformed the bike."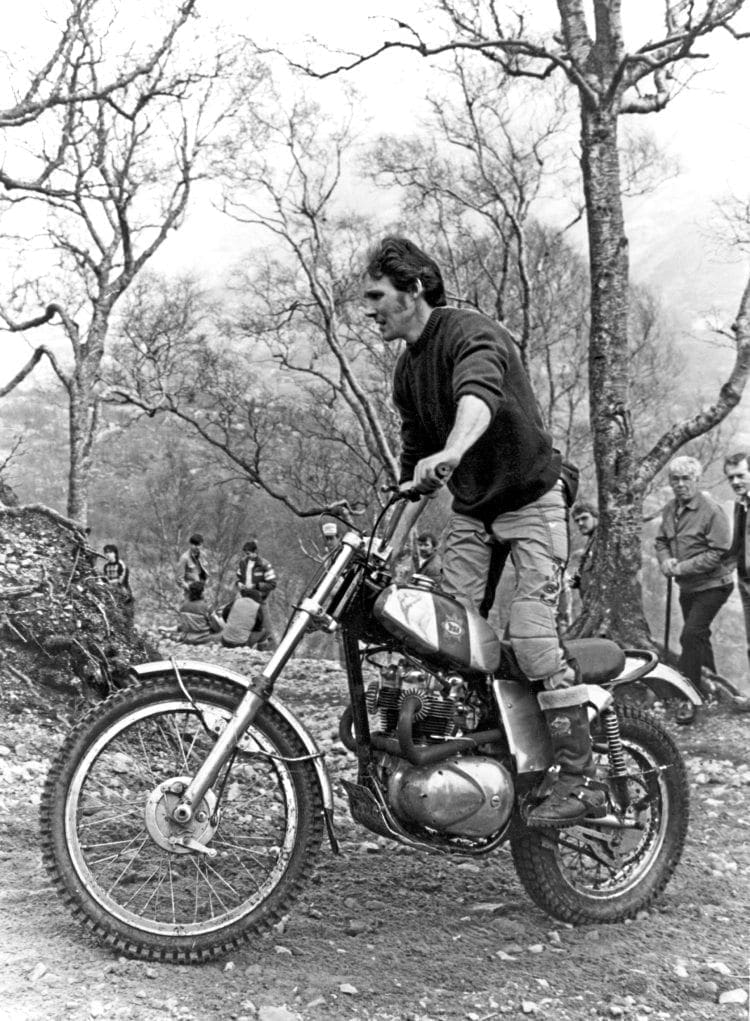 What was your relationship with the Montesa factory people like? Rob: "I remember receiving a phone call from Alberto Mallofre in 1970.
He explained that I had to go to Barcelona and take my bike with me. As soon as we arrived we were off to the practice area, which was rather similar to Scottish sections. It was then that Pedro Pi let me know his secret.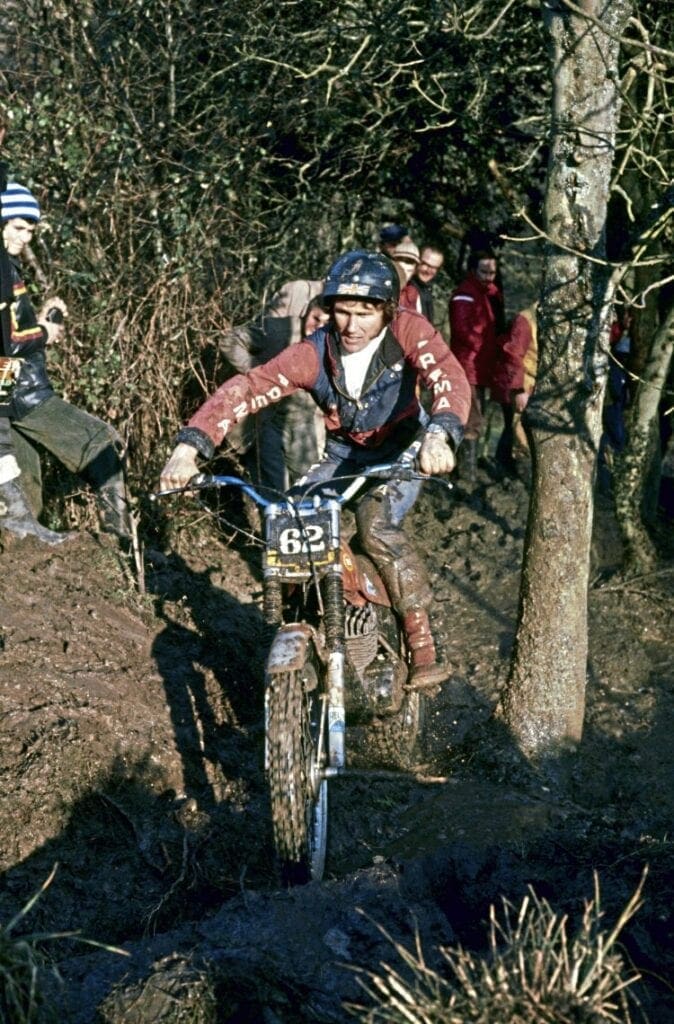 He had built a Montesa especially for me that he was sure would be just right for me to win the Scottish on. Try as I might it just didn't feel right and Scotland is no place to learn to ride a new machine. Many of the sections are like riding on ball bearings and if you are not happy, six days is a long time.
"I decided to go for my existing Cota 247. Had I not drowned the bike on Blackwater Moor resulting in losing 11 marks on time I would have won it."
This comment reminds Rob of another good friend from the sport. Rob: "My great friend Martin Lampkin. He would say to somebody who was moaning about missing out on an award or a win – 'Yes and if my aunty had balls she would be my uncle' – end of conversation!"
What was your finest hour? After some thought, Rob replies: "It's probably the Scott Trial win in 1974, but there were many great moments. When I think back to the old days, quite often there were four of us squeezed into a transit van, we talked non-stop.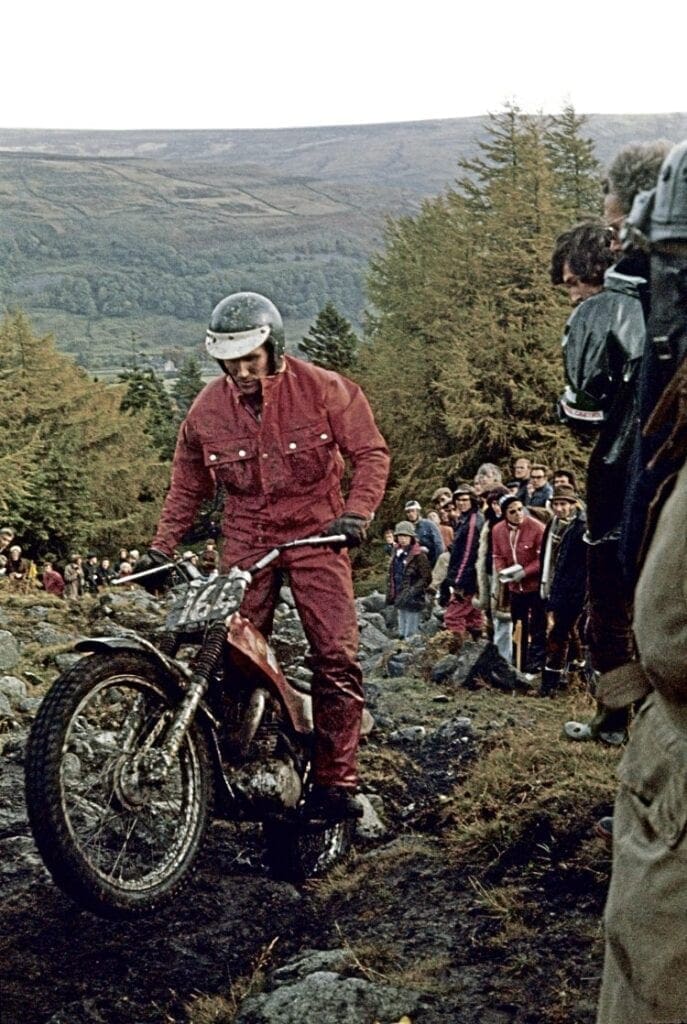 "Dave Thorpe has a fantastic sense of humour, his tales usually started with 'Hey up, ast tell thee what' and off he would go again with another hilarious tale. More often than not if the conversation turned to trials, as it often did, there was a good chance it would be about the Scott or the Scottish. Both these events would keep us talking for hundreds of miles.
"We all looked forward to both of these great events because if things went wrong it would be 12 months before you could have another crack at it. Laid back on the grass with your pals at the finish of the Scott knowing that you are in with a chance of winning is just incredible."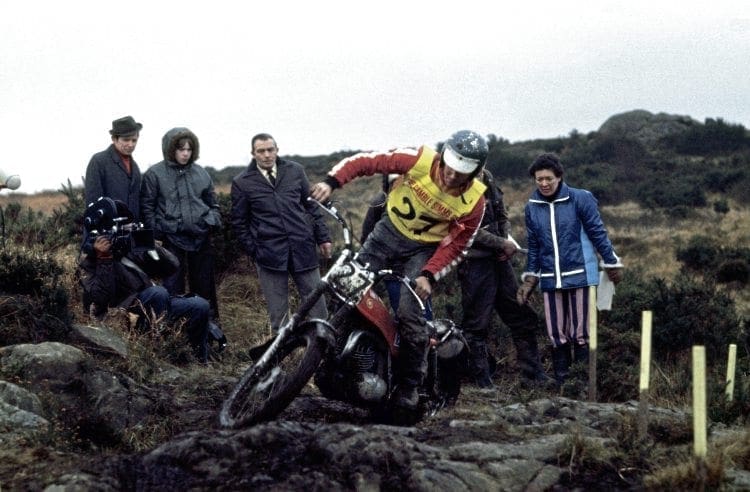 Our cups are now empty, the time has come to venture out to watch the action and see who comes up the finish field first, but we have shared an hour of what trials enthusiasts do – talk trials.
I ask Rob if there was anything he would add. He smiles and replies simply: "Thanks to everybody for making my trials career so very special". 
Words: Rob Edwards and John Moffat
Pics: Nick Nicholls Collection at Mortons Archive
Read more News and Features online at www.classicdirtbike.com and in the Summer 2020 issue of Classic Dirt Bike – on sale May 21, 2020!
---
Advert

Enjoy more Classic Dirt Bike reading in the quarterly magazine. Click here to subscribe.
---