The Banks family of Bury St Edmunds has a special place in motocross history, with no fewer than three generations all becoming British champions.
If you enjoy reading this, you might also like An Hour with Rob Edwards or Moto Memories, in Issue 68. If you'd like to read more news, reviews and features, why don't you subscribe to Classic Dirt Bike magazine with one of our latest deals?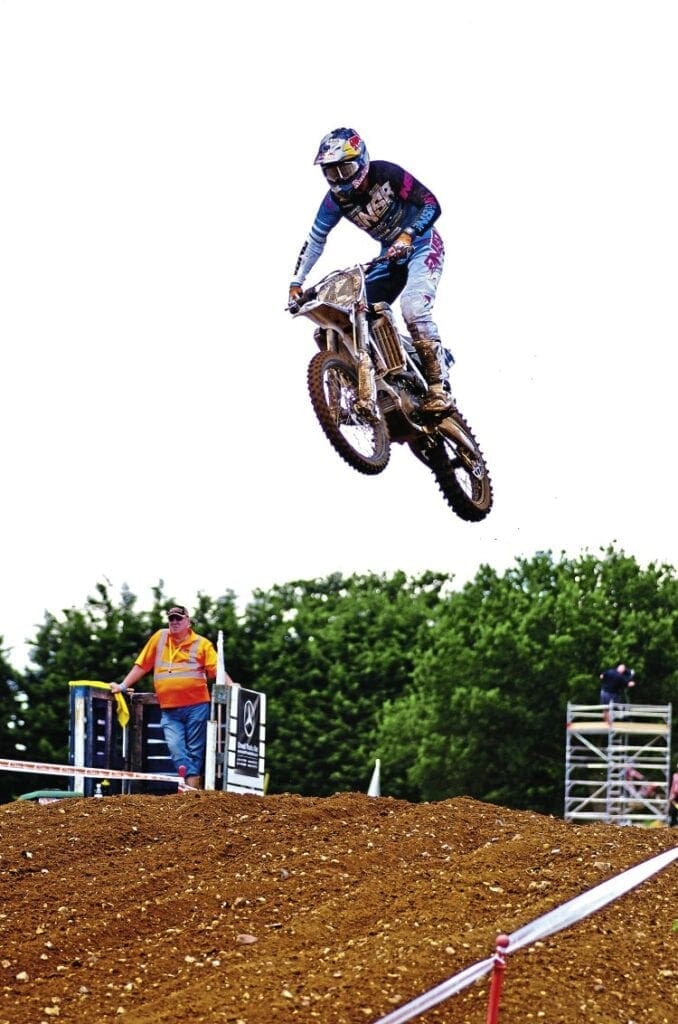 Every dynasty needs a founder, and for the Banks it was John who started the ball rolling, winning four 500cc titles between 1968 and 1973.
With a decade's break it then fell to his son Mark to put more silverware in the Banks' vault – as in 1988 he became 125cc champion – while grandson Elliott Banks Browne then took his place on the roster of success in 2012 when he won the MX2 (250cc) British championship… going on to defend his title the following year.
So it was always going to be an enjoyable trip when I paid a visit to the John Banks Group motor franchise showroom in Bury St Edmunds to talk motocross with all three.
John was born into an affluent family, his father running a successful building business, and as a boy he was fascinated with the exploits of Dave Bickers in the European championship.
His first bike, a Greeves trials bike, was bought from the 1960-61 European champion and John showed great promise.
He wanted to go racing like his idol and his first real step to success was aided by his lifelong friend, Doug Theobald. Doug was a factory trials rider for Dot and suggested to owner Burnard Scott Wade that his pal might make a good motocross rider.
Swiss opportunity
A factory 250 Dot was put at John's disposal and as a 17-year-old he had a fair measure of success. He was given another leg up the ladder in 1963, when Alan Clough left Dot for Greeves and John, along with teammate John Griffiths, got to race selected GPs, taking his first podium finish with third place at the Swiss round just a few days after turning 19.
Such potential didn't go unnoticed and in 1964 Brian Martin, competition manager at BSA, offered John a ride. This was a huge deal for an up-and-coming rider, though it took John time to really establish himself at the Small Heath company's team.
His break came in late 1967, when after contesting a few of the world championship rounds and getting third at the Luxembourg GP, he took the 1967-68 BBC Grandstand winter series; his first major trophy.
This seemed to galvanise John and his 1968 season was an unmitigated success.
He took the British championship with a double-win at the Farleigh Castle Maybug Scramble and victories at Wakes Colne and the final round at Builth Wells, while a sensational run in the second half of the season, which included GP wins in France and Holland, saw him lose out to world champion East Germany's Paul Friedrichs by just a single point.
In 1969, with his confidence sky high, he steam-rollered the British championship, winning nine of the 10 races, but he was not as fortunate in the GPs.
For the second season running, despite adding GP wins in Czechoslovakia and Russia, he was runner-up, on this occasion edged out by Swede Bengt Aberg as the BSA was found wanting in the run-in to the title.
John seemed destined to dominate the British championship and to add a world title, but a knee injury picked up in the opening round of the 1970 series at Elsworth, and which he aggravated at the Swiss GP, left him requiring surgery and a long spell of convalescence.
He bounced back in 1971, with a heroic ride at the opening round at Hawkstone Park.
Having won the first race from Bryan Wade (Husqvarna), his BSA came to an abrupt stop in the second leg within sight of the finish line. John pushed over the line to claim third before collapsing, but he left the famous Shropshire circuit a happy man with the title lead in his pocket.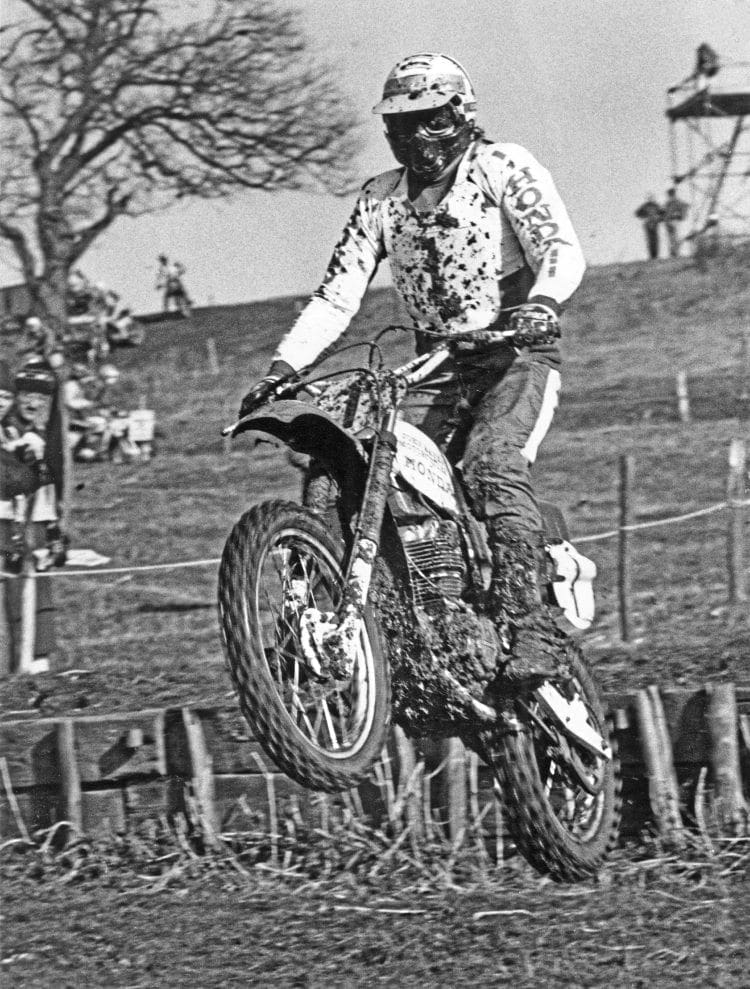 Despite losing his BSA factory ride mid-season when the competition department closed, John clinched the title at the fourth round at Cuerden Park in August, aboard Arne Kring's GP Husqvarna, lent to him by competition manager Bror Jauren.
Following a largely disappointing season racing CZs in 1972, John was to experience one last roll of the dice in the British championship in 1973 aboard a 500cc Cheney BSA.
By all accounts Cheney was never an easy man to deal with and John found it a frustrating year. "Eric was always trying new things and the bike was never the same from one week to the next," he says.
"The footrests would be in a different position or he'd change the handlebars. This made it difficult for me to ride consistently."
Having said that, the bike was good enough to bring John his fourth British championship in six years, with a race win at Hawkstone Park and doubles at Builth Wells and Frome.
That season he also produced his best GP result since his second place to Roger de Coster at Namur in 1969; a magnificent second overall in the inaugural US GP at Carlsbad Raceway in California.
John gunned the Cheney to third place in the opening leg and backed it up with fourth second time out.
John would race until the late 1970s and was one of the few established stars who could live with the new generation of riders, most noticeably Graham Noyce, with whom he had some titanic battles in 1977 aboard his works CCM, and Neil Hudson.
Mark Banks, and his brother Justin, were themselves products of a thriving schoolboy scrambling scene. Mark began racing as a nine-year-old and when he moved into the adult ranks at 16 he, like his father before him, was thrown into the fiery cauldron of the GP circus.
"This was 1984 and no one wanted to ride the 125 world championship, so he (John) said: 'You should do the 125s.' It was a real eye-opener as we didn't really know what to do.
"You had to go out and ride as hard as you could against the clock to qualify. In my first GP in Italy, I did okay, but we were beaten by the likes of Corrado Maddi on a Cagiva, who passed me on one of the hills like I was going backwards!"
Pushing Thorpe
His first season in the adult ranks was a real learning curve, but by 1985, when he contested the 250 GPs, he was challenging the likes of Dave Thorpe and Kurt Nicoll.
Indeed at the British Championship round at Nantwich in 1985, the 17-year-old threw down the gauntlet, pushing Thorpe, the new world champion, hard in the first race and trading places for two-thirds of the second.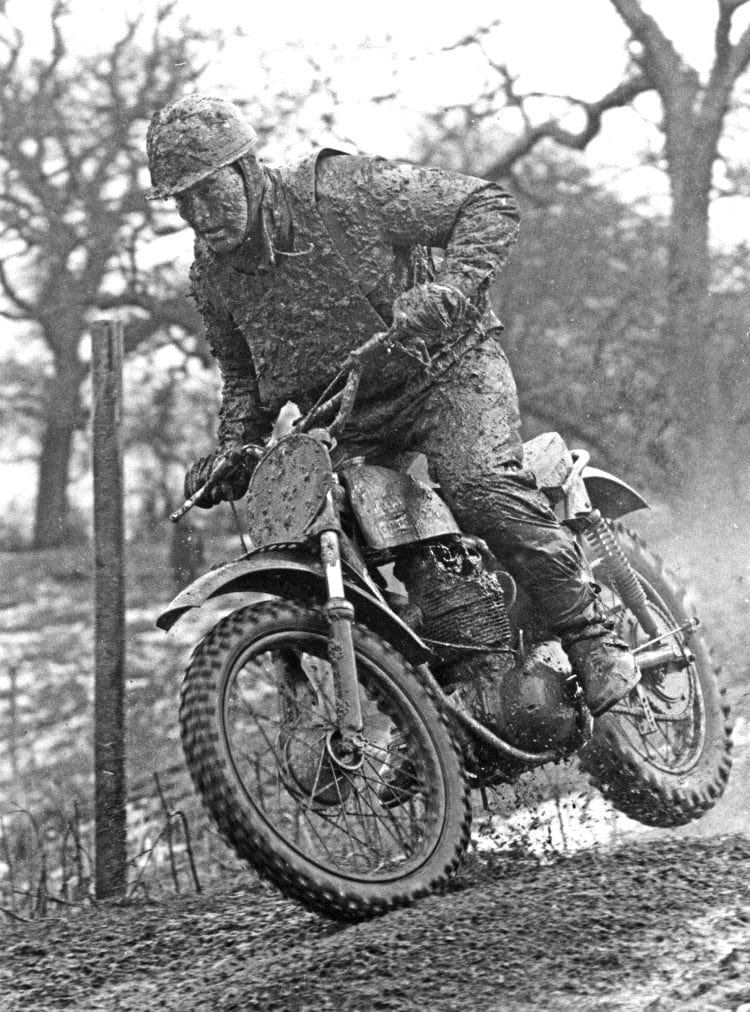 At that point Mark, who was riding with typical aggression, began to look a little ragged and was passed by the more experienced Thorpe, who began to open a gap.
Soon after that Banks seemed to lose his concentration and looped his Honda coming off a big jump. John, watching the racing that day, recalls: "It was a miracle the bike didn't kill somebody.
"It went clear over the fence and ended up outside the track near some spectators. Mark landed really badly and tore knee ligaments." Mark simply adds: "That was a proper accident."
Mark, who has never lacked confidence, believes with the right machinery he could have been a champion as early as 1985. "At the time Thorpey had his full-factory 500 and if I'd been on the same bike I'd have been able to beat him easy, because I could run with him on my 500, which was fast, but it didn't handle like the factory bike. I raced a lot of internationals that year and beat just about everybody, including (Andre) Malherbe."
But he would have to wait until 1988, two decades on from John's first win, before he would become a British champion racing a 125 Honda.
"I won the opening round and led from there. In the last race of the series, when I needed a single point, I remember finishing just behind my brother, Justin, who I think finished second.
"I should also have been 250 British champion that year, but in the last race at Matchams, when I just needed a handful of points to beat Andy Nicholls, a stone went through the clutch casing, I lost all the oil and it seized up."
1988 was his best season and he showed well in the 500cc world championship, with good rides in Italy, Holland and the final round at Ettlebruck, Luxembourg. B
ut the highlight was the Belgian round at Namur, where he finished second in both races and second overall to the great Hakan Carlqvist, who was racing his last GP season.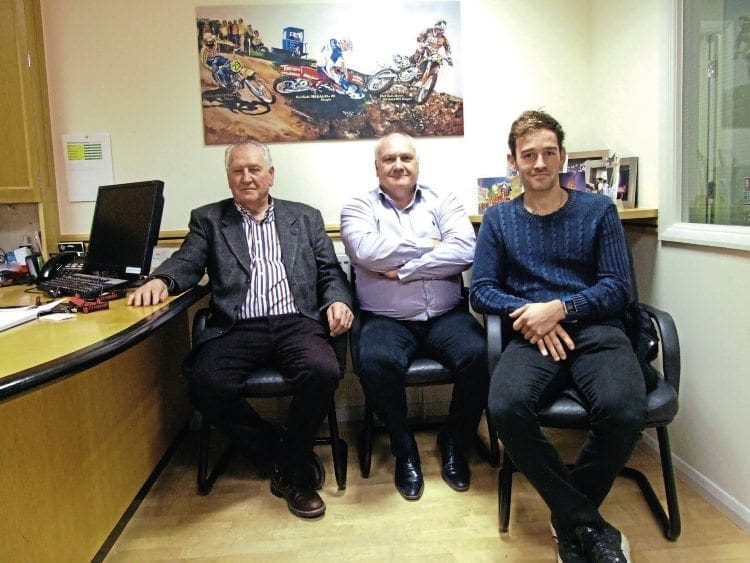 "As I came down through the trees on the last lap of the first moto he was just pulling off again. As I crossed the line I pulled up beside him and said: 'Did you stop for a beer?' and he said: 'Yep'. I loved racing at Namur, it was the only track I went to where I never got tired; you couldn't with all those English spectators cheering you on."
Marred in Geneva
Mark had had a great season, but it was marred by another serious accident at the Geneva Supercross at the season's end.
"We got delayed at customs and arrived late. My mechanic got my bike out the truck literally as I put my gear on. It was snowing outside and freezing cold and I went out and immediately the throttle stuck open over a jump and I had to bail and broke my femur. That was two weeks in hospital in Geneva, six months to get over it and 1989 gone for me."
Mark continued to race through until 1992, coincidentally the year his nephew Elliott was born. Though he bowed out of motocross at the comparatively early age of 25, Mark had already been racing for some 15 seasons.
He also experienced a time when motocross was at its most affluent, with riders being paid "silly money" and some genuinely exotic factory machines gracing the tracks.
"In the day Honda Britain was HRC. When I went down to London there'd be Wayne Gardner, Ron Haslam, Eddie Lejeune, the trials rider, all the motocross stars, it was a time when Honda just wiped everyone out.
"Dad used to import the Mugen kits and Hirotoshi Honda (son of founder Soichiro Honda and head of Mugen) would often come and stay with us." However, by 1992 the bubble had burst, as John Banks can attest. "Mark was still riding well enough, but there was no sponsorship."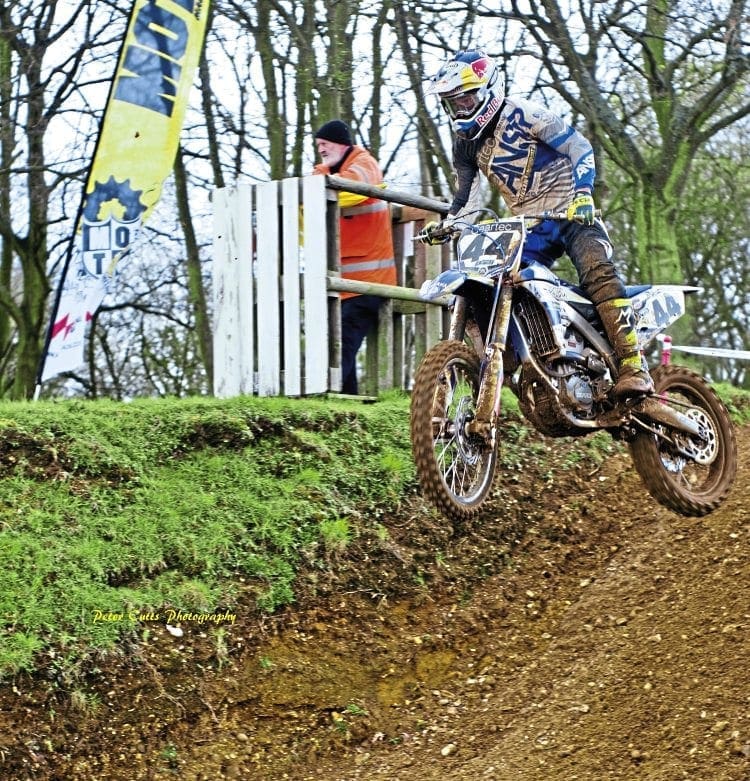 Elliott Banks Browne is the son of Ian Browne, a former rider and leading motocross GP mechanic, and Melanie, John's daughter. As such, he grew up around motorcycles and it was only natural he would go racing.
"I started locally, in Norfolk and Suffolk meetings when I was about six, but we didn't take it too seriously back then. But by 13, I decided I wanted to race and that's when we started to go to the schoolboy meetings. I did okay, but it was only when I got on a 250F Honda, at 15, that I started to win.
"Every meeting I was at I would either crash or win, that was the way I rode in the schoolboys. During that spell Jonathon Wright took me everywhere as my mum was with my sister and the horses, while dad was away doing GPs."
At 15, Elliott, like his uncle, Justin, was a British Schoolboy champion and on the back of this got some rides in the adult ranks, where he soon got the points needed to reach Expert status. Having done that he went straight into the British championships.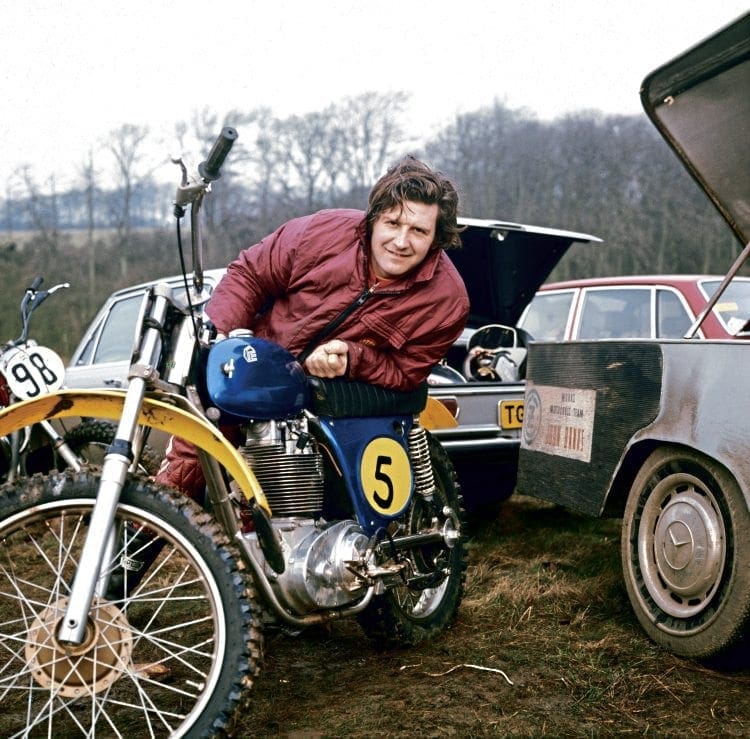 "At the last round that year I finished seventh against top people like Tommy Searle and Tom Church and was the first Honda home. So then we decided I'd have a go at the GPs."
With hindsight, both John and Mark believe that Elliott went to the GPs too soon. John says: "I think we made the mistake because we saw the potential there and put Elliott on the Suzuki Swift team we were running, with his dad as mechanic." Mark adds: "Elliott was going well but not really fast enough for the GPs at that time."
Learning curve
It was a steep learning curve for the laid-back 16-year-old. "When I went to the GPs I thought I could go there and just do what I'd been doing in the schoolboys; ride a bit in the week, throw in some cycling.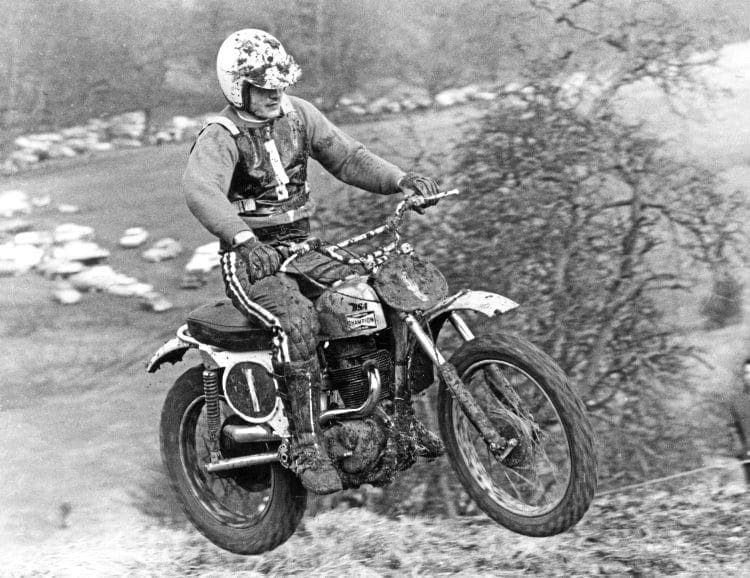 "But there was nothing structured, no fitness programme. It took me a good year to find my way until I teamed up with my trainer, Matt Wilson. Before that I always struggled to qualify and the first year with Matt I qualified for them all, except Valkenswaard, and that really changed my approach to GPs."
A couple of years on the Swift Suzuki Team run by Mark Banks saw Elliott gaining a lot of experience and making solid progress. "The team was as factory as you could get without full factory backing, as we had Suzuki on board. I finished sixth in the British championship and was picking up some points in the GPs."
Following a largely unremarkable season on a Kawasaki, he joined up with Honda again in 2010. "Those years turned things around for me. The first year I finished third in the British championship and second in the MX National and the following year I was second in the British championship and won the Red Bull."
It was 2012 that KTM picked Elliott up when he raced for the HM Plant Team. "I'd actually signed a deal to ride for Honda, but KTM came in the off-season and said they wanted me to ride the GPs.
"I didn't want to break contract with Honda, but here was a chance to ride the GPs. I was leading the opening round of the British championship when the bike broke down, but I knew I had the speed to be competitive and I won the championship at the last round at Little Silver (Devon). The bike was good, but wasn't really competitive in the GPs.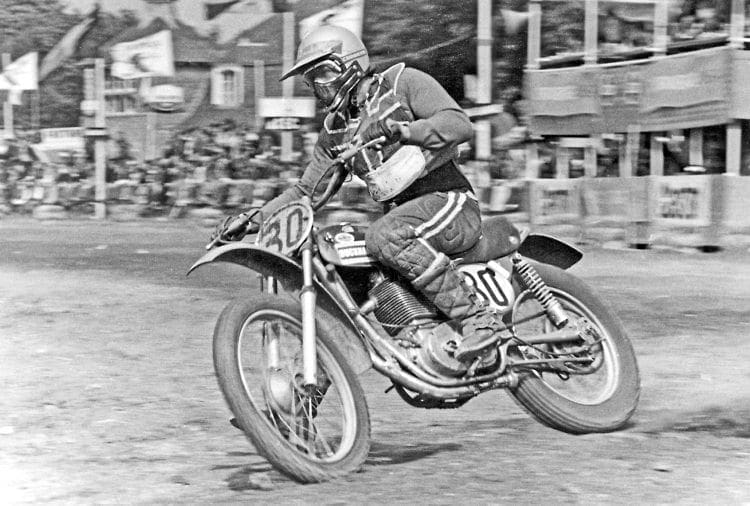 "The following year I retained the British championship. Again I won it at the last round, but I had a 25-point cushion which helped. I was getting better and better in the GPs too and at the last round I was on to finish second in the first race when with five laps to go, the bike just exploded."
The future looked bright for Elliott and in 2014 he stepped up to MX1(500cc) with a ride on Dave Thorpe's Buildbase team.
But he has had a torrid time since, with accidents in three successive seasons sideling him. The first came in 2014 on the Buildbase Honda at the Fatcat MX Nationals meeting, when a collision with a backmarker left him with a broken shoulder which needed the best part of the season to recover from.
In 2015, Elliott linked up with his current sponsor, Paul Mason of Geartec, with a ride on a 450 Suzuki. "At the beginning of 2015 I signed up to do the Arenacross series and was going well until we got to Glasgow, where I was T-boned in a corner and broke my tib and fib."
It was a long road back from a potentially career-ending injury, but he came back fitter and stronger in 2016 with a Geartec Yamaha. However, once again a heavy fall at Wakes Colne in the MX Nationals saw him facing yet another long recuperation.
Great backing
But Elliott has nothing but praise for the support from his sponsor: "Paul is great, he loves motocross and nothing is too much for him. In 2015 he arranged a 500 Honda two-stroke for me to race at the VMXDN at Farleigh Castle, where I won the EVO 500 class. If I could do a race like that every week I'd be up for it.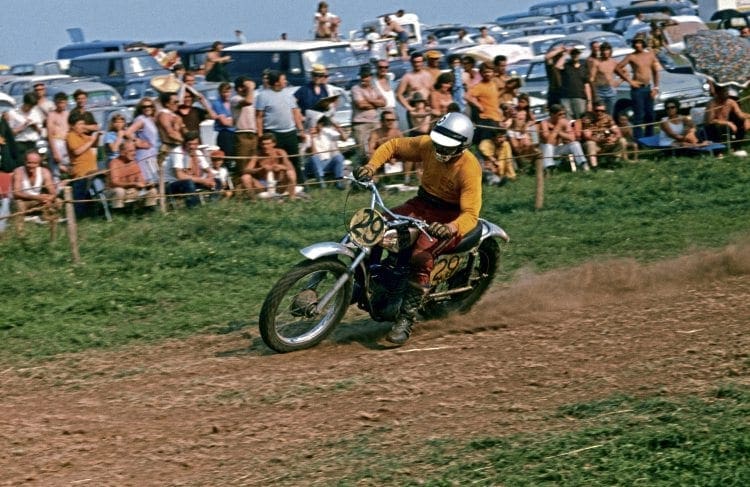 "I'm convinced I was born in the wrong era; I just loved riding it and it suited my style."
Who knows, maybe one day we'll see Elliott on a B50 BSA like his grandfather raced.
Paul Mason has great confidence in Elliott, who for 2017 has a new challenge ahead; he will be the rider-manager of the new Husqvarna Geartec team.
Elliott will be hoping to get through the coming season unscathed and that his team, which includes promising youngsters Luke Norris (22) and Jordan Moxey (20), will make its mark on the domestic and international motocross scene.
"I've always enjoyed helping out with younger riders and I singled out Luke and Jordan as two riders I'd like to work with. It will be a good challenge for me to help these riders reach their goals, by mentoring them and giving pointers on things I've learned.
"It will be Jordan's first year at this level, so if I can help prepare him for the change before we get to the races that would be a big hel. My riding will always come first, but I've got to get the balance right.
"Of course Paul and the whole team take care of most of the things, so we can focus on the riding."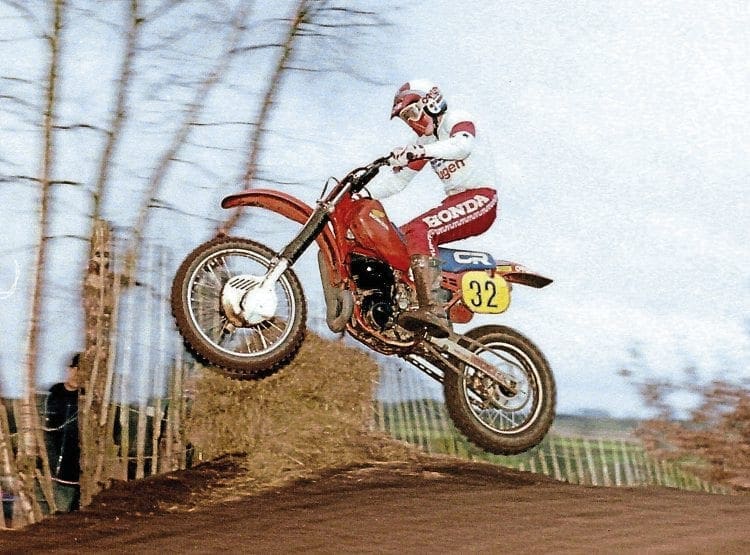 At 26 years old, Elliott is older than Mark was when he quit racing, but if he can stay fit, he still has many good years ahead of him. Who knows, he might even overhaul Grandad's haul of four British championships.
Words: Ian Berry Pics: Ian Berry, Peter Cutts, Graham Milne and Mortons Archive