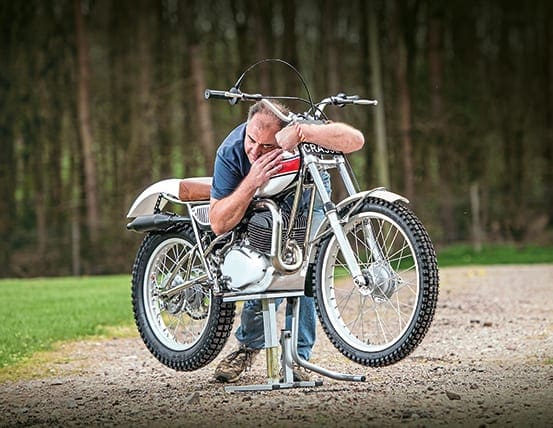 Brace yourselves, as you're about to read an unashamed spot of trumpet-blowing for Classic Dirt Bike… Who are we kidding? It's not just one trumpet parping away, it's a fanfare of brass band proportions.
Yes, the 2019 Hagon sponsored Classic Dirt Bike Show on February 16/17, 2019 will coincide with the 50th edition of Classic Dirt Bike magazine! Ta-da!
For over 12 years we've strived to bring you the best from the Classic Dirt Bike world and witnessed our scene grow exponentially, to encompass not only the traditional classic world of thundering Fifties four-strokes but the newer twinshock and Evo bikes coming under our mantle. How do we do it? Because we're enthusiasts – we love the whole gamut of off-roadness… be it trials, MX or enduro, solo or sidecar, we're there.
As ever at the Telford International Centre – the show's home for many years – there will be three massive halls packed with trade stands, club displays and private entries as enthusiasts put their machines on show.
There will be stage interviews throughout the day, prize presentations from several of the series we feature in the magazine and oh, so much more. Details are still being finalised as we go to press, but we understand both trials legend Dougie Lampkin and MX star John Banks are to be guests at the show in February.
The Lampkin name barely needs any introduction and to give even the briefest overview of Dougie's achievements would take a considerable number of pages; to also do the rest of the family justice would take up a few issues.
As for John Banks, BSA works MXer, former British champion, top GP star, top runner in the Grandstand Television Scrambles series, successful business man… just listen to him on stage…
So, the 2019 Classic Dirt Bike Show, sponsored by Hagon Shocks, is tuning up to be the fanfare which heralds the start of the season and you need to be there.
Advance tickets are available now by calling 01507 529529 or via Classicbikeshows.com.
Read more in the Winter issue (No.49) of CDB – out now!
Enjoy more Classic Dirt Bike reading in the quarterly magazine.
Click here
to subscribe.
Comments
comments