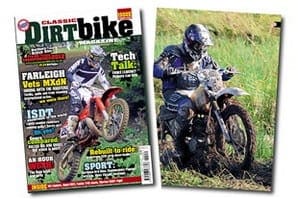 • In balance
The concept of shedding pounds is the focus of the editor this issue. Gasp! Has he gone on a much needed diet? What do you think?
• News, news and more news…
… and events and sadly, obituaries this time
• Subscribe
All you need to know about getting your copy of CDB to land on your doormat as soon after printing as possible
• Little or large
Do you actually need a big bike we ask? And a world champion answers 'maybe not' as we put a big bike against a small one
• Something special
This Maico is a bit special. How special? Read Chris Montignani's words and see how much has gone on
• Take three standard bikes…
… run them in the ride round Europe, oh and take in the ISDT and win gold medals. Don't be daft! Seriously, BSA did it
• Eastern mystique
MZ has an enviable reputation in enduros, normally with some fairly hot bikes but the standard ones can perform quite well too
• You need…
Second in our profile series where we tell you that you need one of these in your garage… and why – this issue it's a Norton 500T
• Rumi for the ISDT
Build a bike for the ISDT in a few months? That's what Rumi did and it was a pretty spectacular one too.
• Rebuilt to ride – part 2
Our man Bruce gets to grips with the internals of his CCM and finds a few surprises, not all of them bad as the bike does run
• Talking technical
We pay a visit to the place that rescues your rusty forks… and lots of other hard chromed parts too
• Dirt products
Looking for something to finish a rebuild? Or perhaps you're midway through something and looking for bits, maybe what you need is here
• Sport, sport and more sport
Seven pages of what's been going on in the off-road world. Is your event here? No? then tell us about it as we can't get everywhere
• Smith tales
Finding your way around a foreign rally can be easier if the navigator is as competitive as the rider
• Vets MXdN – Farleigh
Is this the biggest MX event in the world? Oooh! We couldn't possibly say that but it certainly looks that way to us
• An hour with…
… the Baja racers in the US. Norm Dewitt catches up with some of the names involved in this incredible desert race
• Dirt talk
Got something to say? Say it here and we'll tell the world about it. No point keeping it a secret, someone might offer to help
• Talking Italian
Proving you don't need to break the bank to break into trials, number five in our air-cooled mono test – Fantic's 245
• Moto memories
A picture from the archive, a few words about the picture, this issue it's the late, great Paul Friedrichs
• Wright or wrong
Oh boy we can hear the bashing of keyboards and the scribble of pen on paper as the mail bag begins to fill up. Consistency is the key this time
Subscribe to Classic Dirt Bike
Or read it on your desktop: subscribe to the digital version of Classic Dirt Bike – now available for iPad and Android.
Enjoy more Classic Dirt Bike reading in the quarterly magazine.
Click here
to subscribe.
Comments
comments