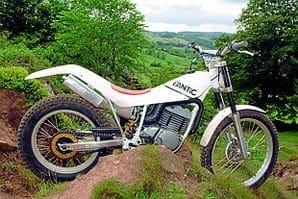 The Fantic 245's moment of glory came in 1989 when Steve Saunders, the then works rider, won the Scottish Six Days Trial on one. It was an interesting week with the early part being horrendously wet then the weather picked up and at the end of the week it was baking hot. So hot in fact the glass of iced champagne that Roy Carey handed me when I followed Steve in to the parc ferme was most welcome. Carey had been certain of the Saunders win and the bubbly had been on ice for a while.
There's no doubt about it, with Mick Andrews and Nigel Birkett doing our testing there is a massive amount of experience of more than just riding ability. Both of the lads have a lot of development experience too, meaning not only can they ride the bike, if it's not performing properly they've the knowledge to say 'whoa! We need to move this, tip that, alter the other.' This is a rare enough quality for it to be noted here and both Andrews and Birkett have had a reasonable amount of input into the motorcycles being ridden on our test – not these specific ones you understand, but the range, and both are well qualified to give their opinion.
First up is 'Birks' who was persuaded off the Fantic by Mick because he wanted a go. It was obvious he liked the Fantic and while in a live situation a wide grin can speak volumes, here in a magazine we need some words. So persuaded him tell us what he thought: "It's really good, and that's saying something because there's always a lot to like about a Fantic." Come on Nigel, I've got five pages to fill here…
"It's very modern in its feel, though the seat height is way higher than would be on a 2012 bike… but that's countered by the whole thing feeling stretched out." The owner Danny and I had just watched Birks hopping the Fantic up and over a huge rock slab and on to another slab by leaping over the gap then hopping on the back wheel and pivot turning around and going back the way he'd just come.
"It's very responsive on the engine," he says, "you've got the carburation very clean and the engine revs freely, if it didn't I couldn't have done all that hopping and pivoting so easily." Nigel goes on to add that he's always been impressed by the way Fantic managed to get so much performance, of the right kind, from smaller engines. As he says this he glances over at Danny and checks that this one is still just 212cc.
"I really liked the suspension too, there seems to be a bit more travel than some of the other bikes I've ridden in this test and that made the whole thing easier to flick around," yes, we'd noticed, "even better, when not in the air," he grins at this, "it was great on the ground thanks to really positive steering and, though it sounds daft to say it, goes where I pointed it… which isn't always the case." He qualifies this by saying often if the bike is not 'right' for the rider, as in the riding position when you're on it, then you'll not use it to the best advantage.
Modern trials, even classic and twinshock ones, seem to need a lot of clutch work by riders, in part this is a knock on from the world trials where this sort of riding is needed. The clutch on the Fantic is nice and light and the sort that can be used 'one-finger'… and that means control in sections. Anything else Nigel, before we prise Mick off it and ask his opinion? Birkett thinks for a moment and adds "other than the gear ratios being good for what we've been doing, I think I've covered the lot."
Mick's musings
"You know what it is? I reckon this is the bike that you could just jump straight on and feel at home with by the time you've reached the first section, even if it was 100 yards away from the car." Now that's praise indeed.
"It does everything I want it to do, when I want it to do it with no fuss or hassle just getting on with it. I tried to bog it down by going up that slot in too high a gear but it just went up it without a hiccup. I think Danny's got this just about spot on with his carburation and engine tune."
There was one thing that Mick picked out as liking over all of the other attributes the Fantic has, and that was the kick start. "A lot of people felt the forward acting kick start was odd but I liked it, funny how these things stick with you isn't it." He goes on to tell us that the whole bike was pleasant and to ride: "I tried coming down that steep drop with just the front and then the back brake and it did it okay, I locked it once on the back before I got my foot tuned to the pedal travel but the front one was fine and though I'd normally have braked using the front then brought it straight with a touch of the back brake there was no need in this case."
Like Birkett he liked the light clutch, though admitted modern 'classic' trials are set out with too much emphasis on the clutch action rather than how a trial should have been 25 years ago. "I don't think this clutch would alter at all during a trial, it would give the same feel at the finish as it did at the start," we both glance over at Danny, the owner, who nods agreement. "In fact," he says, I'm going to stick my neck out and say not only would you be comfortable on this bike in seconds, you could win on it straight away." That good Mick? "Yes, well you saw Nigel flicking it round like a feather, I was doing similar things with it too and it felt 'right' while I was doing it."
Fantic – a brief history
Fantic was founded in Italy during 1968 when Mario Agrati and Henry Keppel-Hesselink began making enduro bikes and mopeds for both home and export markets.
As far as the UK market was concerned the impact came with the chopper model and an attractive model in denim hotpants to catch the male eye. Former Greeves, Montesa and Kawasaki works rider Don Smith rode a 125 Fantic in the SSDT in the late 1970s, it was a success and almost overnight Fantic seemed the dominant bike with the incredible 200 model. Lightweight, easy to ride, tough and able to punch well beyond its weight, the 156cc two-stroke proved big didn't mean better. This powerful little machine could even be used for sidecar trials, simply amazing.
As the 1980s pressed on, Fantics got a bit bigger though the model numbers never really represented the actual capacity, not that this stopped the success of the bikes as world championships and SSDT wins came their way in the hands of Thiery Michaud, Steve Saunders and John Lampkin. Fantics still make a good showing in twinshock and mono trials.
The owner – Danny Littlehales
From his first tentative steps into trials riding in 1997 on a TY175 Yamaha, 42-year-old landscape contractor Danny Littlehales has taken to the sport like a duck to water. More recently he has forsaken modern trials bikes for this air-coooled mono Fantic 245. Speaking to him a few days after the test he told CDB the Fantic was now effectively his 'modern' machine and provided a lot of fun for a reasonable outlay and doesn't cost a fortune to run. "I can put up a decent show against riders on modern bikes proving at nearly 25 years old the bike isn't outclassed."
Keeping one going
We spoke to Fantic specialist Bill Pye at Frankfield Garage and it seems there's few if any real problems with spares for the 1989 245 model on test here. Most spares are available and electrics reliable, but there are spares in stock. In fact the 245 5/7 series is a superb little bike and generally reliable. A point to look for is that the rear subframe arms bend if you fall off… so don't fall off, and it's a good idea to keep a check as the silencer can be pushed on to the tyre.
Most people do not realise that the rear suspension can be greased through grease nipples, and if done regularly can last a fair amount of time. If the bike is in regular use it pays to strip suspension, clean and regrease all the bushes and linkages. Rear shock absorbers are adjustable but are best left alone because if screwed too far out it comes off the worm then is inoperable.
Engines on the 5/7 series bikes tend to rattle due to the design of the piston, if it only has a light rattle it'll rattle all day with no problems. If a serious rattle, best to check the big end and not piston. As always, any problems best to give Bill a ring as it easier to sort out over the phone. In his opinion "5/7 series are a good bike".
Enjoy more Classic Dirt Bike reading in the quarterly magazine.
Click here
to subscribe.
Comments
comments