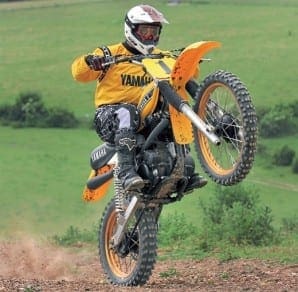 Our test machine was the 1979 version, the second year of a short two year production run, absolutely stunning in its American livery of black and yellow instead of the European white and red models made at Shenstone in the old Norton factory.
The bike belongs to Hilton Green, and quite rightly is his pride and joy. I was privileged to be allowed to test it on the farm owned by Brian Lush at Owslebury in Hampshire and captured through the lens of Nick Haskell's camera which always manages to make me look better than I am.
How did this hybrid machine evolve? Firstly, we had Torsten Hallman the first ever 250cc World Motocross Champion who had become the Yamaha importer in Sweden and who just happened to have a certain Sten Lundin as service manager of this operation. Hallman had been a big hitter in the introduction of motocross to America in the late 60s, and having seen the business opportunities this would produce opened Hallman Racing in the East and West coasts. When the XT500 Yamaha was introduced to the American market, he realised that here was a modern designed 500cc four stroke engine that could maybe be competitive in a proper motocross frame. Reading an article for information about the Yamaha HL500cc it was stated that before 1977 four-strokes had long been discarded as top notch GP machines, despite the continued presence of Alan Clews' CCMs that had grown out of the ashes of the works BSAs of the 60s.
The statement that 'CCM was never a frontrunner in the World Championships 500 class, only occasionally picking up points in the lower places,' was a real insult to Alan Clews. More so to Vic Eastwood and myself who had raced the GPs in 1976, the year before Bengt Aberg hit the GP trail with the HL500.
Our GP team had the funding of a non-league football club in relation to Manchester United, with one mechanic in the form of Dave Millburn, an Aussie with no experience of the bike or GP racing but a great bloke who always did his best.
With little back up for the team, the results of some 'top three finishes' and a third overall in a GP – in which Vic Eastwood should have won at least one heat as he was miles in front going into the last lap – is hardly 'lower places' in my book especially by two old boys who were past their sell by date.
Speaking of Alan Clews, and the difference of opinion we had in relation to the bikes, there is one thing in hindsight that he was absolutely right about – the size in cc of the engine in relation to four-strokes and two-strokes. I stuck to the opinion that it was up to 500cc class therefore that is what we should use, but Alan insisted that this was not fair, giving the two-strokes too much of an advantage and we should use at least a 600cc.
Modern motocross has gone too far in the opposite direction but proves Alan's pleas should have been heeded. Another indication that competitive four-strokes were being sadly missed was evident to me at the 1976 GP in Carlsbad, America. There is little doubt Hallman would have been well aware of the potential sales stateside if a modern designed four-stroke engine could be competitive and reliable.
No Vic Eastwood in America as the budget would only allow one rider to compete and I had managed to sneak a couple of points more than Vic at the time.
My first lap of free practice on the typically bone hard Carlsbad track was greeted by the massive crowd whistling and hooting. All the way round the track I was thinking there must be a top American rider behind me, I checked behind and saw no one and soon realised it was the fact I was riding the four-stroke CCM. The four-stroke laid the power to the ground to great effect on the hard surface and with a third place start round the first corner, I was delighted.
Halfway round Rex Statten carved me up big time and it was only luck I missed a serious crash. Incensed I chased and caught him before the lap ended and gave him the same treatment, where we both went down badly. It has often been quoted we had a fight on the track but once again this is a myth. Statten, a big guy and a boxer wanted to fight but fell down injured before he could do any damage, saving my skin but ruining another GP.
Hallman got his XT engine the same year (1976) and Sten Lundin set about building a new four-stroke motocross bike. If ever there was a man you needed to develop such a machine then the experience gained over the years developing the the old four-stroke Husky-cum-Lito-cum-Monark would stand him in good stead. The bike was ready for the 1977 season and Bengt Aberg was signed up to ride this Swedish/Japanese hybrid and being an ex-World Champion from Sweden it all made great sense.
I first met Bengt at the Trans Am Series in America where he was competing after becoming World Champion in 1969. Another great Swede and just a joy to watch riding a scrambles bike. Roy Read who had been a mechanic for John Banks, Bengt and then Graham Noyce got to know him very well.
1977 was my last year of GPs and sadly from my high of finishing third overall at the last GP of 1976 it was to be the worst year of racing in my life. I was having to do the GPs to survive, riding a very difficult to ride Husqvarna with left-hand gearchange for the first time meant the confidence had been completely shattered and I should not have persevered to the end of the season. Pete Bremner, an old friend of mine from Scotland, became my mechanic for the season and he did a terrific job. I am sad he could not have been rewarded with better than a sixth overall in the British Championships.
When the Swedish GP came up in the 1977 season we found ourselves at Bengt Aberg's, although Roy Read was spannering for Graham Noyce by then. In years past Graham Noyce, Vic Eastwood myself , mechanics plus Sam Slythe of Twin Shock fame and a contact to any GP ride you wanted would be at Christer Hamegrans picking potatoes in his field as we needed anything to break the boredom of travelling.
In 1977, downhearted and not in the best frame of mind, Bengt suggested we visit his friend who lived miles into the pine forests, reminiscent of my childhood in Scotland. Once there we were offered an alcoholic drink in a very small glass, after a small taste with the lips, and having been brought up in a pub the form of attack was down in one, which nearly did not make it. Pete Bremner pondered and tried the same approach, only to find it came up quicker than it went down.
After a while we thought thank god that's finished, then we were then offered another and next day Roy, Pete and myself woke up in the same bed with all our clothes on feeling rather second-hand. Obviously there had been more sampling but the tales of experimenting with different stills had been lost, although I might tell the whole story some day.
This piece prompted me to phone Bengt Aberg about his thoughts on the HL 500 and once again Dennis Slythe came up trumps with a phone number. Bengt was found well, but not riding anymore, and had fond memories of the four-stroke Yamaha. Teething troubles the first year restricted regular point scoring but he found the bike competitive on most occasions. What was it about Ettelbruck in Luxembourg and four-strokes with Vic Eastwood in 1976 leading on the last lap to be denied a win with a lack of fuel then one year later Bengt Aberg winning the first leg and finishing third in the second leg to tie with Heiki Mikola for first overall, losing out on the second leg result but claiming the moral victory.
With a great first year the expectation of factory development of the engine was not forthcoming, resulting in Hallman and Lundin employing Nils Hedlund to develop a three valve head for the bike. Hedlund had been the man responsible for the old Albin engine used in the Husky, Lito and Monark, putting his own barrel and head on the original crankcases. Although this should have helped power wise the development of the 500cc two-stroke engine and GP bikes were intense, creating proper factory race bikes with huge power and handling. Bengt recalls he was less competitive than in 1977 due to the two-stroke development and this prompted Hallman that there was no future for a four-stroke in World Championship Motocross and the team was disbanded. If Alan Clews had been listened to then imagine what a change there would have been to 500cc motocross GP history.
With the success of 1977 and the knowledge there was still a market and fan base that wanted to see a four-stroke, Yamaha Amsterdam decided to produce a run of 200 and Bengt Aberg's spare bike developed by Sten Lundin was handed over to the small Norton factory at Shenstone with instructions to build them. Norton had some of the best men from what was left of the old BSA, Triumph-Norton factories that were closed in 1971. Bob Trigg had become freelance and worked for Yamaha, Richard Negus, Keith Blair, Brian Curtis no mean motocrosser and frame builder and Peter Kirby who oversaw the 200 production bikes of 1998.
Like BSA when making the production 440cc scrambles bike, Yamaha made the mistake of not producing a factory replica and fitted a near standard TT 500 E engine which proved to make it under powered and difficult to start. Speaking to Peter Kirby, he had great memories of Sten Lundin and Mark Velkeneers, the Dutch 125cc GP rider coming over to Hawkstone Park and testing the pre production bikes for 1979. Another 200 bikes were built utilising a new camshaft, CDI ignition, a larger 38mm carb and new exhaust finishing with a reverse cone configuration which revised the power output significantly. Rear wheel travel was increased to 260mm and, with YZ 250 forks giving 270mm travel at the front wheel.
Peter Kirby rode his own HL 500 in the 1979 AMCA four-stroke series and finished third behind a couple of CCMs but found at 5ft 9in the riding height high and the wheelbase too short and resorted to drastic surgery to the steering head to gain the required effect.
Our test bike was the SR 500 race spec with Yamaha 360cc front forks and twin leading Shoe front brake. The rear units were works connection bespoke shocks instead of Ohlins.
One of the main changes most people riding classic bikes today make is to fit a pair of modern handlebars which are a far straighter bend than used by Bengt Aberg in the period. Any pictures taken of Aberg riding in anger show just how swept back they were.
Nothing new in this of course and when I see photographs of myself riding the Bultaco of the 1974-75 era it is surprising how swept back they were. I would not ride with a swept back style now and found the riding position on the HL a more modern style with footrests back, shortish tank and good shaped handlebars.
The big snag was when the bike came off the stand and at 5ft 6in tall I realised that a short arse would have found this bike very difficult to get off the start line. With a dicky right knee there was no chance of me starting the monster but with plenty of helpers to start and hold the bike I was on my way.
On a serious note, it would have compromised many competitors being so high and to do a proper race start virtually impossible for shorter people, therefore losing out on one of the most important parts of any race. To be fair, all the bikes of the period had started to grow in seat height as wheel travel expanded, but this was no help for this test.
Once rolling, there was no problem riding this bike with the very comfortable footrest to seat to handlebar configuration. Nick's camera clicked away and there in all the action photographs taken I look like I felt right at home on this bike and very relaxed.
It might be argued at the speed I was going then, I should be relaxed, but with a very hard surface and a clean bottom end pull only a petrol engine four-stroke can give, I was a happy wee man.
The bike was fast and clean with an impeccable gearbox that felt bulletproof. Playing with the front end to lift over bumps, coming out of corners or just for the sheer fun of it was a pleasure and what makes these types of bike so much fun to ride. Jumping uphill and trying to turn at the same time can be a bit tricky but this bike with its soft suspension and feel seemed to mask its weight disadvantage enjoyed by its two-stroke class dominated rivals at GP level in 1977 and 78.
Brakes were very good, with probably too much rear when you have a high compression motor that wants to stop on its own, although the twin leading shoes, Yamaha front wheel was a beauty and matched the bike.
Some of the Yamaha front forks were great, especially the factory units and with suspension soft by today's bikes' standards, remember no huge tabletops in these days, the small bumps were handled in a manner most people would dream of. The rear absorbed the uphill and downhill jumping with ease and when ridden over a modern style washboard section felt safe and predictable.
Summing up my day's riding the Aberg, Hallman, Lundin inspired bike was great and can see how competitive it would have been in the hands of Bengt Aberg, but once again we return to the same theme in motocross that lightness and with the big two-stroke's power as well even the gods like Aberg could not stem the tide of development.
Alan Clews was right on this issue and I am sorry I did not go along with him on this as I did not have the mechanical knowledge then to appreciate it. I am now thinking what it might have been like if the playing field had been somewhere near equal as present day motocross stands. MX1, the equivalent of the old 500cc GPs have the standings at 450cc four-stroke and 250cc maximum two-stroke. MX2 is 250cc four-stroke with maximum 125cc two-stroke.
We would have been riding against 300cc two-strokes in 1976 in the 500cc class on our CCMs. Would it have made any difference? Food for thought!
Enjoy more Classic Dirt Bike reading in the quarterly magazine.
Click here
to subscribe.
Comments
comments