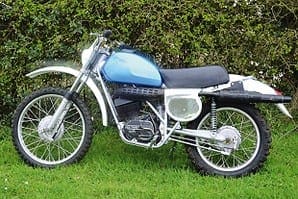 Our Can-Am rebuild's been overseen and approved with the engine work painstakingly carried out by specialist Richard Nixon from the Can-Am clinic. The wheels have been finished by Central Wheel, new plastics supplied from MD Racing and a spanking new powder coating finish from Redditch Shot Blasting. Our local car body shop man Duncan Burton painted the tank a lovely blue colour and much of the hard labour has been carried out by Classic Dirt Bike and Old Bike Mart editor Tim Britton. And it's as pretty as a picture!
We've registered and MoT'd the bike – so it's road legal and ready to go.
If you ever hankered after getting involved in off-road sport, or fancied a light, reliable road bike, NOW is the time to get involved, and this is the perfect competition prize for you!
The bike's been valued at £2500.
Competition's FREE to enter, but you must register first, which is also free and takes seconds. Good luck!
? ENTER COMPETITION!
? See the before and after picture gallery!
? See Can-Am 250cc rebuild: 1
? See Can-Am 250cc rebuild: 2
? See Can-Am 250cc rebuild: 3
? See Can-Am 250cc rebuild: 4
The bike will be on display at this weekend's Stafford show – 28th and 29th April – and also the Lanark show in Scotland on 12th and 13th May and it'll be trialled and fully tested by Tim Britton at a selection of events through 2012, culminating in the Hot Trod Enduro in Northumberland in September.
We intend to present the prize to the lucky winner at the Carole Nash Classic Mechanics Show at Stafford County Showground over the weekend of October 20-21st.
• Can-Am's motorcycle range was overseen by former BSA motocross world champion Jeff Smith, and the company began producing motocross and enduro bikes, powered by Austrian rotary valve Rotax engines in 1973. The Rotax engine had a performance edge at the time and, with some top class riders onboard, Can-Am bikes were successful in the International Six Days Trial in 1975.
Enjoy more Classic Dirt Bike reading in the quarterly magazine.
Click here
to subscribe.
Comments
comments