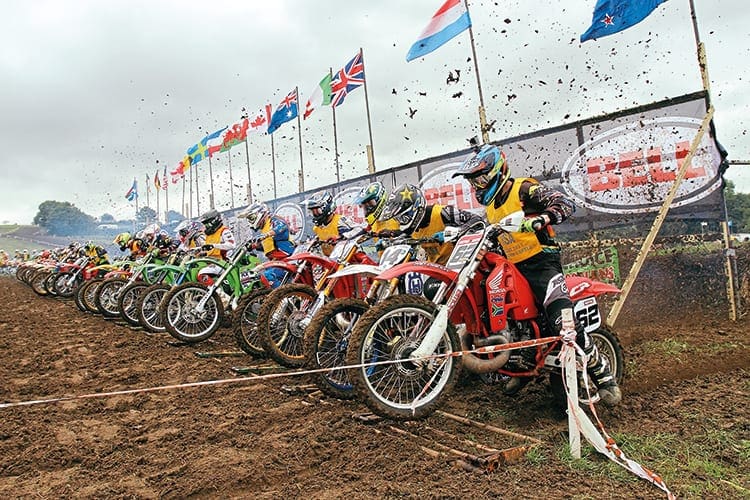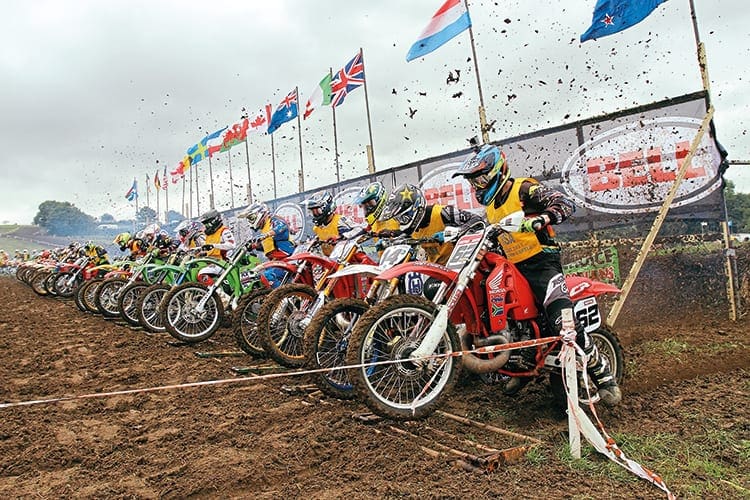 There were jubilant scenes at this year's Vets MXdN at Farleigh Castle as the home teams scored sensational victories in both Twinshock and EVO des Nations classes.
Strong performances from each squad with all four members claiming overall positions inside the top eight ensured both teams came home with the silverware, despite some tough opposition and some extremely challenging conditions on day two following heavy overnight rain.
First up was the twinshock class, and there was cruel luck in store for team Husqvarna International squad. Americans Mike Brown and Jeff Emig who were fastest in practice both suffered mechanical issues with their Swedish machines ruining any possibility of an overall victory. Ex GP runner Mervyn Anstie and fellow Brit Ross Sturmey both riding two-stroke Husqvarna's completed the squad. Anstie finishing as top scorer for the team with four steady races.
With triple race winner Brown suffering a dnf in race three, it was Dave Campbell riding for Team North of England who grabbed the individual overall honours ahead of Team England's Alex Rach and Terry House with Rick du-Fue back in fifth and Wayne Butt in seventh. Their close formation enabling them to run out easy victors ahead of the North of England and Luxembourg.
It wasn't so convincing in the EVO class though as Team USA put up a strong challenge right up until the final moto. But it was South African ex GP runner Neville Bradshaw who stole the show claiming four straight victories over an impressive field.
With a slender advantage going into the final race, team England appeared confident, and with all four riders gating inside the top 10 it looked to be all over bar the celebrations.
But as the field emerged from out of the woods on the opening lap, Brian Wheeler, who was previously holding a top-three slot, was missing. "Ryan Hunt crashed in front of me and I went down," he explained after the race. "I got back up and slid off again coming down the hill," he added in his usual colourful manner to the amusement of the crowd.
Luckily the remaining team members Kurt Nicoll, Mark Eastwood and Tom Church were all well placed and on fire with Nicoll holding second spot, Church stealing third spot on the final lap and Eastwood, who finished as top scorer for team England securing sixth spot at the flag.
Farleigh favourite John 'Junkyard' Dowd finished second in the overall standings ahead of Eastwood and Nicoll with Church in seventh and Wheeler one place further back in eighth spot.
Unfortunately for team USA, Mike Brown who had secured a 2-2-4 finish in his earlier races didn't even complete a lap as the big Husky let him down, leaving Todd DeHoop and a below par Dr Doug Dubach to maintain the honours. Dubach who was recovering from two broken ribs and a displaced shoulder came home in 17th spot while DeHoop claimed four top 15 placings.
Despite losing Brown in the final moto Team USA held on to secure runner up spot on the podium ahead of Team Belgium.
Euro champ Brad Anderson, who comfortably won his races in the EVO 500cc class, replicated the infamous 'Hakan Carlquist stopping for a beer' at Namur on the final lap. It almost backfired on the popular north-easterner, as his machine stalled and took several kicks to come back to life.
There were wins for John Dowd (Twinshock over 50s), Kurt Nicoll (EVO over 50s), Kristian Whatley (EVO 125), Luke Hawkins (EVO 250), Brad Anderson (EVO 500), Chuck Davies (Super EVO), Jordan Carter (Twinshock under 50s), Paul Kirby (Pre 85 Open, Pre 83 125,  Four-stroke Twin).
Read more news in the Winter issue (No.45) of CDB – out now!
Enjoy more Classic Dirt Bike reading in the quarterly magazine.
Click here
to subscribe.
Comments
comments