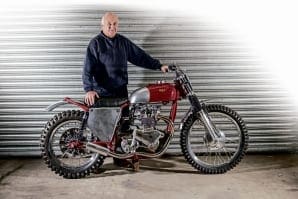 Though BSA's Gold Star had a brilliant reputation in scrambling, not everyone could get on with it, nor was it particularly easy to look after.
If you don't believe that check out our Iconic Engines series a couple of issues back when we got the low down on the big single and what BSA recommended owners did.
If the service procedure was ignored dire consequences were predicted and these generally resulted in a big hole where the engine used to be.
Luckily the BSA chassis was quite capable of taking other engines in there and handily the Triumph twin was a decent engine looking for a decent frame – as Triumph man that took a bit of admitting for the CDB editor – to accommodate it.
The Rickman brothers, Don and Derek, had been racing Gold Stars but felt the big single had come to the end of its life so slotted a Triumph Trophy 500 engine in its place.
This all alloy unit was quite light, flexible, easily tuned and with a load of accessories available as standard and so was born the Metisse.
But any amount of other people were slipping Triumph engines in to BSA frames and making TriBSA scramblers as it's not difficult to do.
Getting a result as stunning as this one here isn't easy though.
Read more in Summer 2015 edition of CDB
Enjoy more Classic Dirt Bike reading in the quarterly magazine.
Click here
to subscribe.
Comments
comments