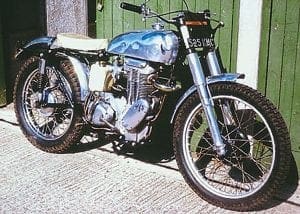 Your editorial in issue 44 of Classic Dirt Bike magazine really shocked and saddened me. I was vaguely aware that real motorcycle trials – maintaining forward motion over a difficult terrain – had been overtaken by the 'circus acts' known as 'arena trials' which had the effect of destroying the traditional countryside trials. These traditional trials with 40 'Sections' and up to 25 miles of country lane riding between them, attracted a very sizeable following of young lads, eager to learn and test their skill on a motorcycle at very low cost but in a competitive atmosphere, with lads of similar interest.
Throughout the Fifties and Sixties trials were great fun and widely available in various categories from simple club events to Open To Centre Championship rounds or special cup trials.
In the Seventies I bought a Windsor Comp Shop Special Ossa MAR for a young David Brown to ride largely as a keep fit activity, but also competitively, aiming towards making a serious attempt on the British Grasstrack Championship the following summer. Having won a few South Midland Open to Centre Trials, David became 250cc class National Grasstrack Champion that year, so the 'keep fit' process had paid off.
I was heartened when turning the page to see the superb picture of twin shock trials bikes massed and ready to take on some real sections which, along with later features in the magazine, told me things aren't entirely disastrous in the world of real trials, sick but not terminal and if we all work at an overdue revival, could we make it happen again?
I enclose a few images from a bygone era, the 350 AJS originally belonged to Robin Dawson, MGP winner and when I got hold of it needed replacement big end and serious tuning work to the carburettor after which and on trials gearing, it would top 85mph on the road. There is one of David on the WCS OSSA winning the SM Centre Coronation Cup.
Brian D Dunn. CEng (ret'd)
email
Brian, I've had to edit this down a touch – space isn't unlimited on this page – but you're not alone in your concerns for the sport of trials and it's not just me who thinks it's time for a split in the sport. Tim
Read more in the Winter issue (No.45) of CDB – out now!
Enjoy more Classic Dirt Bike reading in the quarterly magazine.
Click here
to subscribe.
Comments
comments