It is an undeniable fact that all classic enthusiasts can see what will be, rather than what is, when viewing a new addition to the workshop. Chris Montignani meets just such an enthusiast.
FROM THE ARCHIVES
This superb-looking 1965 Twin-Port CZ250 is owned by Scottish rider Stewart Riddell, who originally saw the machine at a Scottish Classic meeting at Forfar in the north of the country in 2009, when a fellow rider had it advertised for sale. "It has to be said it wasn't the most glamorous looking machine on the planet," said Stewart, "although at first glance it looked like it was more or less intact so I made him an offer on the spot and the deal was soon done.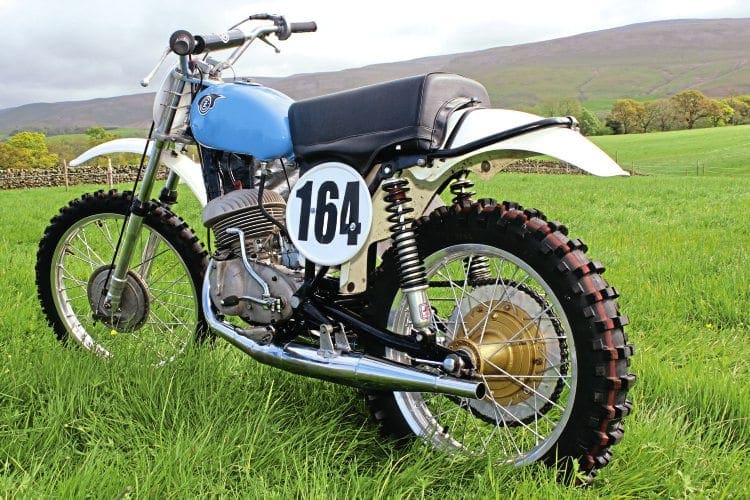 "I never even started it or heard it running before I bought it. It still had the old points ignition system fitted and there were a few other mechanical issues requiring attention, and to be fair it was a little bit tatty.
"Nevertheless, my intention was never to race it straight away, but to get it home and do a complete, from the frame, rebuild. I wanted to get the bike into a reasonable race-worthy condition before I even thought of swinging my leg over it, that way I would get a better idea of what the bike was going to be like out on the track. Besides, I always think that first impressions are the best with a new machine.
"When the bike was eventually delivered to my home I immediately dismantled it and laid it bare on my workshop floor, and it was then time to take stock of what needed to be replaced or refurbished.
"Naturally, as is normal with these kind of projects, I inspected the frame for faults and then sent it out to be sandblasted and powder coated, and while that was taking place I decided to opt for new wheel rims, spokes, and tyres, as all the originals looked a bit worn out. The front forks I had rechromed and new seals fitted to them and a set of new rear shocks were also sourced and then delivered.
"With regards to the motor it was completely stripped down and many of the internals were replaced, including all the bearings, seals and clutch plates. I decided to fit new gear clusters, as these looked like they had their best days behind them. The cylinder barrel was rebored and a new piston, rings, con rod, and small end were fitted. At the same time I took the opportunity to replace the old points ignition with a new up-to-the-minute electronic version, which makes starting of the bike much easier.
"Because the original twin-port CZ bikes were painted with the blue tank colour scheme, that is the reason I wanted to keep it as near to the original as possible, so I tried to match the colour as close as I could.
"Many of the parts I used came direct from Jiri Starec, who used to work in the research and development department of the CZ factory in the Czech Republic.
"Other parts like the mudguards, pistons and other little ancillary items, including cables and levers, I managed to source from CZ guru Gerard Copping here in the UK. The entire strip-down and rebuild took me about three months to complete, although I would probably have finished it sooner if my work commitments hadn't kept me so busy."
Making time
Stewart's day job of running his own horticultural sales/service and repair business keeps him very busy, especially through the long summer months. "But I always make time for my classic racing at the weekend," said Stewart, "there's more to life than work and it is my way of escaping the pressures from the daily grind by going out and racing my beloved bikes."
The CZ factory certainly built some exceptional machines during its 60 years or so of existence, until its eventual demise in 1997 when the then owner of the marque 'Cagiva' became defunct.
When it came to accolades it had to be said that CZ also contributed to producing many a world champion for the very successful east European Czech factory. Names like Joel Roberts, Roger De Coster, Dave Bickers and Brad Lackey all started their early motocross careers riding these machines to major successes in off-road competition events. In fact, American Lackey got his big break with this very same manufacturer when he secured a lucrative contract to ride CZ machines for the factory in 1970.
This 1965 machine is indeed quite rare and you would be hard-pressed to find many like it actually racing on a regular basis at race meetings in the UK. But don't be fooled by this bike's clean looks, this machine is by no means a concourse display bike only rolled out of its air-conditioned shelter to let classic scrambling enthusiasts drool over its sleek lines during the long, summer months. No, certainly not, this bike is highly maintained and used regularly by Stewart at various race meets up and down the length and breadth of the country. And what's more, it has taken him to some major successes during the six years he has owned the bike.
"I have won the Pre-65 up to 350cc class on this bike three times in the last few years, and quite recently won the best 250cc dirt bike at the concourse display at the 2014 Nostalgia Scramble.
"I didn't buy this bike with the intention of just using it as a talking point when I arrived at a classic or vintage race weekend," said Stewart, "no, this bike was always going to be a race machine and I have to say touch wood it's been extremely reliable to this day. If you fix the little things before they develop into big problems and keep on top of them, then there are generally no issues with the reliability of these little strokers, and they are so much fun to throw around if you get them on the right kind of racetrack."
There are many features of Stewart's bike that make it quite unique in the world of classic or vintage motocross, like the superbly crafted, glass fibre, peanut-shaped fuel tank with the legendary CZ insignia emblazoned on the side.
"Although there is a downside to having the glass fibre tank," said Stewart, "they don't take too kindly to modern day fuels as they tend to eat away at the insides of the tank, and I have to empty it regularly and flush it out or I start getting small blisters appearing on the outside of the skin. I do have plans in progress to replace this with an alloy tank in the not-so-distant future."
The main feature of this particular CZ model is, of course, the pair of low-slung expansion chambers, which were unique to this machine back in the day.
Many would think immediately that this type of configuration was a strange place to mount an exhaust system considering the kind of racing environment the bike would operate in, receiving damage from rocks etc. However, what is even more intriguing about this particular CZ model is the single cylinder's use of a twin exhaust port. The twin chrome header pipes exit the air-cooled cylinder and split at the frame's front downtube to then go either side of the swingarm. Now whether this added exhaust volume truly contributed to the overall performance of the motor which, at the time, was a reported 27bhp, has never been truly understood. Nevertheless, at the time of its manufacture it was still considered the latest innovation of its day and was widely accepted as an innovation in two-stroke design.
Just to prove this particular point, Belgian rider Joel Roberts took a similar twin-port CZ 250 to the motocross world championship in 1964. Furthermore, Russian rider Victor Arbokov did exactly the same again a year later in 1965, on an almost identical machine.
So it appears that these little twin-porters and the Czech factory had stumbled onto something quite innovative and they and the factory riders must have been doing something rather extraordinary to attain these excellent results.
The CZ factory also began using magnesium in many parts of the construction, including the brake hubs and the engine casings, as a weight-saving venture to reduce the overall bulk of what was already quite a light little motorcycle.
This bike also came as standard with welded-on clutch and brake lever hangers, which were fitted directly onto the handlebars and were a CZ trademark of the day. The transmission was also four-speed and had the famous clutch arm (look at the picture detail of the motor), which Roberts reportedly used to cram his boot into so he could put the bike in gear for the old hand on the helmet/neutral starts that was the common method of getting off the line back in the day.
Down to earth
Of course this bike was never meant to be one of those factory fresh concourse rebuilds that emblazoned the front cover of glossy, classic dirt bike magazines – you all know the type – the kind of nut and bolt rebuilds that make the bike look better than it ever could, even when it first left the manufacturers.
Stewart's machine is an honest, down to earth, hard-working competition bike that just happens to be a cracking looking piece of vintage iron into the bargain. Yes, I suppose many other owners would maybe take the rebuild of this bike a step further and make it into a certain concourse winner and a for display-only machine because of its rarity. Not for a minute did Stewart have this in mind when he first purchased the bike; it was always going to be a racing machine first and foremost.
"When I first fired the bike up after the rebuild was completed, it only took a few stabs at the kick-starter to bark her into life, and I must say it was a very impressive symphony played on those new twin expansion chambers. Right from the first time I tried the bike out on the racetrack I knew it was a superb little machine. It was so light and very quick for such a small two-stroke motor."
This rare machine is, of course, not Stewart's only CZ Twin-Port bike, as he also has in his a possession a 360cc version of this bike that was also a recent complete rebuild from the frame up. This other bike tends to be a back-up machine to the 250, as Stewart prefers the smaller machine for the normal day-to-day racetracks he encounters.
I asked Stewart if he had any plans for future bike building projects or possible changes to another bike manufacturer, to which he replied: "No, not really. I have had other bikes in the past, including Greeves, AJS Stormers and the like. But ever since I bought my first CZ380 bike from Bill Brown Motorcycles back in 1975, I have remained faithful to the marque. That first CZ machine was really special and it was as near as you could get to a works model with its magnesium casings, alloy airbox, alloy wheel rims and alloy fuel tank. But I am a bit older now and I'm kind of too set in my ways to think of changing to other manufacturers."
Nevertheless, if in its present form Stewart's bike continues to attract some attention from scrambling enthusiasts and other like-minded onlookers and institute a talking point or two at race meetings, then I suppose that's fine by him. Although as far as the owner is concerned he tells me he will continue to race this machine for the purpose it was originally purchased and enjoy competing on it at the highest level at all classic and vintage scrambling meetings, regardless of the bike's rarity. n
Enjoy more Classic Dirt Bike reading in the quarterly magazine.
Click here
to subscribe.
Comments
comments