Current issue: Issue 42 – Next issue: Issue 43 – On sale: May 18, 2017
In the Spring 2017 issue…

In Balance
The seed of doubt, once planted, grows in to the absolute certainty of an error and the only recourse is to check.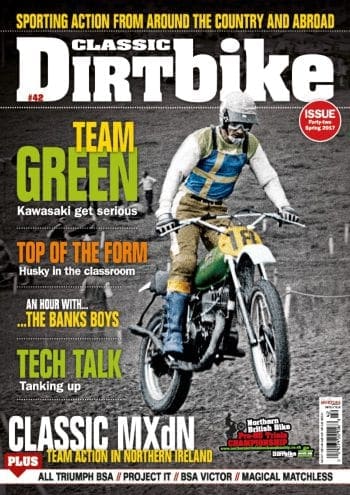 News, views and reviews
Our regular look at what's happening in the off-road world, events to go to, series updates, perhaps a book or DVD or two.
You need…
… a big Matchless. Once the mainstay of the trials world, the big single was relegated to a supporting role when lighter bikes gained reliability.
Super Profiles
Take one stunning bike, do some in-depth research and write it all down here, in our Super Profile bit. When BSA went Triumph.
Subscribe! Subscribe! Subscribe!
As CDB is subscription only in the UK, you've either subscribed, nicked a mate's copy or seen us at a show. If it's one of the latter two… subscribe here.
Dicko's view
More from the all encompassing eye of one of the off-road world's most senior journalists. Always thought-provoking, always interesting… what say you?
'cross words
Setting his stall out, our new columnist tells how he got to become a noted MX author and what floats his MX boat.
Dirt Talk
What are you talking about in the CDB world? All sorts of things as it happens, bring it on we say.
Moto memories
Remember TT Leathers' Vystram suits? Oooh the world was colourful in the Seventies.
EVENTS
Sporting world
A selection of events to brighten your winter from Brit bikes in Japan and France to traditional events in the UK. We went there, where were you?
Team action…
…in Northern Ireland for the Classic MXdN…boy was the action good.
HOW TO
King of the IT crowd
Assembly progresses as a problem is solved and more information comes the editor's way.
Dirt Products
Got something to help the off-road world go faster, keep their feet up longer or remain more on time in an enduro? Tell us, we'll put it in this bit.
Tech Talk
If only I had an alloy tank I'd be faster… better… cooler. Rarely mistaken for the King of Cool the editor does have a Triumph with an alloy tank now.
FEATURES
Class of 1970
It was all going on for Husqvarna in 1970 – top in MX, movie stardom and riding high. A young lad was smitten by a model kit of the 400 Cross…
That was the year…
…that the press got a hold of the ISDT team bikes for a pre-event try-out. Their sketch artist went along too, oh if only we could afford sketch artists these days.
Lean, mean and green
Take one ex-works team Kawasaki, add a bit about the company's early MX forays, talk about the work needed and hey, it's an SR400 feature.
An hour…
…with the Banks family, MX through and through with three generations all making their mark.
Dazzling the opposition
It pays to take time to do a job right and Roger Simkin's Cheney Victor is a shining example of this credo.
ON THE COVER
Our cover shot is of works Kawasaki rider Christer Hammargren riding the actual 400cc Kawasaki featured in our story on page 34. The shot, expertly coloured by our design team, was taken at the 1974 British MX GP.
Our Class of 1970 feature Husqvarna takes pride of place in the window of a classroom, quite apt really as Husky taught the world an MX lesson.
So don't miss out – get involved and take out your print or digital magazine subscription now!
Enjoy more Classic Dirt Bike reading in the quarterly magazine.
Click here
to subscribe.
Comments
comments