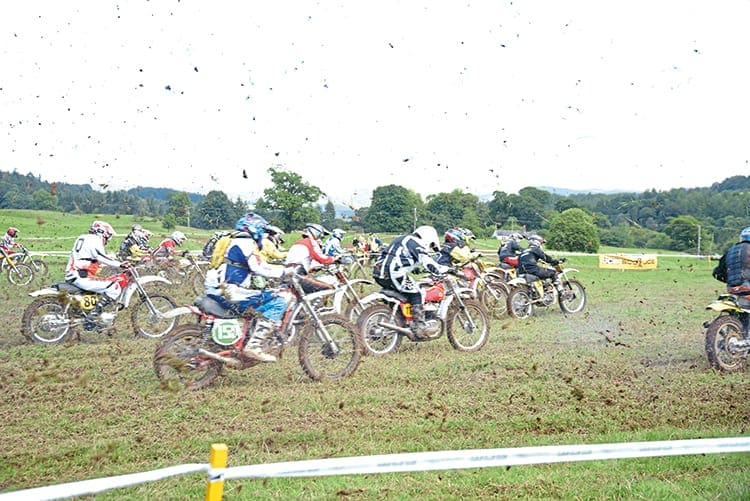 Things are hotting up now for the second Scottish Grand National in the superb grounds of Drumlanrig Castle on July 14/15, organised by the Galloway MCC. The latest information from the club makes good reading, first of all the guest of honour, Brad Lackey is fired up and ready for the weekend, there's to be an interview session with him in the marquee on Friday where the legend who is John Moffat will tease out all sorts of information and then throw open the floor to anyone who wants to ask Brad a question or three.
Racing starts on Saturday, early, with a full day and a good selection of classes which will see classics and twinshocks hurtling around the track.
The same scenario will happen on Sunday, with the action starting as early as possible to get a full day of racing in.
As well as Brad Lackey there are to be a host of other guests too, a lad called Graham Noyce for instance, who has indicated he's wanting to ride too. The organisers also said there's to be a line-up of Scottish racing talent from all eras of the sport in Scotland with Vic Allan being prominent in the list. Another 'Allan' Vic's nephew Robbie will also be racing and as a teaser we're told there are a few other really special guests on the cusp of confirming but as we go to press they're 99% confirmed and as soon as it's 100% then announcements will be made on the club's website and facebook pages.
The attractions of the weekend – well long weekend actually as it starts on the Friday – aren't limited to the track either, as the marquee will have all sorts of get-togethers – including live bands, wine and cheese, ladies' hour and of course the presentation on Sunday.
Out in the paddock area will be a special display of British Superbike machines from the Paul Bird race team PBM Motorsport who will feature Glenn Irwin as well as the super trick Ducatis the team have.
Another team making the pilgrimage to Drumlanrig will be Cecil Pearson's JAP race team. Cecil has a selection of JAP engined machines which make a decent job of showing how well old bikes can go in the hands of riders who know how to make them work.
Regular updates will be on the club's social media pages Drumlanrig Castle Classic Grand National Scramble so keep checking and see you there.
Read more in the Summer issue (No.47) of CDB – out now!
Enjoy more Classic Dirt Bike reading in the quarterly magazine.
Click here
to subscribe.
Comments
comments