Not sure if you recall, but we met about a dozen years ago here in the States at Riding into History, you used some of my photos in your subsequent Classic Bike Guide article.
Since then I have pretty much dedicated my time to restoring and collecting Bultacos. Having done a number of street oriented models, and a Sammy Miller Hi-Boy Sherpa T, I finally got around to doing a pair of Pursangs.
These are a bit of an odd couple, the 1964 Model 11 is the first Pursang, sometimes incorrectly called a Bultaco Metisse. These used Rickman pattern bodywork and frames made of good old Spanish water pipe. Mine is actually the TT version with a 19in front wheel.
This bike is an old warhorse, raced for decades, on which I've done a sympathetic restoration, retaining the many early mods done to it. Perhaps the most difficult part was determining the correct yellow paint shade.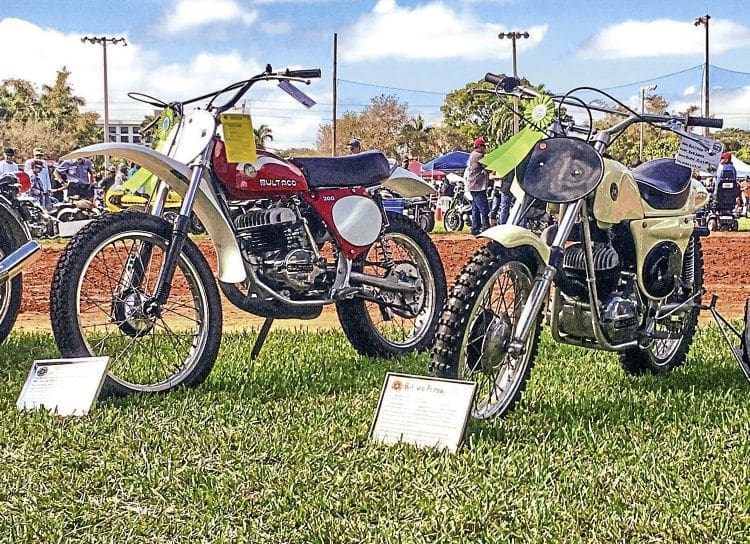 The red 1976 Model 170 is a fairly unusual 200cc version of the late Mk.9 Pursang. This was a one-owner, lightly used bike that spent four decades in storage, unfortunately some of it outside.
The corrosion was quite significant; I had to cut the swinging arm out of the frame! I was able to reuse most of the original parts with much elbow grease, and my friend Ed Teller did a great job re-creating the model specific tank graphics.
This photo was taken in January at the Dania Beach (FL) Vintage Bike Show where the Pursangs were shown in public for the first time. More information on my web site, www.MotoEuro.org
Alan Singer,
Mandarin, FL
www.MotoEuro.org
Read more Letters, Opinion, News and Features online at www.classicdirtbike.com and in the Summer 2020 issue of Classic Dirt Bike – on sale now!
Enjoy more Classic Dirt Bike reading in the quarterly magazine.
Click here
to subscribe.
Comments
comments