There is knowledge to be gained from the pages of books.
Words and pics: Tim Britton
In the days before the internet, motorcycling knowledge came to us in two ways: directly by interacting with people, or through the pages of magazines or books.
Though it seems all knowledge is available at the press of a button these days, it is a transient, fleeting kind of knowledge, whereas the printed word is always there, it doesn't become lost in the cyber world or get corrupted digitally – it carries on.
I daresay there are those who don't have books, professing such antiquated methods of knowledge retrieval systems operated manually by turning an actual page are unbelievably outdated… but the fact remains, books are still around, still being published and still being popular.
At the time of going to press, the UK is in the middle of the coronavirus lockdown – other countries suffering varying degrees of restrictions too.
With the Government's instruction to stay at home there's a need for some motorcycling interaction and while we can't ride our bikes in whatever discipline we favour, there is no reason we can't read about it.
There's also the option to take out a subscription to your favourite magazine of course, see pages 42/43 for the best way to get CDB delivered to your door.
In the meantime, here's a selection from the editor's bookshelf, most are current and freely available from their publisher; however, there is the odd one from my youth, or even my father's, so may take a bit of sourcing!
Competition Car Composites
Yes, it's a car book… let's get that out of the way. Once the dirt bike world had discovered glass fibre and that sort of thing, all sorts of components began to be created in such materials.
Few of us fully understand the way to use these materials and Simon McBeath gives an insight into what composites can do, what can be made from them and even how to go about using them. Will you need all the book?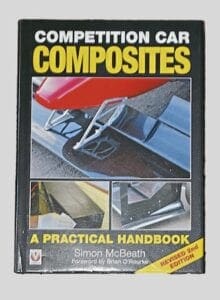 Maybe not, though some will. Will it give you an insight into how this stuff often labelled 'plastics' is used and works?
Yes, it will, and when you decide 'I could do that' there is advice in here on how to do it and instructional sections to help.
Where do I get one? Veloce Publishing Ltd
What's it called? Competition Car Composites ISBN 978-1-845849-05-4
How do I get one? Go to their website www.veloce.co.uk for latest deals
How to restore Classic Off-Road Motorcycles
Any book which sets out to instruct someone in the gentle art of restoring anything is taking on a task and a half.
Ricky Burns does a decent job of what is a massive subject and shows real world restoration in a situation familiar to many enthusiasts… their own garage.
The book is packed with pics showing all the sections of a restoration peculiar to our old dirt bikes. It does tend to focus on the twinshock era but this is no bad thing.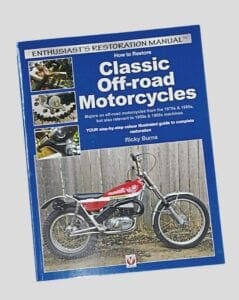 If you're thinking of doing a bike up then this book will be of use to you.
It's 144 pages, 210mmx270mm, soft back.
Where do I get one? Veloce Publishing Ltd
What's it called? How to restore – Classic Off-Road Motorcycles ISBN 978-1-845849-50-4
How do I get one? Go to their website www.veloce.co.uk for latest deals
Enjoy more Classic Dirt Bike reading in the quarterly magazine.
Click here
to subscribe.
Comments
comments