There is knowledge to be gained from the pages of books.
Words and pics: Tim Britton
In the days before the internet, motorcycling knowledge came to us in two ways: directly by interacting with people, or through the pages of magazines or books.
Though it seems all knowledge is available at the press of a button these days, it is a transient, fleeting kind of knowledge, whereas the printed word is always there, it doesn't become lost in the cyber world or get corrupted digitally – it carries on.
I daresay there are those who don't have books, professing such antiquated methods of knowledge retrieval systems operated manually by turning an actual page are unbelievably outdated… but the fact remains, books are still around, still being published and still being popular.
At the time of going to press, the UK is in the middle of the coronavirus lockdown – other countries suffering varying degrees of restrictions too.
With the Government's instruction to stay at home there's a need for some motorcycling interaction and while we can't ride our bikes in whatever discipline we favour, there is no reason we can't read about it.
There's also the option to take out a subscription to your favourite magazine of course, see pages 42/43 for the best way to get CDB delivered to your door.
In the meantime, here's a selection from the editor's bookshelf, most are current and freely available from their publisher; however, there is the odd one from my youth, or even my father's, so may take a bit of sourcing!
The Triumph Trophy Bible
Triumph's competition machine, this 'bible' covers the whole gamut of Triumph dirt bikes, their history and specification.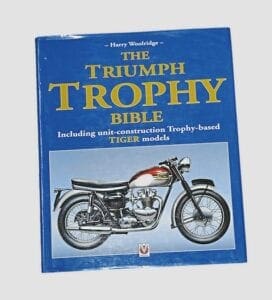 It includes details of model changes, factory machines, stuff such as the special ISDT Adventurer models and loads more besides.
Lots of photos of mouth-watering models and text written by a Triumph factory man.
It's hardback, 225mm x 215mm with 144 pages.
Where do I get one? Veloce Publishing Ltd
What's it called? The Triumph Trophy Bible ISBN 1903706122
How do I get one? Go to their websitewww.veloce.co.uk for latest deals
Off-Road Giants
In the world of off-road motorcycle sport there are many who can be classed as giants, a title less to do with their stature but more to do with their presence in the world of scrambling, trials and enduro sport.
Enthusiast Andy Westlake has researched and interviewed a lot of the riders whose names graced the reports and winners' lists of motorcycle sport.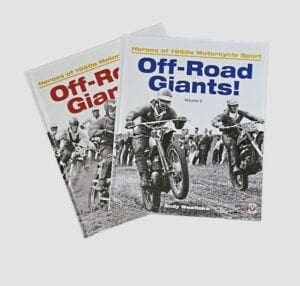 Illustrated with plenty of pictures, peppered with anecdotes and the story as they remembered it, Andy's books are either 'read from start to finish' or 'dip in and out' – the choice is yours.
We understand from the publisher stocks of volume 1 are currently out but Volume 2 is still available.
ach volume is in hardback, 225mm x 210mm with 128 pages.
Where do I get them? Veloce Publishing Ltd
What are they called? Off-road GiantsISBN (vol 2) 9781845843236
How do I get them? Go to their websitewww.veloce.co.uk for latest deals
Read more Letters, Opinion, News and Features online at www.classicdirtbike.com and in the Summer 2020 issue of Classic Dirt Bike – on sale now!
Enjoy more Classic Dirt Bike reading in the quarterly magazine.
Click here
to subscribe.
Comments
comments