There is knowledge to be gained from the pages of books.
Words and pics: Tim Britton
In the days before the internet, motorcycling knowledge came to us in two ways: directly by interacting with people, or through the pages of magazines or books.
Though it seems all knowledge is available at the press of a button these days, it is a transient, fleeting kind of knowledge, whereas the printed word is always there, it doesn't become lost in the cyber world or get corrupted digitally – it carries on.
I daresay there are those who don't have books, professing such antiquated methods of knowledge retrieval systems operated manually by turning an actual page are unbelievably outdated… but the fact remains, books are still around, still being published and still being popular.
At the time of going to press, the UK is in the middle of the coronavirus lockdown – other countries suffering varying degrees of restrictions too.
With the Government's instruction to stay at home there's a need for some motorcycling interaction and while we can't ride our bikes in whatever discipline we favour, there is no reason we can't read about it.
There's also the option to take out a subscription to your favourite magazine of course, see pages 42/43 for the best way to get CDB delivered to your door.
In the meantime, here's a selection from the editor's bookshelf, most are current and freely available from their publisher; however, there is the odd one from my youth, or even my father's, so may take a bit of sourcing!
Motorcycle Competition
This is one from my childhood and could only have been found by a parent who knew dirt bikes.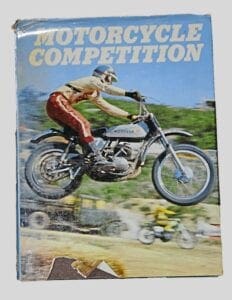 There are lots of other titles similar but this one would have been bypassed by someone looking for a glitzy book. It's a thin old publication, likely only on second-hand stalls now, but worth seeking out.
There are sections on each discipline of proper motorcycle sport and includes a sub-section on USA specific sport.
As the 1973 Bultaco Sherpa is an up-to-the-minute competition bike, that dates the book around the mid-1970s, but still a worthwhile publication. It is hardback and 310mm x 230mm with 64 pages.
Where do I get one? Scour autojumbles…
Motorcycle maintenance and repair
These books were part of a series written on then current British motorcycles by each factory's service manager, so the information is factory fresh.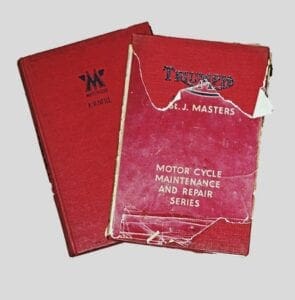 They were published by C Arthur Pearson Ltd and were handed down to me by my dad and cover his interest in motorcycles – he was convinced the single cylinder motorcycle was the way forward and anything more was dangerously modern… though he did own – and ride in trials – a Matchless Silver Hawk V4…
These books are worth seeking out and unlikely to be cheap.
Hardback 130mm x 190mm pocket sized books with 200 pages.
Read more Letters, Opinion, News and Features online at www.classicdirtbike.com and in the Summer 2020 issue of Classic Dirt Bike – on sale now!
Enjoy more Classic Dirt Bike reading in the quarterly magazine.
Click here
to subscribe.
Comments
comments