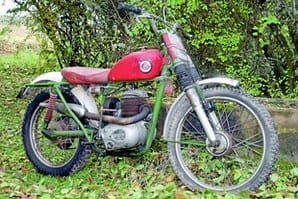 There are the odd one or two actual pre 65 bikes still being used in trials that are as they were in the 1960s. Two that spring to mind are an SSDT winning Lampkin BSA that was used in the pre 65 Scottish a year or two back and a 1964 Dot that my mate Ossy has ridden in the same event a time or two.
It is to the credit of both riders that they managed to haul such machines round, as the sections in use these days are much tougher than they were in even national trials of the 1960s. This is why, with 40 years of development and experience available, most of us competitors modify our bikes and make life interesting for those scrutineers.
Time capsule
Though it might seem that every motorcycle ever made by the British industry will have been restored by now, there are still hidden gems out there, and it was one such gem I was invited to see after giving a talk at Grampian Classic MCC in Aberdeenshire.
Chatting to club chairman Bill Falconer at the close of the evening the talk turned to trials bikes and he mentioned having an original Francis-Barnett 85. "It's unrestored and just as I bought it in 1966 from a place you may have heard of, The Kart House in Darlington, that's sort of local to you isn't it?" Sort of Bill, yes, but a bit more south… though The Kart House was a new one on me.
So, come on then Bill, you're as Scottish as they come, surely you must have had dealers closer to home than Darlington, which, by my reckoning must be best part of 300 miles south of here. "I was stationed at Catterick when I was in the forces and fancied having a go at trials riding after watching an event or two. So, I went along to the Kart House and there were all these Greeves and Dots scattered about the place but this 1961 Francis-Barnett caught my eye. I thought it a much better looking motorcycle than the others… I still do actually." When would this have been then? "Oh, 1966, I paid the price and rode back to base and spent a bit of practise time riding it on the driver training course on the base."
The sad thing is Bill never actually got to ride the bike in a trial, after spending ages building his confidence up and getting ready to try, he was posted abroad.
"There was a chance to take a spot of leave before I went so I brought the bike up here to my parents' place during the early part of winter. In those days you could still put motorcycles in the guard's van of a train so I planned to ride to Darlington station and get a ride as far as Aberdeen. There had to be a bit of planning as I knew it would be dark when arriving at Aberdeen so I fitted a spotlight as a headlamp and a wee tail-light wired to run direct, rode to the station, lied about there being petrol in the bike, tucked it in the guard's van and relaxed on the train to Aberdeen."
At Aberdeen station it was indeed late: "It was also damned cold too," he said. "I had quite a few miles to ride and even in reasonable riding kit I had to keep stopping every few miles to warm my hands on the engine." In this way he made his way further north and eventually the Francis-Barnett was safely stored in the family garage, to be ridden on the infrequent times when Bill was home.
Had he started trials riding there is a likelihood that the bike would have been modified as time had gone on. Certainly the 19in rear wheel would have had to be replaced as the world's stock of trials tyres in that size were used up. In many respects the fact that Bill was posted away from the UK meant that this Francis-Barnett has survived in such original condition, had he stayed local then the bike could have been worn out in competition, traded in for something else or sold on. Any one of those three circumstances would have meant the end for such an original machine. Okay, it may have ended up in the hands of a fanatical Francis-Barnett collector and been saved but, while such things do happen, Francis-Barnetts have only really just become popular in trials and only then the ones with Villiers engines rather than the AMC version.
Company politics
Who owned what and when wasn't always clear cut in the world of the British industry and the Francis-Barnett marque had long been part of the AMC company, as had James and a slack handful of other names, by the time this Trials 85 was made. The company had also abandoned the trials world for a season while it played with a futuristic roadster called the Plover.
When Francis-Barnett re-entered the fray it was with a completely new machine named the Falcon Trials 83. With group ownership comes group thinking and, unwilling to rely on Villiers to supply its engines AMC had the brainwave that it would go for an Italian designed unit, made in France, on which to base its new range, and this included the competition machines. The problem was, the new engine wasn't a patch on the Villiers unit as it was much bigger and heavier and the power wasn't quite right, but AMC had invested in the new unit and had to use it. Yes the bike was now a full 250 but the price paid for an increase in capacity was a phenomenal weight increase and an engine that acted like a bulldozer thanks to its width. That said, the Falcon Trials 83 had a lot of features that made it desirable, such as Norton Roadholder forks and initially the model sold quite well… but not for long.
It got a little better when AMC comp shop lad Wally Wyatt was let loose on it and made it perform better, but even he couldn't do anything about its physical size. But he did make enough significant changes to the 'Falcon Trials 83' for it to become the 'Falcon Trials 85' though it still wasn't the most popular of machines. Ironically the chassis too had been given some attention and was probably the best chassis of any trials bike to date but saddled with such an inferior engine. Few if any purchasers would see past the AMC engine though, and even fewer would have the finances to chuck the engine and put a Villiers one in its place.
That was a shame because if they'd fitted one of the alloy top ends available, they'd have the best handling and performing trials bike it was possible to buy. Effectively this was what Francis-Barnett did for 1963 and Mick Ransom rewarded them with a third place in the Scottish Six Days Trial. But by then it was a little too late for the Fanny B as AMC's other marque – the James – was in the ascendency.
Enjoy more Classic Dirt Bike reading in the quarterly magazine.
Click here
to subscribe.
Comments
comments