Oh, and one to race too!
Words and pics: Tim Britton
If your business is based on a particular model of motorcycle to the exclusion of all others, then there are a number of ways one can promote one's core activities.
The first is to get out there on the track and show just what your stuff can do, the other to have a superb showroom model available with as much new old stock as possible used in the build and add the bits your business makes for the model.
Chris Lewis at Elsinore '74 has used both these routes and when we did Kris Winder's championship bike as a feature last year, Chris brought his NOS Elsinore and his own race bike along.
Being a quarterly means CDB often takes a little longer to get bikes in the magazine, but we are here to show off the delights of superb show models and a ready-to-race example is Elsinore '74's bikes.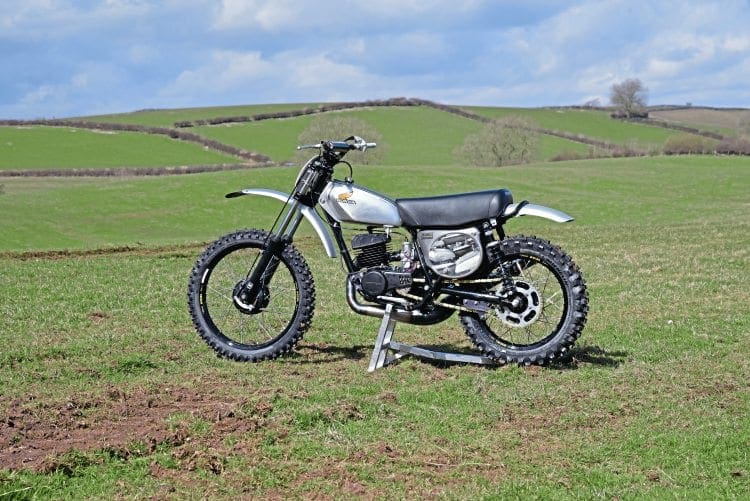 We'll have a look at the 'shop window' Elsinore first and clearly the aim behind this machine is to showcase not only the Elsinore models that Chris's business deals with, but also the improvements he has developed or experience shows are required.
I have to be careful when saying someone is or has an obsession – especially as Chris is a big lad – but I hope he will forgive me writing he has an obsession with the Elsinore, but he isn't blind to the areas where it can be improved.
"For bikes that race the frame can wilt and the swinging arm certainly does under hard use, so for the likes of Kris Winder we braced the frame and used a Thor swinging arm."
Coming back to the show bike, does everyone know NOS means New Old Stock? Good, because there is as much NOS in this bike as Chris could put his hands on.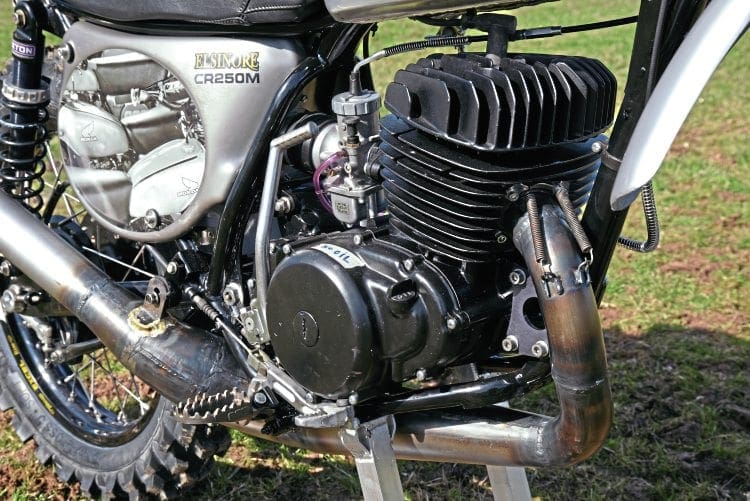 The bike arrived as a basket case from Honda specialist David Silver and was in typical basket case condition, so it was completely stripped and the repair began.
The frame has been left as stock and the swinging arm is not the stiff alloy one, but a DG aftermarket one, even though there's no intention to race the bike.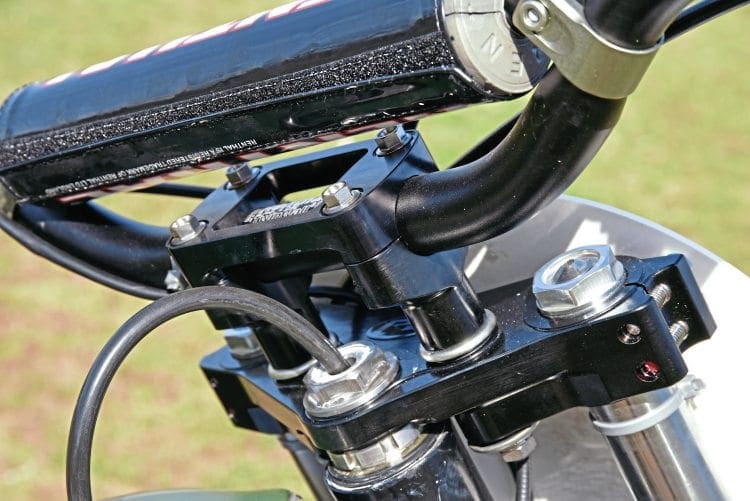 Once the frame was checked it was given a coat of black to make it look nice and then Chris approached Maxton Suspension to see if their rear units were right for an Elsinore and while he was talking to Maxton he had the front forks worked on, so the whole suspension package worked the way it should, as the days when as long as it went up and down it would be okay are long gone.
You would be right to assume there's been some improvements in the way the front forks are connected to the steering head of the frame.
Read more and view more images in the Autumn 2019 issue of CDB – on sale now!
Enjoy more Classic Dirt Bike reading in the quarterly magazine.
Click here
to subscribe.
Comments
comments