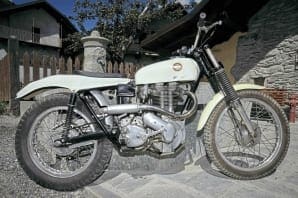 Once Sammy Miller retired his Ariel-based trials bikes and went two-stroke, the machines were sold off and continued to be used at quite a high level.
GOV 132 eventually came back to Miller and is in his museum in New Milton, but 786 GON went through several owners before ending up in Italy in the hands of Carlo Ramella, at whose place Justyn Norek took these superb photos for CDB.
No static exhibit, this almost-as-famous Ariel was put through its paces by Justyn Norek Jnr, high up in the Italian Alps.
The young lad is an active mountain biker but a day spent hauling this 'lightweight' Ariel around left him worn-out and with a greater respect for the legendary Irishman.
Read more in Winter's issue of CDB

Enjoy more Classic Dirt Bike reading in the quarterly magazine.
Click here
to subscribe.
Comments
comments