Kawasaki's advertising slogan in the Seventies made much of the light weight and colour of their MX models, we check out an SR400 which epitomised the advert legend.
It is a fascinating world in which factory team bikes live, and there are three separate elements to that world.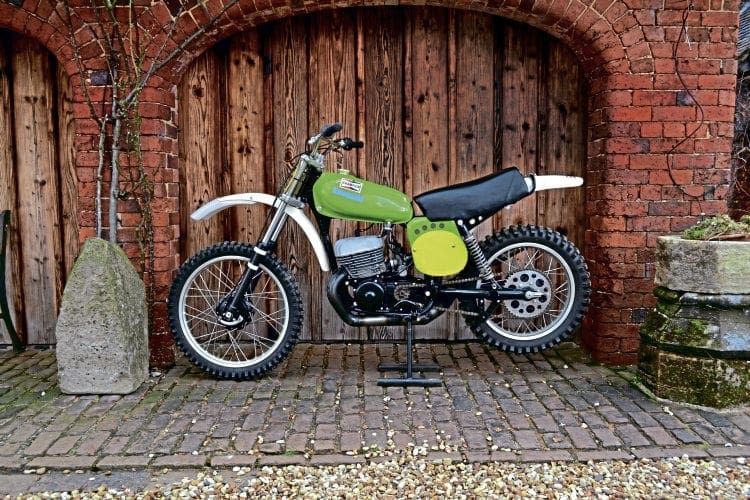 Naturally there's the race day, then there's the paddock fettling sessions where minor and occasionally not so minor faults are repaired and things get checked over between races, and then there's the factory race shop where the machine is built in the first place. The hallowed ground with locked doors and blanked out windows being accessible only to a favoured few – at least that's what we like to believe.
Once their race life is over, these bikes generally head back to the factory, rarely to be seen again unless, as in this SR400's case, it comes to an enthusiast who appreciates it for what it is.
Given the level of reworking owner Clive Bussey has done on other machines of his we've featured, we thought this one must have been almost too easy. "Well, not quite," he grins, "but the hardest job was the frame as it'd been altered at the rear and was bent in three places."
What Clive did was to remake the whole rear end to correct the damage and restore the chassis to its late 1974 spec.
"I know from information I got with the bike that this is the new frame which Christer Hammargren tried for the British MX GP in 1974. The engine positioning is slightly lower than previous versions and it's also got reed valve induction."
Clive also found the frame was constructed from lightweight chrome molybdenum tubing which had been TIG welded together – the whole bike is a curious mix of stock factory parts with specially fabricated bits and pieces here and there.
Read more in the Spring 42 issue of CDB – out now!
Enjoy more Classic Dirt Bike reading in the quarterly magazine.
Click here
to subscribe.
Comments
comments