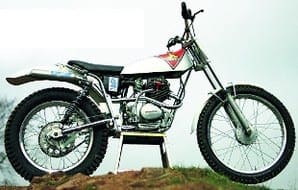 When he went to Honda to develop its trials bikes the same thinking went into a special frame kit for the incredible little TL125 Honda. This frame, along with other tuning mods, transformed the little bike into a proper trials machine and helped many a newcomer taste trials riding.
Fast forward a few years to Sammy Miller Products' new owner, Richard Jordan, being faced with requests for such frames. By his own admission Richard is a much more motocross oriented chap than trials rider but had fancied a go with one of the TLs himself. Problem was, as his callers found, few were available and he bit the bullet and made a batch to the original specification some time ago. CDB was involved in the testing of these new frames and they were found to be very good indeed.
Richard had a bit of a clearout recently and realised that there were enough components for 10 frame kits and these will be the last ones ever. Richard has worked out a special price of £1939.70 including VAT – a big saving over the original £2311.20 – for the kits and once they're gone it will be the end of an era. So, if you've a Honda needing an updated frame for trials riding then get in touch with Richard at SM Products enquiries@smproducts.co.uk or ring 01425 616446 for your frame kit.
Enjoy more Classic Dirt Bike reading in the quarterly magazine.
Click here
to subscribe.
Comments
comments