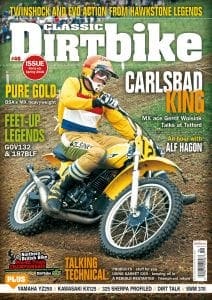 In Balance
Battery power takes charge as our editor points out this electric lark isn't such a new idea after all.
News, views and reviews
If it's happening, going to happen or happened, then this is where we try and squeeze it in…
You need…
…a YZ250L in your shed, yes, you do. You may not realise it but this Yamaha is what you're waiting for.
You also need…
…a Kawasaki KX125C1 in your shed, and it will do more than simply keep the Yam company.
Super Profile
We have an in-depth look at the 325 Sherpa, Bultaco's answer to those who wanted more… more… and yet more.
Subscribe! Subscribe! Subscribe!
As CDB is subscription only in the UK you've either subscribed, nicked a mate's copy or seen us at a show. If it's one of the latter two… subscribe here to secure a great deal.
Dicko's view
The elder statesman of trials journalism broaches the 'what's the best bike' subject… that's brave!
'cross words
Someone else being brave is Ian Berry who champions the riding style of one rider over another and says who's most stylish.
Masterclass
Want to improve your skills? Ask a master. We try life on three wheels.
Dirt Talk
What're you talking about in the CDB world? All sorts of things as it happens, bring it on we say.
Moto memories
An ISDT checkpoint is often a frantic place as riders hurtle in, desperate to keep on time. In 1975 however, there was time to peruse the Rokon.
FEATURES
Pure Gold
At one time, to win in scrambling, a rider had to invest in the gold standard, BSA's gold standard that is the Gold Star.
That was the year when…
… Yamaha invited the press along to its MX launch in 1978. Pete Kelly turns back the clock to review the day for us.
On top of the world
Are there two more iconic trials bikes
than Sammy Miller's Ariel and Gordon Jackson's AJS?
An hour with…
… the legend Alf Hagon. We sit down with the forward thinker and try to keep up as he talks about bikes, bike sport and howling over an airfield on a v-twin JAP.
Chef's Special
We meet Philippe Vanderwalle, a man with passions for cooking, enduro and for SWM – we look at the latter two.
EVENTS

Hawkstone legends
Is there a more legendary place for MX than Hawkstone Park in Shropshire? We say no there's not… and John McCrink went along to Hawkstone Legends for us.
TECHNICAL
Rebuilding to use
The time has come, the need is there, the realisation that wheeling a bike from shed to shed is a whole lot easier than carrying it in boxes.
Dirt Products
Got something to help the off-road world go faster, keep their feet up longer or remain more on time in
an enduro? Tell us, we could well put it in this bit.
Tech Talk
All old bikes leak oil, it's their charm… er no, they don't have to, and with the help of Loctite we show you how top stop them dripping.
Enjoy more Classic Dirt Bike reading in the quarterly magazine.
Click here
to subscribe.
Comments
comments