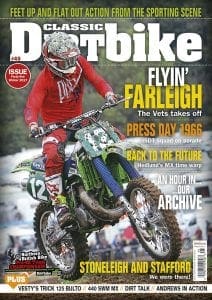 In balance
The opportunity to build a shed from scratch rather than inherit something built by someone else is a rare opportunity indeed.
News, views and reviews
Our regular look at what's happening in the off-road world, events to go to, series updates.
Against the tide
By the mid Sixties the world had decided lightweight was the way forward… Hedlund thought otherwise.
Something special
The UK couldn't quite leave the Triumph unit engine behind when
ISDT duty cropped up – meant a few superb chassis were devised though.
You need…
… a Drayton Triumph, we look at a winner first time out and get the spec from the rider.
Subscribe! Subscribe! Subscribe!
As Classic Dirt Bike is subscription only in the UK you've either subscribed, nicked a mate's copy or seen us at a show. If it's one of the latter two… subscribe here.
Dicko's view
If only our other halves knew how much we almost spend at these shows we go to… oh, they know do they?
'cross words
Is it the fountain of youth at which Mr Berry has been sipping? No, just a view that youth isn't a new thing… This is part two!
Dirt Talk
What are you talking about in the CDB world? All sorts of things as it happens, bring it on we say.
Moto memories
All eyes were on Mick Andrews' rear end at the 1977 UK world round and Nick Nicholls caught it in action as it soaked up the bumps.
FEATURES
That was the year when…
… the ISDT squad was paraded in front of the press at Fenny Drayton. It was a well attended affair with the industry notables all over the place.
Bigger isn't always better
With the current interest in smaller capacity bikes for pre-65 trials, we have a look at a rather special small capacity bike for twinshock trials.
An hour with…
… or actually 'an hour in…' for this issue, as it eventually dawned on the editor that a feature around the archive here at CDB Towers could be a good thing.
Bigger is better
In the search for MX success, more cubes will often help… CDB is invited along to the first running of a big-bore SWM.
EVENTS
Sporting world
We've been to our sponsored NBBC round in the North East and a twinshock MX in Chester… where have you been?
Fabulous Farleigh
CDB went to the Vets MXdN at Farleigh Castle in Wiltshire, torrential rain overnight made things interesting…
GETTING TECHNICAL
Dirt products
Got something to help the off-road world go faster, keep their feet up longer or remain more on time in an enduro? Tell us, we'll put it in this bit.
Tech talk
All is never lost… there will be something out there to help when things wear out and replacements can't be found… like gear change shafts for instance.
Enjoy more Classic Dirt Bike reading in the quarterly magazine.
Click here
to subscribe.
Comments
comments