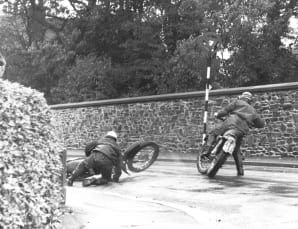 Given the size of the Isle of Man it seems incredible that an event noted for long distances could be held there once let alone three times and, conveniently for us it was nicely bracketed in one decade.
Even better from our point of view it was an interesting decade, both technically and sportingly as far as the ISDT went and the three years it was in the Isle of Man coincide with changes in attitude towards the event.
By this I mean its emphasis on being a shop window for the motorcycle industry as a whole took a back seat while the contest as a sporting one took a bigger role.
Okay, first up is honesty time, 1965 to 1975 is actually 11 years and a decade is 10 years but we're hoping you'll forgive us.
Secondly the requirement for the Trophy contest – the main award – to be by teams mounted on machines made in their home country had been lifted in 1970 so the 1971 Manx ISDT had a more eclectic mix of motorcycles and finally, by 1975 the event while still designated a 'trial' was really an enduro.
Read more in Summer 2015 edition of CDB

Enjoy more Classic Dirt Bike reading in the quarterly magazine.
Click here
to subscribe.
Comments
comments