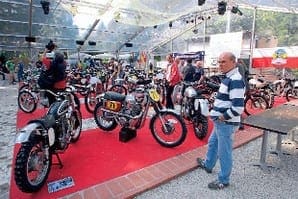 Yes, no matter how old a racer is they're still a racer and the whole point of bikes is to ride them.
The racers in question included the cream of Britain's dirt racers including CDB columnist Jeff Smith, Don and Derek Rickman as well as Les Archer – all as eloquent with words as they were with motorcycles on the track.
The event, held at Imola's Mineral Water Park from May 25 to 27, was a revival of European and World Championships held in the town from 1948 to 1965. And the first ASI (Automotoclub Storico Italiano) revival at the birthplace of Italian international motocross was deemed a huge success.
ASI had gathered together the cream of golden era motocrossers and their machines for a superbly organised event that included talks, presentations and actual racing. The names included Sten Lundin, Bill Nilsson and Rolf Tibblin.
The catalyst for the event was the book Imola Mondiale 1948-1965, and such was the interest in the book that the event was almost the obvious next step.
With a classic scramble, organised by the Club Alzavalvola of Bolgna, there was plenty to delight of crowds and, with great weather the event was very well received.
Enjoy more Classic Dirt Bike reading in the quarterly magazine.
Click here
to subscribe.
Comments
comments