Build a bike for a world champ to ride? No pressure then…
Words Tim Britton Pics Tim Britton, Fiona Watson and Martin Mathews
Building a motorcycle which will be used by a former world champion, not just ridden for display purposes but used in a proper trial, is a daunting prospect.
After all, your workmanship will be under the most intense scrutiny as all eyes will be on the VIP guest and his bike.
This was the situation facing MotoSWM proprietor Martin Mathews when the Inverness and District Motorcycle Club invited Bernie Schreiber to be guest of honour at their Highland Classic Two Day Trial.
Titled Edition SWM, it was to celebrate both the marque and Bernie winning the SSDT on an SWM in 1982.
Martin was asked if he could provide a couple of SWMs for Bernie and Gilles Burgat to use in the trial. In the end Gilles couldn't make the event after injuring his shoulder in the SSDT but Bernie put the one built for him to good use in the Alvie Estate-based event.
At the end of the trial we had a chat with Martin about his bike and what went in to putting together the right bike for a world class rider.
First and foremost what is needed is a bike… Martin actually has a genuine ex-Schreiber TL320 but it is in such an original condition it would be sacrilege to restore it.
"I got it a few years ago from a lady in California who contacted me asking if I'd be interested in an SWM her husband had bought from Bernie Schreiber. There were some pics and as much as you can tell from them the bike looked the real deal."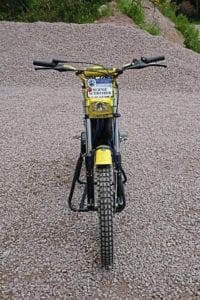 Martin adds he knows of another couple of genuine Schreiber SWMs and discussing notes with the owner of them he was convinced what he was being offered was the real deal and may even have been one of the bikes featured in the book 'Observed Trials' which Bernie collaborated with Len Weed on.
Read more and view more images in the Autumn 2019 issue of CDB – on sale now!
Enjoy more Classic Dirt Bike reading in the quarterly magazine.
Click here
to subscribe.
Comments
comments