Although BSA's DBD models are the ultimate development of the company's MX machines, the BB version was the start. CDB checks one out.
Words and pics: Tim Britton
Long before Jeff Smith earned the world championship reward for his and BSA compshop boss Brian Martin's patient development work on the Gold Star's successor, another BSA star was laying the groundwork for the legend that would become the DBD model.
Bill Nicholson had been making a name for himself in Irish events, trials and short road races mainly, and had even come to mainland UK as part of an Irish team for the Colmore Cup trial soon after the end of the Second World War.
On his own interpretation of what a BSA competition bike ought to be like, Nicholson managed to beat all but BSA's star man Fred Rist in the important national trade supported event.
This led to an invitation by then BSA competition shop boss Bert Perrigo to call in at the factory on the way home and an invitation to come over again for the Victory Trial a couple of weeks later.
Nicholson won a first class award on his home-brewed bike, which convinced Perrigo to loan Bill a just-introduced B32 comp bike.
Nicholson repaid the trust by winning his first event back home on it and Perrigo made it his business to be at the Hurst Cup trial in Northern Ireland, where he would witness the up-coming star win for BSA.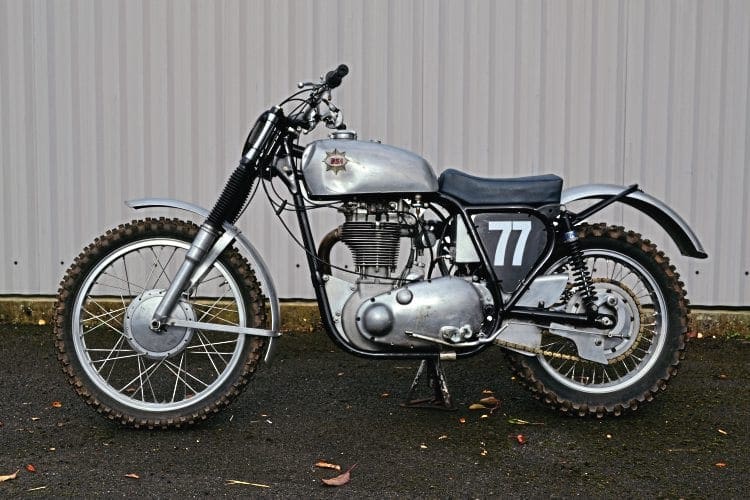 Realising the potential of Nicholson for BSA, Perrigo suggested he ride in the Cotswold Scramble, something Bill was unsure about, as he'd never scrambled before.
However, the lad was convinced he'd not have to go any faster than he had in the Hurst Cup trial, so Bill entered but not on the works B32.
Not convinced the B32 was the tool for the job, Nicholson got together with Rex McCandless and fitted one of his swinging arm conversions to his own B29-based machine.
On turning up at this prestigious – and Nicholson's first – scramble with his rear sprung machine he was an object of fun, scorn and pity. Everyone knew sprung rears wouldn't grip on the dirt…
Never mind, that's one less to beat, thought the establishment… except Nicholson won the 350 race and then the 500 race on his apparently unsuitable machine.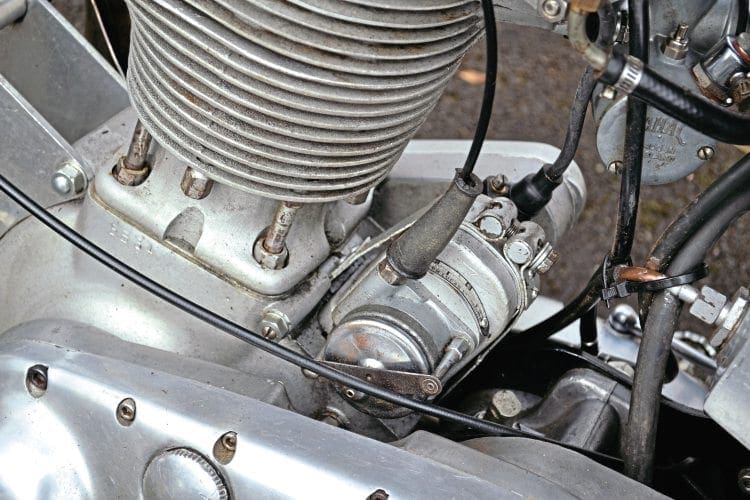 Unfortunately for Bill, who was soon to be employed at the factory, BSA had placed its faith in plunger suspension and he was soon forced to use this type of springing rather than the superior McCandless type.
Apparently typical of Nicholson, he took the standard plunger system and binned it before secretly fitting in his own hydraulic damping development.
He was, at least, being seen to be using what BSA sold. Nicholson knew this couldn't last and he had already developed a lightweight all-welded frame for trials.
Though a rigid frame, Bill designed it in such a way as to make fitting a swinging arm possible for scrambling. The world was about to change, but it almost didn't…
The lightweight frame wasn't an official project and Bill was under pressure to cut it up – a last-minute intervention by MD James Leek saved it but in order for it to go ahead Nicholson had to win the Colmore Cup trial.
Fortunately he did, the project was sanctioned and the tube for the swinging arm MX frame ordered on the Thursday and it was ready to paint on the following Monday with Bill able to test it at John Draper's farm the day after.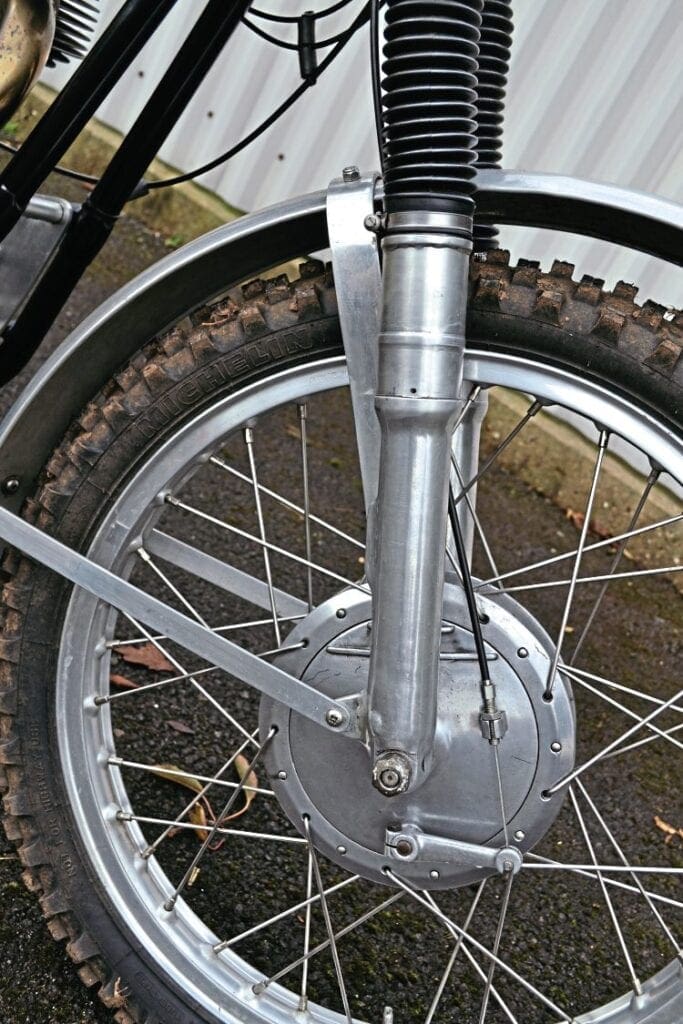 Bill had modified an A7 BSA twin gearbox for his own machine as the original ZB single one could get a bit flustered in the heat of a scramble.
The A7 twin had a much stronger changing mechanism but was bolted to the back of the twin engine instead of mounted in engine plates as the ZB one was.
With the help of Ernie Earles, who had great expertise in using aluminium alloy, an A7 unit was modified to fit into the new frame. The A7 clutch was used too, it being stronger than the original and the BB model was on the way.
If all this sounds as if it was plain sailing then think about the rear suspension units.
These days there are any number of types and styles but when Nicholson was developing the BSA rear suspension with Girling he found its units to be unsuitable for his use so he designed his own, Girling made them and BSA got a couple of years advance on the design. After his development work the spring rate could drop from 160lb to 90lb.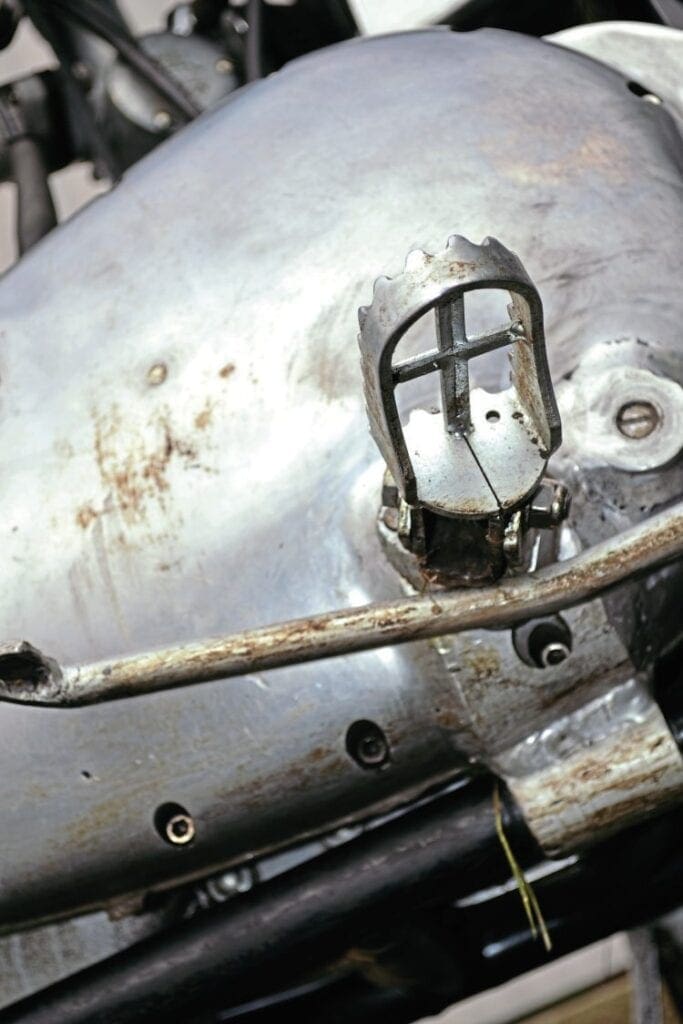 On the new machines, BSA began its domination of the scrambles scene. John Avery was British champion and third in Europe in 1952 and the factory prototypes were further tidied up for public consumption in 1953.
It was short-lived however, as more changes were incorporated and the BB became the CB but for a couple of seasons the BB model was about as close to a factory bike as a privateer could buy.
1954 BB34 Gold Star
When CDB went along to see Harold Allen's cantilever Goldie for a feature a few issues back, lurking in the background of the workshop was another Goldie, this one. "I thought you might be interested in another bike to photograph," he said. Most definitely.
As the bike stands, it is clearly a BB Gold Star, the frame is a genuine scrambles one, as is the engine, although it is modified slightly.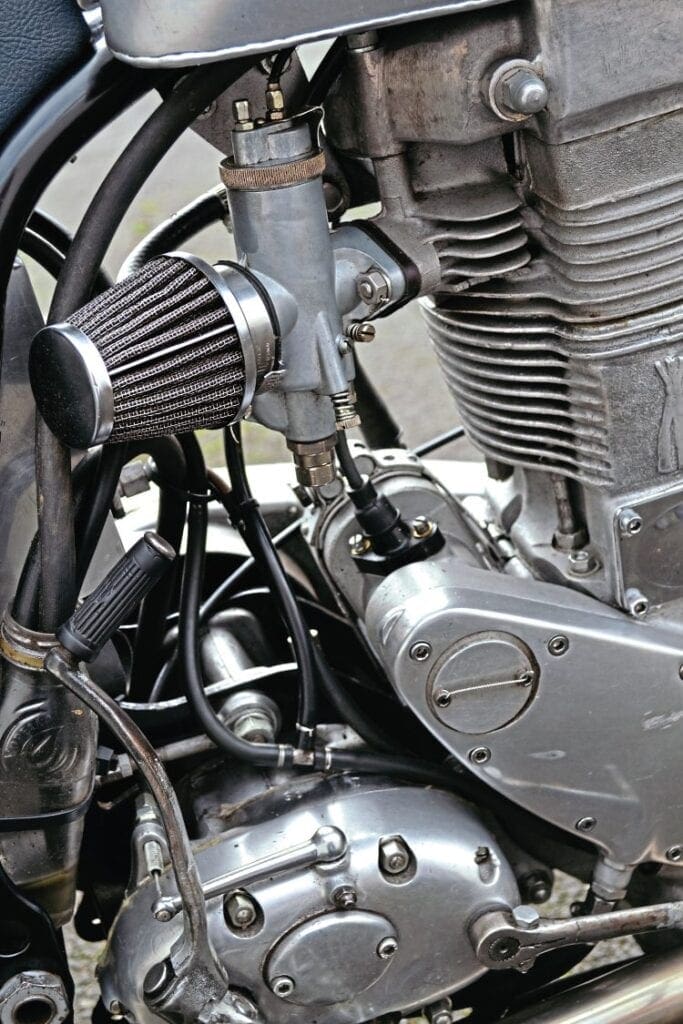 It is raced regularly by Harold's son Mick, who has done his fair share of winning on it. More winning could be possible but that would need even more modification than has happened so far.
"We like to keep the bike looking right," they both said, "but that means being a little outclassed by more modified machinery."
That isn't to say there aren't any tasty bits and pieces behind the covers as there are, and they are all designed to help the bike hold together when Mick gets it wound on.
As might be expected there is quite a bit of lore around for Goldies and as befits such an iconic machine those that know about them are enthusiasts too.
For more details on the Goldie engine have a glance at our Iconic Engines series – we looked at the single cylinder motor from an engineering point of view in issue 31.
What tends to be forgotten these days is there have been any number of advances in engineering and what was good practice in years gone by has been superseded by better practice now.
This is no more evident than in the crankshaft and the old riveted-up style, while okay for moderate use, is really not good for an engine used hard.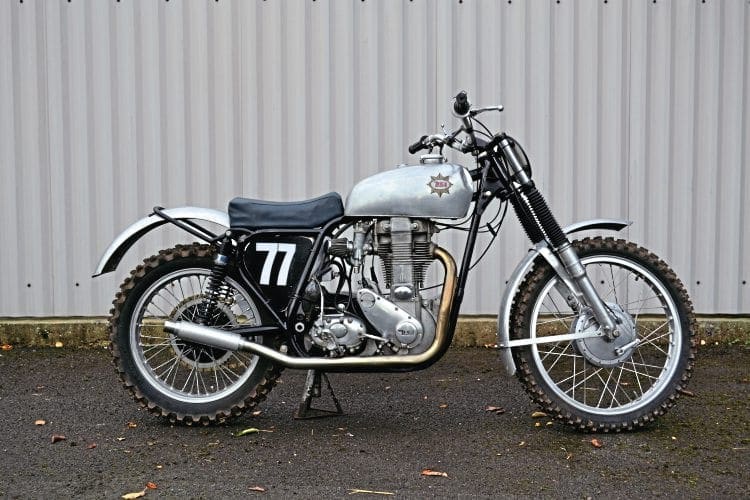 The problem stems from the flywheels being stamped from mild steel, which doesn't like an interference taper fit for the shafts so BSA riveted them for security but the rivets wear loose and once they let go it's a case of 'ooh! Look at that hole!'
The best way is to replace the crank on the race engine with a modern version and the one chosen here is by Gold Star specialist Phil Pearson Engineering in Norfolk.
Phil also supplied the Carrillo steel conrod, which is much stronger and lighter than the alloy BSA one and with such kit in place BSA's recommendation of changing the rod and exhaust valve after 40 races can be ignored.
The crank and rod are matched to a German Mahle piston, which is infinitely better than the original type.
Also better than originals are modern valves, they're better made, better machined and, with Porsche valve springs in, they are controlled better too.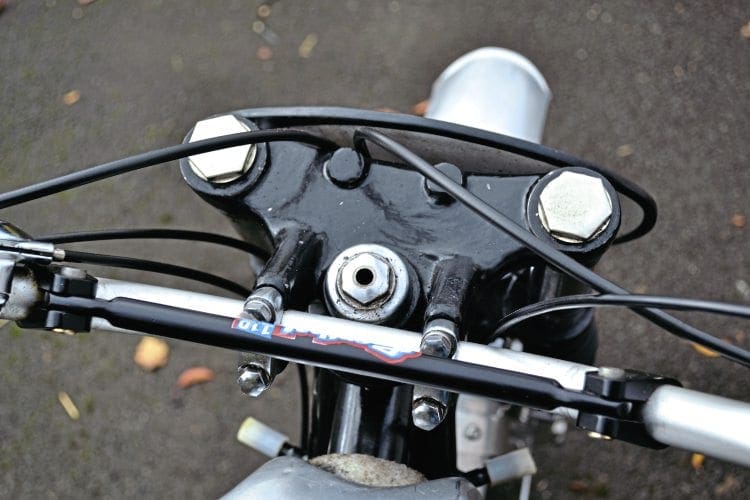 In order to make sure this engine's valve timing is as accurate as possible the cams are of the Phil Pearson Vernier type, which gives incredible accuracy where standard ones have to be a compromise brought on by machining tolerances.
Gearboxes on BSAs are pretty strong but there are variations in specification and the SC stamp with a T means scrambles ratio with needle roller bearings. Suffice to say this box is correct spec inside for the letters stamped on the case. How do the Allens know this?
Well it was built by the late and much respected Goldie guru John Gardener. When the BB was introduced BSA added a beautiful alloy chain case to it rather than the pressed steel one in use before.
Inside is a Bob Newby belt drive kit. He has been making such primary drives for a while and is well respected in the race scene.
Mick Allen is happy to report the belt drive holds up under the cut and thrust of scrambling. Feeding the fuel – Avgas rather than methanol – into the cylinder head is the biggest Monobloc carburettor they could find and it breathes through a free flow air filter.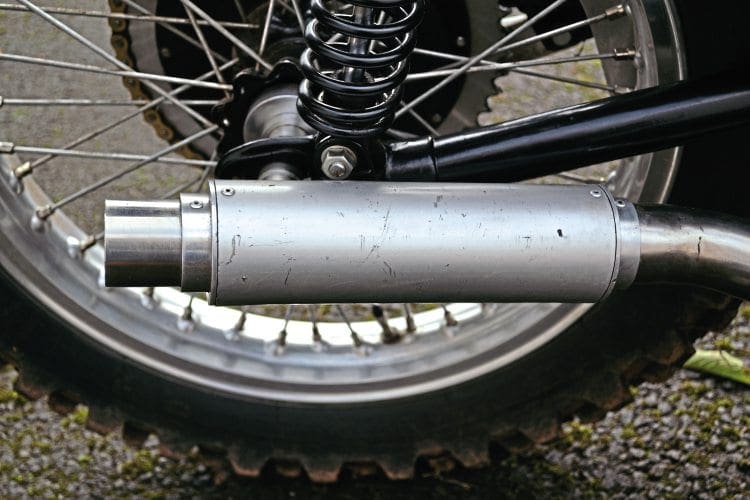 The Allens have resisted the temptation to go electronic with this BB's ignition and units are available for replacing the magneto, but Harold thinks a properly built mag – Tony Cooper did this one – is ideal for providing power.
Though its frame was inspired by Nicholson's lightweight one, it isn't the same, BSA's production methods saw to that. It is, however, an all-welded construction but still has a lot of lugs on that road riders need but scramblers don't.
In the original build Harold Allen delugged the frame as much as possible and saved a little weight here and there, which all adds up. Helping in the weight loss are alloy engine plates and distance pieces, alloy chain guards, mudguards and stays, or front ones at least.
All these little touches do make a difference.
Though Girling rear dampers are long gone, Hagon Engineering in Essex bought the rights, tooling and what have you, to the Girling motorcycle units, so the bike wearing Hagons is following tradition.
Up at the front end are Norton Road Holder forks with extended seal holders for more travel and Marzocchi innards cope well with the roughness of a typical scrambles course.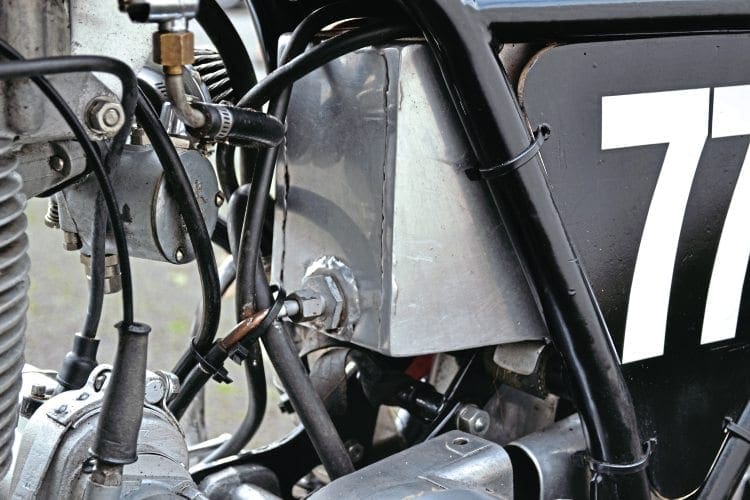 The forks are matched to a Grimeca alloy hub, as used by Dot motorcycles. It is light,it works and it is built into an alloy rim.
The rear hub is one of those parts of a motorcycle that has become legendary, the 'crinkle hub'.
Renowned as the best QD rear wheel of the British industry, the crinkle hub was an option on most BSA models from its inception in the Forties to the final models before BSA went bump.
When TriCor wanted to use Adventurers in the ISDT they used the crinkle hub and when anyone builds a special off-roader, the crinkle is the hub they want.
It is a nickname derived from the shape of the hub where the spoke holes are. Is it better than the Triumph QD hub?
Possibly, as people don't seem to desire them as much. This version is from the BSA B25 250 and on this one it is possible to change sprockets rather than have to dump the whole brake drum.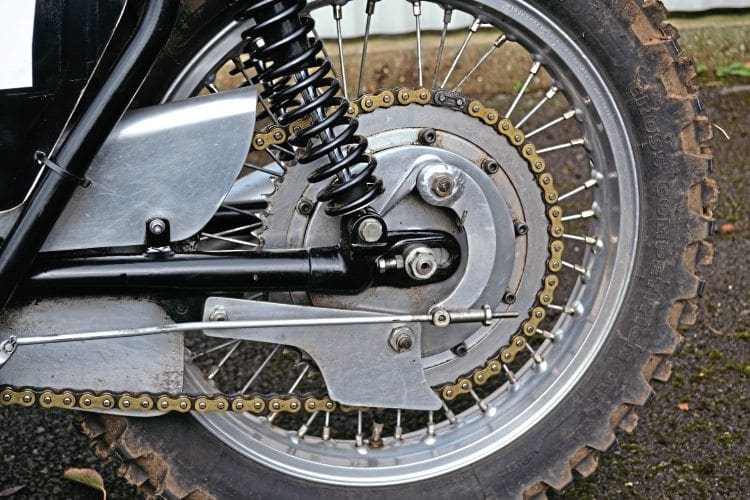 Topping off the bike is a Gold Star replica scrambles tank that would be from a later model originally and a scrambles seat made by Harold to replicate the Goldie one.
Renthal alloy handlebars, Amal alloy levers and a quick action throttle are all chosen because they're popular, replaceable in the event of an off and they actually look right. ■
Read more News and Features online at www.classicdirtbike.com and in the Summer 2020 issue of Classic Dirt Bike – on sale May 21, 2020!
Enjoy more Classic Dirt Bike reading in the quarterly magazine.
Click here
to subscribe.
Comments
comments