Words Tim Britton Pics Nick Haskell
The swinging Sixties were over, the Seventies almost through and not only was Jeff Smith's second world MX championship but a distant memory for off-road fans but so was the factory he raced for, when all eyes turned on a tall, blond Hampshire lad making his mark on the tracks of the world.
Graham Noyce was being touted as if not the next world champion but a contender at least.
He'd finished the 1978 season in seventh place and pundits were saying he had to mature a bit before he'd reap successes as he was young and inexperienced.
Problem with pundits is they're very often wrong and rarely seem to ask the people involved.
As Geoff Aspel pointed out after he interviewed Noyce before the start of the 1979 season the Hampshire lad had the determination to be a champion.
In that interview Aspel probed a little into the psyche of Graham Noyce trying to work out what made him tick.
Noyce allowed that while he enjoyed racing he was also out on the track for those who sponsor him being quoted as saying: "I can truthfully say I'm out there for my sponsors.
They are paying good money to see me go over the line ahead of the others and it's my job to win championships for Honda." Aspel also got the impression Noyce had a clear idea of what he needed to achieve.
During the interview Aspel asked if was possible to remain on friendly terms with competitors in such an intense world as international MX.
This being a thinly veiled reference to his former team mate, Brad Lackey, who moved camps to Kawasaki for 1979.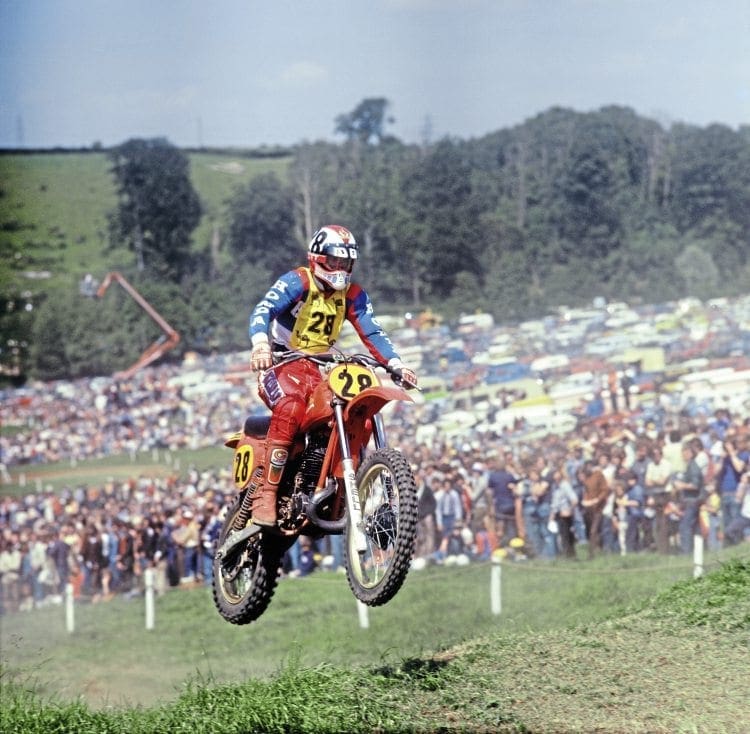 As often happens in such a world rumours fly and misconceptions abound as perhaps people believe what they want to believe rather than what is.
Graham allowed that public perception was he and Californian Lackey didn't get on while the truth was they were okay together but as the senior team member Lackey's bike was a bit better than Noyce's.
When Brad left Honda he also left his mechanic Bill Buchka who agreed to work with Noyce as he felt there was a good chance Graham would win the world championship.
It is the nature of journalism to ask interesting questions and Aspel wanted to know if Noyce had the same issues with Honda as his former team mate had?
Diplomatically Noyce said his deal was completely different as Brad was contracted to Honda America rather than Honda UK and he was 100% happy with the way it looked after him.
He told Aspel that Honda UK's Barry Symonds took care of a lot of the groundwork such as booking hotels when he was racing in the UK. "He makes my life so much easier and I can concentrate on the riding."
Noyce was incredibly enthusiastic when discussing his bike for the season, saying he felt it was the right bike for the job, Buchka was familiar with it and its performance was up to the task.
Then he added "the new bike that I will use in the Grand Prix will have a lot more power, in fact some of the test bikes have had so much power it had to be reduced."
There had been problems with the frame but that was sorted as the British season started and until Honda came up with something better Noyce had little doubt the current machine was the equal of all on the track. The question on everyone's lips though was did he, Noyce, feel up to the task?
"The competition is going to be really tough this year but I feel fit and with Bill as my mechanic I'm going to have a real bash!"
Round 1 Sittendorf, Austria
On the outskirts of Vienna, in the village of Sittendorf Noyce set out his stall for the coming season of the 500cc world MX championship.
In front of crowds lining the stony hillside track Noyce rode magnificently even leading the field at one point in the second race until Lackey snatched the lead from him and held it to the finish.
In the first race it was Yvan van den Broek, a semi-works Maico rider who took the flag with Noyce second a mere 200th of a second behind.
With race two bringing him a second place again but with Lackey taking the flag ensuring Noyce's two 12-point scores would see him on the top level of the podium.
For the first time since BSA-mounted Dave Nicoll won in Luxembourg 10 years earlier the British national anthem was played at a 500cc motocross GP.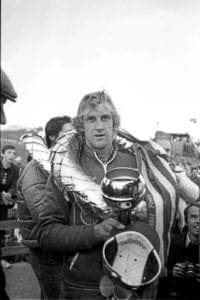 To further add to his glory Noyce also set fastest racing lap of the day at 2m 29.63s. Motor Cycle's headline screamed 'Magnificent Noyce' and rightly so.
Spare a thought though for reigning world champ Heikki Mikkola; the Finn jabbed his knee, injured earlier in the year, was full of pain killers but attempted to gain at least some points in his title defence. It was not to be and Mikkola sat out race two.
Round 3 Huskvarna, Sweden
For some reason the report on round two in France is missing from our files but The Motor Cycle was back on track with round three in Sweden where massive crowds saw a meeting with drama, excitement, grit, determination and heartache in almost equal measures.
Though Suzuki rider Gerrit Wolsink won the actual meeting and kept his position as third place man in the title chase by all accounts Man of the Meeting was Finn Heikki Mikkola whose third and second places ensured he was second place in the meeting.
This showed he was recovering from the smashed right knee, which had slowed him in earlier meetings.
Current title race leader Lackey was on track to take a comprehensive win after a thrilling first leg where he and Noyce were racing side by side until Noyce, managing a wheel diameter ahead of Lackey, crashed.
He remounted and shot off to save his second place. To cut the dust on the circuit the organisers watered the track, which ironically caused mud problems for face masks.
Still it looked as though second leg would a battle between Lackey and Noyce but they both made poor starts.
Both recovered as they raced on with Wolsink leading there was a four-way tussle with Mikkola, Gerrardt Rond, Roger deCoster and Lackey with Noyce still down the field.
Then all of a sudden Lackey wasn't there and the field saw the wreckage of his Kawasaki trackside as the dejected Californian sat next to his bike. It was covered with jackets to hide it from prying eyes but the front end was some distance from the rest of the bike.
However, Lackey was still in the title lead with Noyce second, four points adrift… the tournament headed for Italy…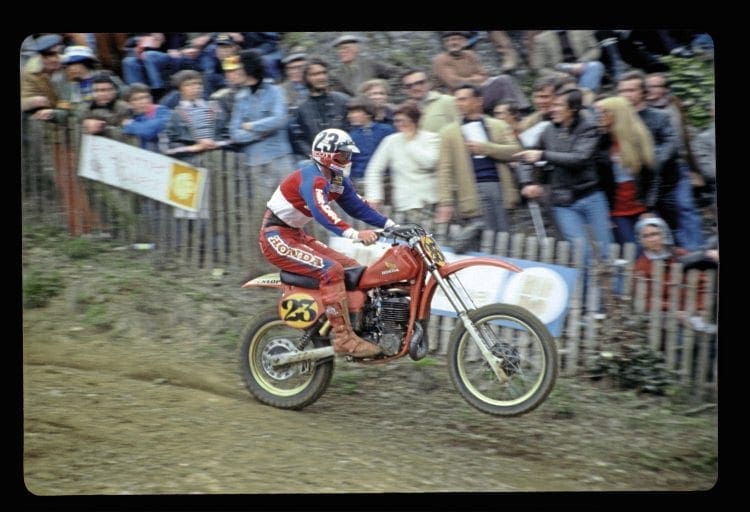 Round 4 Faenza, Italy
A measure of how popular MX was in Italy in those days was shown when 20,000 people made the trek to Faenza outside Bologna to watch the cream of the world's MX crop put on a display of masterful riding.
Organisers watered the track until its sandy surface was in prime condition needing only a master to ride it.
That master was Heikki Mikkola, the reigning champ who announced his return to form with two fine wins and 30 points putting him second in the world.
Our man Noyce though had two thirds, earning 20 points and propelling him to the top of the leader board.
The race was not without incident though as Graham squeezed past Mikkola and lead until a spill knocked him back to third place.
Leaving Italy the title race now had Noyce first, Mikkola second and Lackey third, with a few others on their wheel tracks.
There was a break for Noyce between leaving Italy and heading to the USA, he popped in to Hawkstone Park to dominate the home series with two convincing wins in two legs.
Round 5 Carlsbad, California USA.
The break at the British MX championship did Graham Noyce a power of good as he headed to California with renewed vigour to extend his championship lead.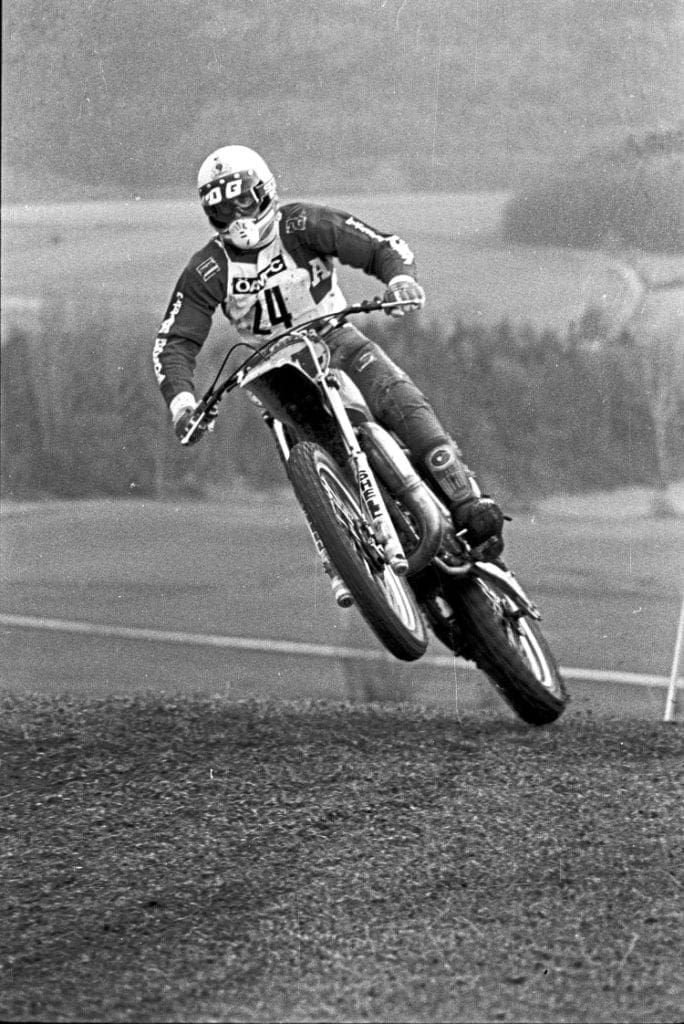 Even so it was Wolsink who again won the meeting but wasn't consistent enough to back it up with higher places at other circuits.
Lackey too was either there or nowhere and this affected his placings. In front of a 40,000-strong crowd and in baking heat, which saw several racers hauled off to hospital, Noyce kept steady with a third and a fifth.
Mikkola, however, crashed in the first race as did Lackey – twice – and both retired.
The event was notable for the emergence of several American names to be reckoned with in the future.
If anything it also showed how fluid the scene was with positions being reversed and placings swapped on the leader board, though British hopes were up as Noyce pulled away at the expense of his rivals.
Round 7 Beuren, West Germany.
Once again our archives are light and we have to speculate on how the Canadian GP went as the whole circus headed for Germany.
We do know that Heikki Mikkola had crashed heavily in Canada and had decided not to race in Germany finding a few practice laps difficult enough.
It would take a miracle for the Finn to retain his title now though he was lying fourth. It is also interesting to note while Noyce has been Mr Consistent ahead of him in most of the events have been a considerable number of riders all taking points but none doing enough to challenge the Englishman's lead.
With Mikkola out, next shock was Lackey's new 500cc Kawasaki seizing in the first race then, in his second race, a poor start left him with it all to do and he only managed a lowly ninth place.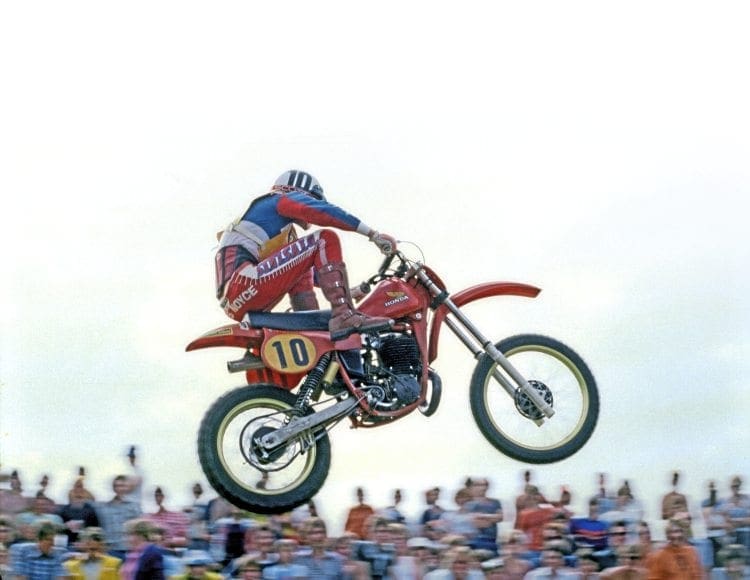 But the man with the mission was Jean-Jacques Bruno who powered his KTM to the podium in front of 25,000 people who were enthralled as the Frenchman mastered the tricky circuit with its off-camber turns, which meant a good start was essential for success as passing wasn't easy.
Second race was an Andre Malherbe benefit as the Belgian – a Honda teammate of Noyce's – charged into the lead and held it, showing the form that would bring him his own 500cc crown later.
Noyce stuck to him like glue and took second place and 17 more points for the championship.
The British MX GP… round 8
A win on home turf is always good and if you're almost a local then it's even better which is what Noyce did at round eight of the 500cc MX series when he lined up at Farleigh Castle in Wiltshire.
Okay, to British people Wiltshire to Hampshire is a step and a bit but when your competitors are from around the world then it's not that big a leap to call Graham Noyce a local hero.
He also picked up a new nickname 'Golden Boy Graham' on his way to being the first Brit for 11 years to win the home GP, the last being Husqvarna-mounted Vic Eastwood in 1968.
Noyce cited the crowds cheering as being a massive boost and is quoted as saying: "what else could I do but win?" as 27,000 people yelled themselves hoarse.
The cheering not only propelled him to a win on the home track but helped propel him 27 points in front of Wolsink who was now second in the title chase.
Though Lackey, winner at Farleigh for the past two years, took the first heat with Noyce coming second.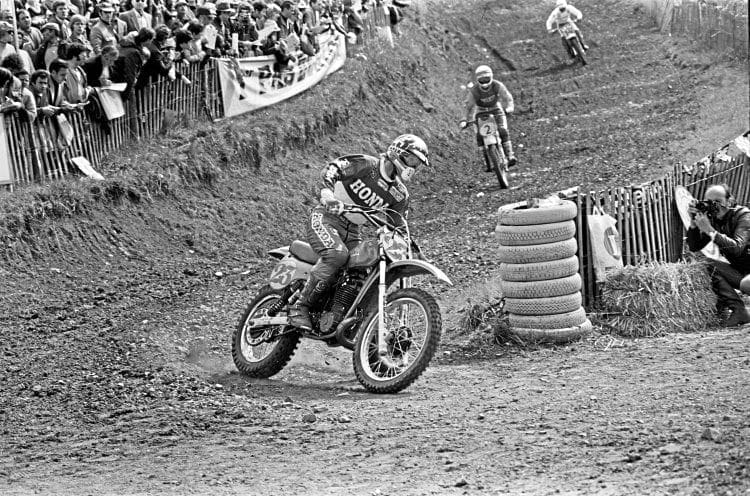 It could have been much worse as a first-bend pile-up saw several riders on their ears and two, including German GP Jean-Jacques Bruno out of the race but luckily Noyce and Lackey managed to avoid the melee.
Reigning champion Mikkola seemed dogged by season-long bad luck and a flat tyre ended his hopes in the first race while a fifth spot in the second wasn't enough.
Noyce did enough in the second race though and dominated it from start to finish while Lackey dropped to fourth.
The title chase now became a three-way tug with Noyce, Wolsink and Lackey way ahead of the rest though Noyce would have to do something really silly to drop back.
Round 10 Markelo, Netherlands
It was fast becoming clear to anyone the world championship 500cc series was now a two-man contest between Noyce and Gerrit Wolsink.
To further endorse that they both tied on 27 points for the meeting with Noyce winning the first race with Wolsink second and Wolsink first in the next heat with Noyce second.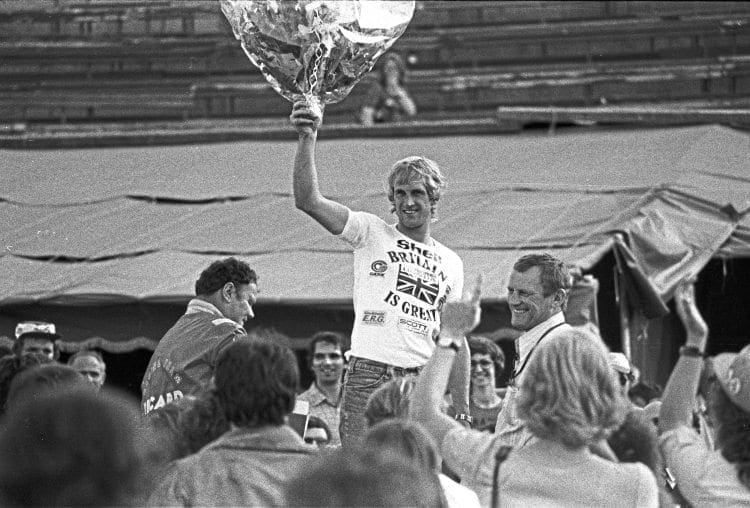 Mikkola placed third each time and earned 20 points but he was effectively out of the running for the championship.
Lackey too had now lost any chance of being champion, his Kawasaki seized in the heat and in his next race he struggled to fifth.
Not that Noyce had it all his way either, practice was delayed because the track needed watering, then for the Sunday race the heavens opened and conditions were like a quagmire, the conditions being tough on his Honda's spokes and Graham nursed his bike to the finish with the front wheel collapsing.
Andre Malherbe also had problems with his front wheel, the spindle this time, had to pull off the track then re-joined later to circulate as fast as he could to protect his team mate.
As the competitors headed to Namur for round 11 the Brit camp was daring to hope Noyce could actually do it, yes it wasn't clear cut just yet but Noyce would have to fail to finish in the next round and Wolsink win for him to be in with a chance of taking the crown.
Round 11 Namur, Belgium.
History books are littered with 'if only's' and sporting history books are even more packed full of examples of the cruellest luck imaginable.
Heading in to round 11 at the famous Namur Citadel race circuit theoretically Gerrit Wolsink could still have pipped Noyce for the title if a set of circumstances worked right.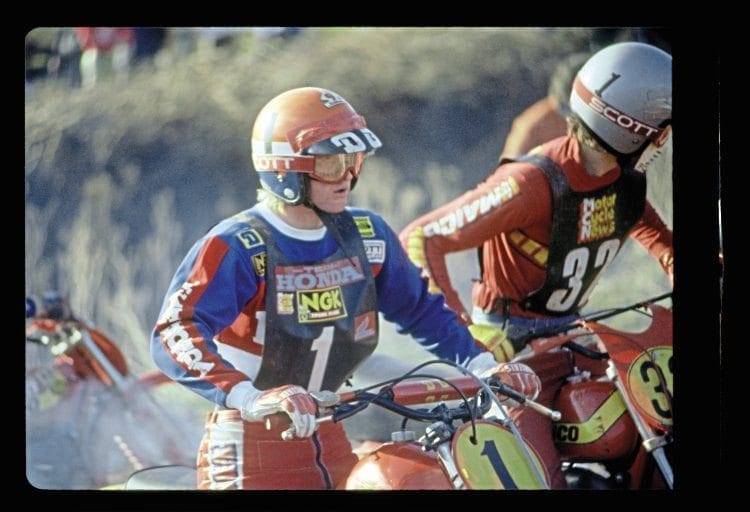 Sometimes these coincidences do happen but not this time and luck deserted the Belgian dentist.
Wolsink crashed in race one and retired from the meeting with fuel problems so instead of Noyce needing 21 points to take the championship he needed only to finish fifth and gain six points to win.
In the end he took 10 points in the first and suffered his first retirement of the year in the second when his rear tyre went flat. In front of 30,000 ecstatic MX fans Noyce 'King Graham the First' was crowned world 500cc MX champion.
It took a while for it to actually sink in that he was world champion but he was and he modestly praised the skills of Bill Buchka as being contributory to the win.
With Wolsink out, and Noyce champion, the contest was further down the scale as Andre Malherbe, desperate for a home win threw himself around the track as if possessed.
He was fastest lapper of the day, no mean feat at Namur and was overall winner on the day but had to give first place to veteran Roger deCoster in the first heat.
The Belgian superstar was making his final appearance at the Namur circuit, as a racer at least, as he'd announced his retirement from the sport earlier in the season.
But despite all the action no one could deny it was Noyce's day as he became the first British MX world champion since Jeff Smith in 1965.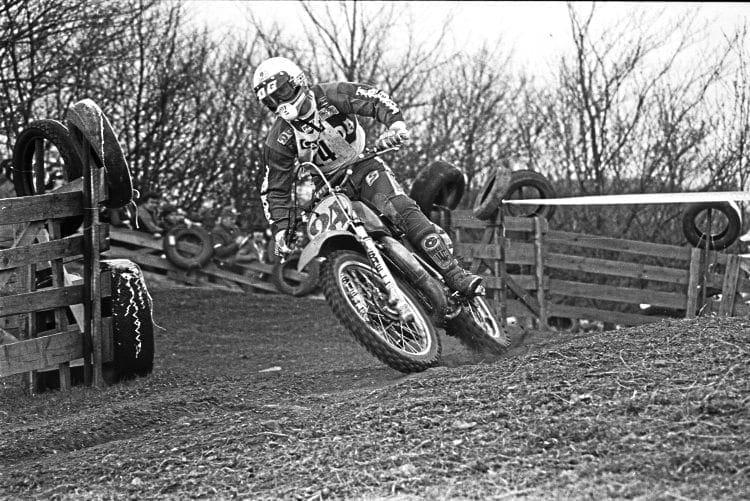 Round 12 Ettelbruck, Luxembourg.
Though the championship was decided there was still second place to sort out and with Malherbe on his rear wheel Wolsink had it all to do… he nearly didn't as he crashed in race one and needed a fourth or better in the second heat to beat Malherbe.
He managed just to hang on to fourth to become second-place man in the 1979 500cc world championship MX.
Though there was little need for Noyce to be at the event he still turned out, still raced and finished fourth in heat one and retired in heat two with a slipping clutch, perhaps the strains of a half season of GP racing were showing on his machine.
Half a season because Honda gave him a new machine mid-season, relegating his then GP bike to a practice machine and the company took back his old practice machine.
Lackey could reflect on the ironies of racing as he'd won more races than Noyce in the season but was fourth.
Mikkola stalled on lap one and struggled through to 10th. Malherbe was to win the 1980 title and a further two more to make his 500cc mark in the MX world, Roger deCoster bowed out of the top-line scene realising his time was over but leaving a legacy of five world titles with his name on them.
Meanwhile it was time for Noyce to think about next season.
Read more News and Features in the Winter 2019 issue of Classic Dirt Bike – on sale now!
---
Advert

Enjoy more Classic Dirt Bike reading in the quarterly magazine. Click here to subscribe.
---