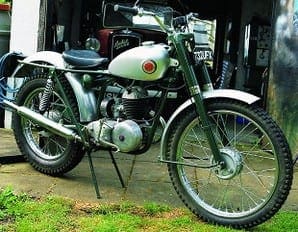 Mike Matthews and Francis-Barnett go back a long way. The former AA man's first bike was a Model 60 FB – and he bought that one more than 50 years ago. But this Model 76 – the first of the swinging arm FB trials models – is the bike the young Mike lusted after. Back then (1956), a spell in the Army on National Service put paid to Mike's ambitions, but now – happily – Mike has finally realised his dream.
Although he happily admits to being a self-taught engineer, Mike has mastered the mechanical arts to such an impressive degree that he now does work for well known and respected classic bike dealer Ron Farthing. And if this little Francis-Barnett is a fair reflection of his work, you can see why.
Mike has owned the bike for about four years and has treated it to a comprehensive rebuild. Interestingly, the bike had been fitted with a four-speed gearbox – probably from a Rotovator or Greeves Invacar – when Mike bought it.
Provide acceptable
That means it has close-ratio, low first and second gears (ideal for trials sections) and then a biggish gap to third and fourth, which provide acceptable road speed. And it's also got a full circle crank and the primary case cut away to allow a cooling airstream to get to the drive side mains bearings – popular modifications for scrambles use back in the bike's heyday.
A couple of neat modifications of Mike's showcase the owner's engineering skills and off-road background. First off, the footrests have been moved back – resulting in the kick-start fouling the footrest. To get round that, Mike has fitted a folding footrest – so far so obvious. But the clever twist, is that the footrest can be held in the 'up' position for starting, by an unobtrusive magnet attached to the footrest mount. And, although the original carburettor would have been an Amal 276, Mike has fitted a Concentric using an adapter he manufactured himself.
Apart from these few modifications, the rebuild was pretty straightforward, Mike reports. He tackled just about all the work himself – including the paintwork – and was able to refurbish most of the original parts. Exceptions were the new pattern silencer (from Des Heckle at the Francis-Barnett Owners Club) and the seat – which came from the ubiquitous Sammy Miller.
This may not be an ultra competitive pre-65 mount, but Mike has undertaken a few green lane runs on the bike and is pretty happy with its performance. "My knees aren't really up to trials these days," he says. "I might get one of my lads to ride it in a trial. I'm going into sponsorship!"
Enjoy more Classic Dirt Bike reading in the quarterly magazine.
Click here
to subscribe.
Comments
comments