Just in Time: Jersey Classic and Modern Trials Club hosted probably one of the last events before the pandemic 'lockdown'… roll on 2021.
Words: Tim Britton
Pics: Jersey Evening Post
For such a small island – Jersey is five miles wide and nine miles long – the biggest of the Channel Islands manages to host an excellent two day trial every March and finds a variety of terrain to test a rider's ability.
For 2020 the Jersey Classic and Modern Trials Club had to keep a wary eye on the global health crisis but managed to run the trial just before the country was locked down.
Very much a social occasion as well as a competition the Jersey Classic and Modern Trials Club do their utmost to make all those who have made the trip from all parts of the world feel welcome.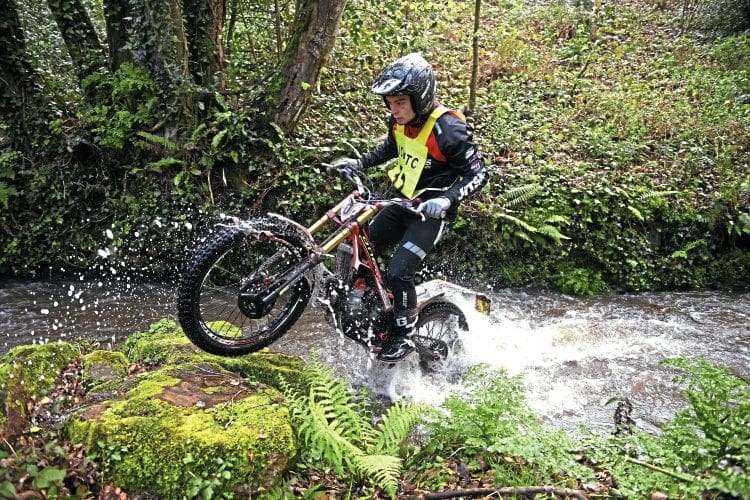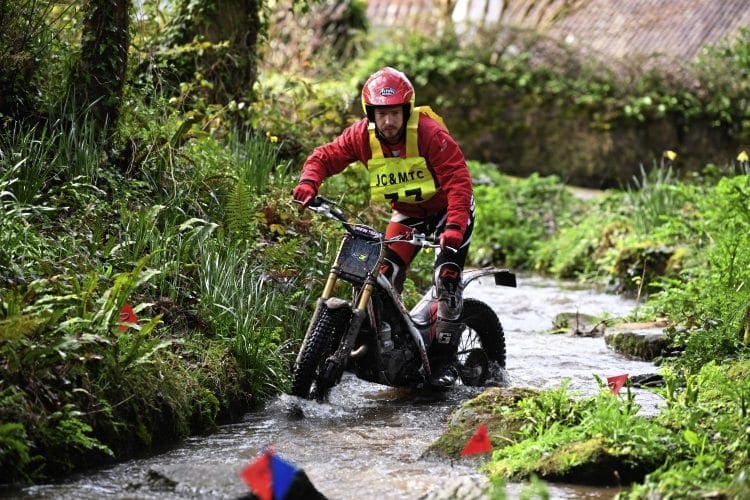 Outside of the terrific sections and scenery of the island one of the highlights is the Saturday evening dinner, where the riders are entertained by a guest speaker, which for 2020 was 1979 World Trials Champion Bernie Schreiber.
Bernie was surprised to find the variety of terrain and the length of the course available to the club for this truly international event.
And the Californian wasn't there simply as a spectator, mounted on a 320 SWM – the marque which he won the SSDT on – Schreiber took part in the trial and though not a regular competitor these days he is still a skilful rider who found the terrain much to his liking – taking second spot in the twinshock Premier class.
Despite the possibility of travel restrictions because of the virus, there were still more than80 riders competing in classes covering Pre-65, modern, twinshock and air-cooled mono, with sub-divisions for experts, inters, novices and sportsman riders.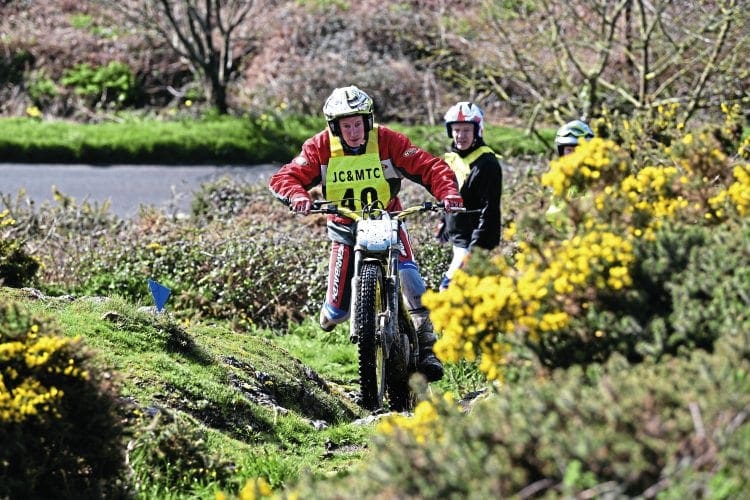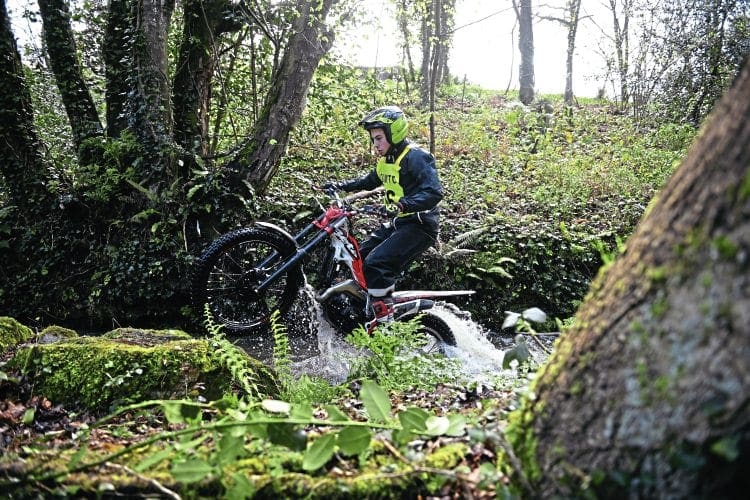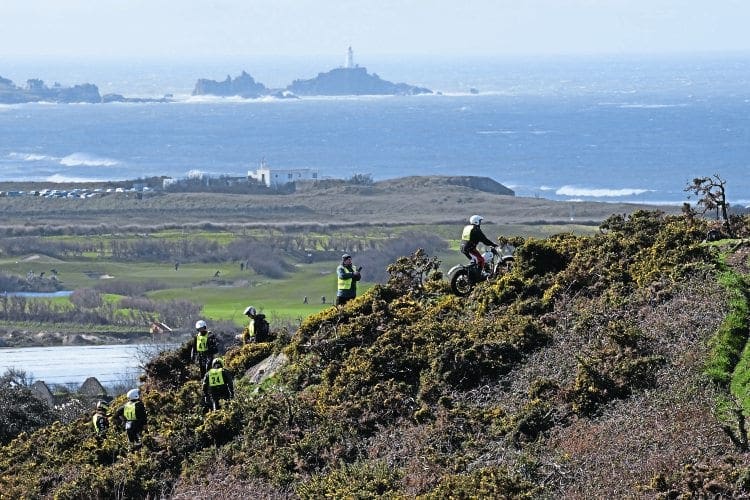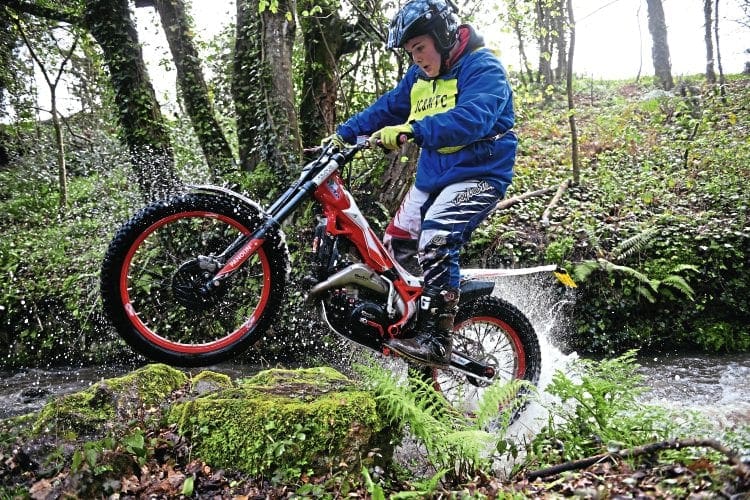 After riders had signed on at Les Platons carpark for day one there was a riders' briefing for final instructions, including an unusual one for those who'd not ridden in Jersey before – no standing up on the rests when riding on the road.
It seems the States of Jersey constabulary consider this to be trick riding and it is frowned upon.
The first groups of sections was at Les Platons and riders then made their way down the fellside.
From there, riders tackled a couple of sections on their way to Bouley Bay, followed by Le Saie Rock and on to Rozel Hill and finally Basils.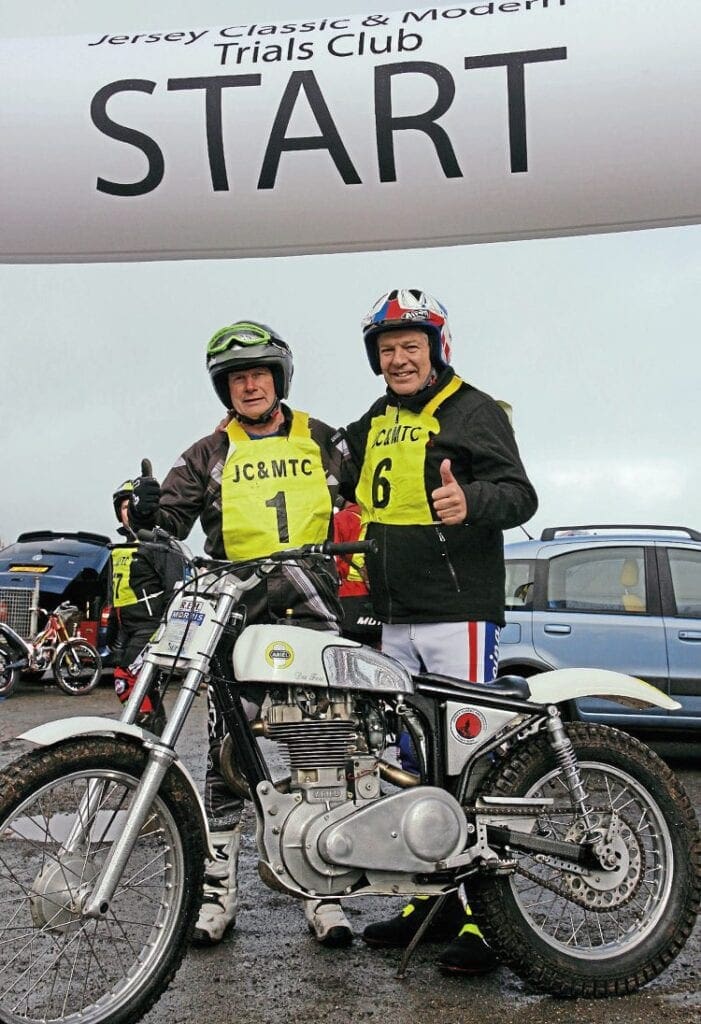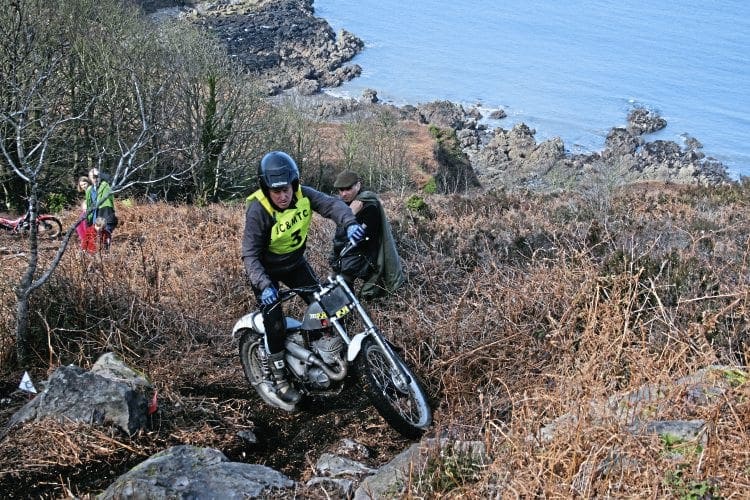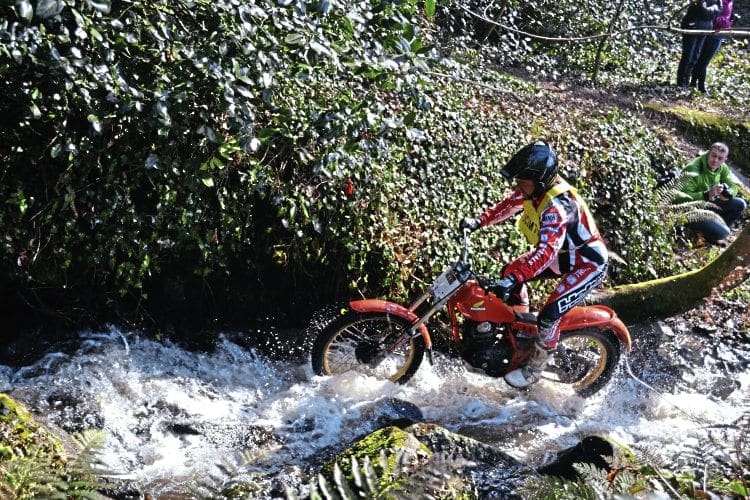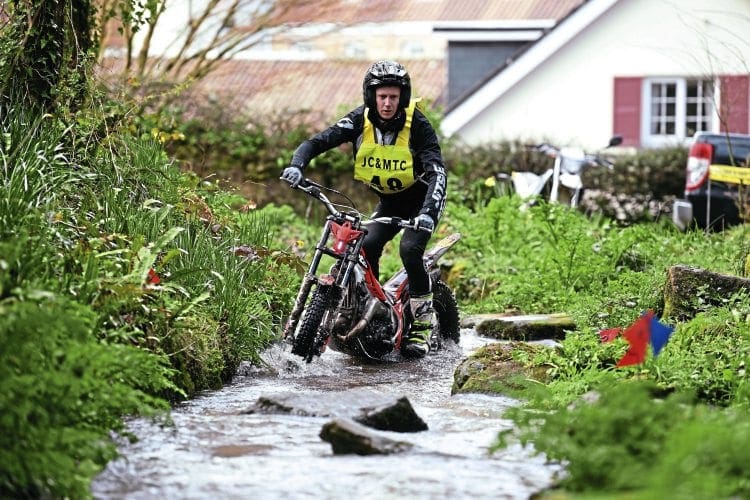 There were three laps on Saturday and five-and-a-half hours were allowed to complete the course.
After Saturday's evening meal riders were up bright and early for Sunday's start, which was at the Granite Products facility at 10am.
Once again riders had five-and-a-half hours to complete three laps with staggered starting points for the entry to avoid hold-ups.
With the weather providing a light cooling drizzle for most of the day there was little danger of overheating, but thankfully the streams didn't rise too much.
Once the day's riding was over and riders were cleaned off there was the presentation of awards to look forward to and talk of next year's event, which will again be in March.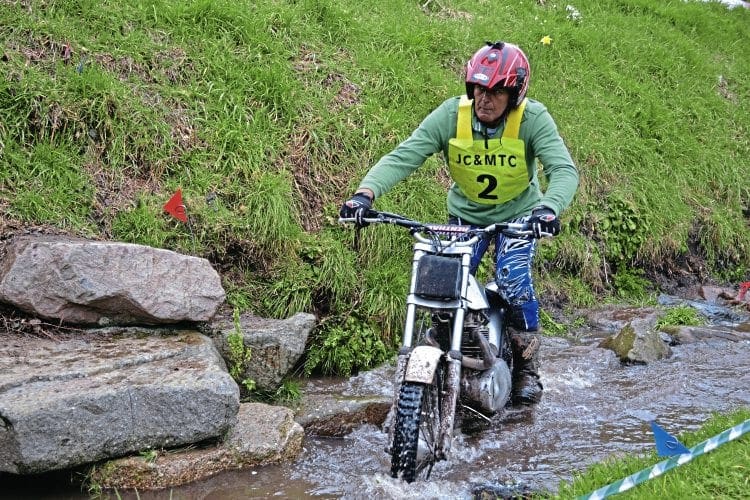 Jersey revisited
Classic Dirt Bike has enjoyed many a trial in Jersey – the island and its attitude are incredibly positive, and of course it didn't hurt that the weather in Marchwas better than the mainland UK experienced.
In many respects the organisers have almost the ideal terrain to run an event over and each lap contains a mix of sections, a boggy section here,fast-flowing rocky stream there, a hill climb further round and so on, all contained within a compactarea.
Getting to Jersey
If the idea of riding a two day trial on Jersey appeals to you, then the easiest way to get there is to go through Fairfield Motorsport, who will handle all ferries and hotel bookings for you.
It's a few months to go until the 2021 event but hopefully all restrictions will be sorted by then and the Fairfield Motorsport website www.fairfieldmotorsport.com has regular updates on travel times and requirements.
Very basically, ferries leave from Portsmouth and Poole and one should allow for travelling over on Friday and back on Monday.
Results: Class winners only
Pre-65 Premier – 1st Graham du Feu
Twin-Shock Premier – 1st Neil Dawson
Twin-Shock Premier (under 40) – Adam Le Cheminant
Pre-65 Sportsman – 1st Andrew Deffains
Pre-65 Sportsman (Under 40) – Tyler Murphy
Twin-Shock Sportsman – 1st Gary White
Twin-Shock Sportsman (under 40) – James Hunt
Sportsman + – 1st Tony Chalk
Sportsman – 1st Dave Marwick
Expert –1st Sam Gent
Clubman + – 1st Andrew Kilbey
Clubman – 1st Jake Bunney
Thanks to…
…a number of people for contributing to the success of the event, including Bernie Schreiber, the observers, officials and landowners, plus sponsors Ravenscroft, Motorama Bisson, Pentagon, Express Auto Parts, MAC Tools, TPT Training and Rebecca Loos.
From our point of view, thanks to the Jersey Evening Post for allowing us use of their pics.
Read more News and Features online at www.classicdirtbike.com and in the latest issue of Classic Dirt Bike – on sale now!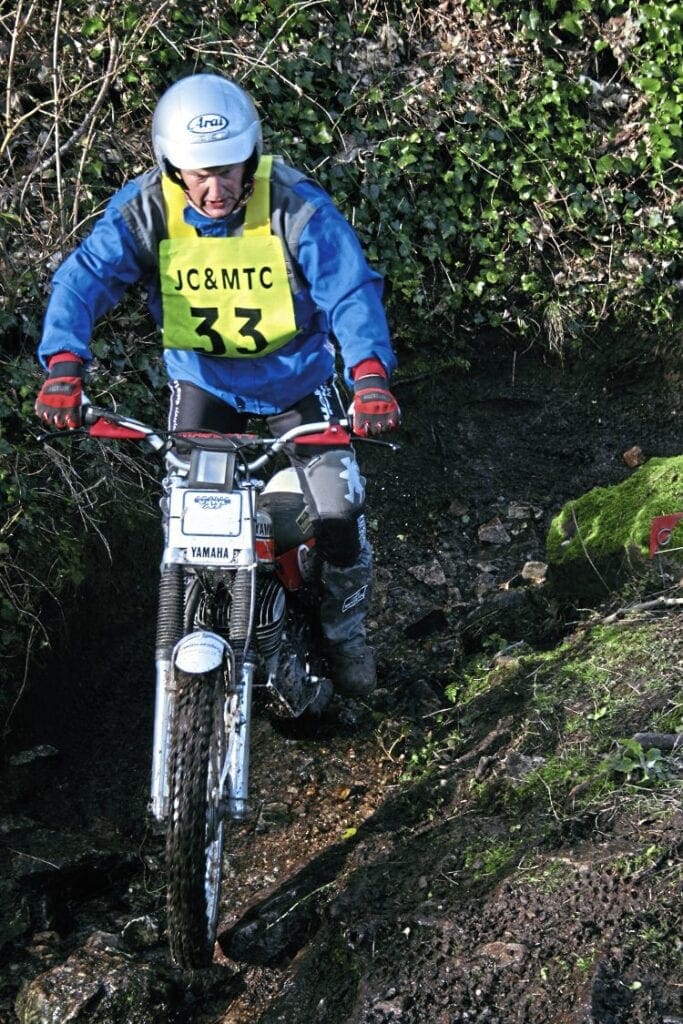 Enjoy more Classic Dirt Bike reading in the quarterly magazine.
Click here
to subscribe.
Comments
comments