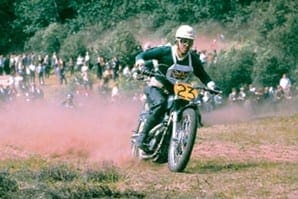 Since the contest started in 1947 it attracted the best of the best to come and do battle for their country on classic scrambles tracks throughout Europe and the spectacle of the world-renowned greats doing team duty in 1964 was one to behold… if they could be seen.
The 1964 contest was a dusty one to say the least, though it didn't seem to matter to the UK team led by BSA's Jeff Smith and including Don and Derek Rickman, Vic Eastwood and Arthur Lampkin. To set the scene, the contest had eight teams competing for honours – alphabetically Belgium, Canada, Denmark, France, Great Britain, Holland, Sweden and Switzerland. Each country was allowed up to five riders all on machines over 350cc and there would be two legs to make up the contest. Each leg would be 15 laps of the testing Hawkstone Park circuit giving two 20-mile races.
Great things were expected in the form of a battle royale between Great Britain and Sweden but things were not to be so easy for the Swedes. With riders' nerves as taught as bow-strings there was a false start with half the entry racing away while the other half were still emerging from the paddock. Vic Eastwood dropped his Matchless and Bill Nilsson went full tilt into him, one team man out for the Swedes. Next to hit trouble was Per-Olaf Persson, actually he hit a signaller attempting to provide position advice and crashed out, though restarted way down the field. Sten Lundin too dropped a bike in the carnage and was out with machine damage.
Not that the UK team was trouble-free as Lampkin had fuel-pipe problems and Don Rickman had a valve issue in the second leg, the three remaining members had to finish or their good showing in the first heat would be in vain. Pit signals were direct and simple… keep going! The three – Smith, Rickman and Eastwood did, Britain finished 12 points ahead and the trophy came to the UK.
• Similar images are available to purchase from the Mortons Archive.

Enjoy more Classic Dirt Bike reading in the quarterly magazine.
Click here
to subscribe.
Comments
comments