Do you make, import or otherwise supply bits and pieces, clothing or other stuff the world of off-road motorcycling needs to know about? If so, then your product could be on these pages. Contact Leon in advertising on 01507 529465 lcurrie@Mortons.co.uk or Tim Britton on 07739 615605 or CDBeditor@mortons.co.uk

Top two-stroke
The world of two-stroke lubrication has moved on a long way from the old days when lots of oil was the way forward.
These days, two-stroke oils are much cleaner burning and can be mixed at very small quantities which is better for all concerned.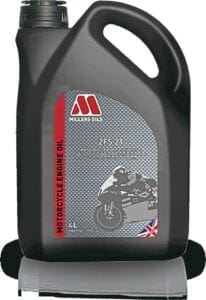 This fully synthetic ZFS – 2T from Yorkshire's Millers Oils is their top of the range oil.
It will, according to their product formula, increase efficiency of an engine thanks to its improved sealing qualities between the piston, rings and bore.
It does this while preventing sticky rings, piston seizure and plug fouling, all of which sounds great. It is suitable for pre-mix and injection systems which pretty much covers the lot, oh and it's blue in colour.
What is it? Two-stroke oil from Millers Oils
Where do I get it? www.millersoils.co.uk and click on the distributor link.
Top top
While actually riding like a world champion is limited to a few, there is no reason why we can't look like a world champion.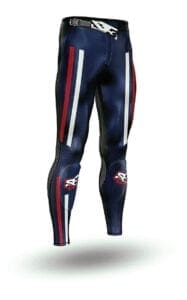 The world champion in question here is 1979 World Trials Champion Bernie Schreiber and this stylish riding top is from the new S3 Schreiber range.
Made from modern fabrics it's easy to wear, easy to wash and stays looking good for longer. It is cut with the comfort of the rider in mind so allows a body to breathe under exertion and dries quickly.
It is autographed by Bernie too, all of which could inspire you to ride better…
To match the tops there are er… 'bottoms' from the same modern materials so a rider stays dry and comfortable.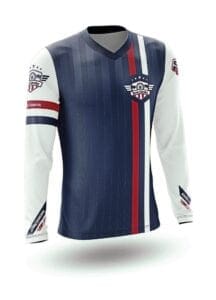 The trials pants also have knee protection and heat pads where a leg might be in contact with an exhaust pipe for instance.
As with most modern gear there is a certain 'figure hugging' to their make-up so, stay in shape…A belt will make sure they don't fall down, there's an integral pocket for something called a smart-phone… so, what are you waiting for?
What are they? They are the latest in riding gear from S3 in Spain.
Where do I get them? From your S3 dealer, go to www.s3parts.com for their distributor network.
View more images and read more News and Features online at www.classicdirtbike.com and in the Summer 2020 issue of Classic Dirt Bike – on sale now!
Enjoy more Classic Dirt Bike reading in the quarterly magazine.
Click here
to subscribe.
Comments
comments