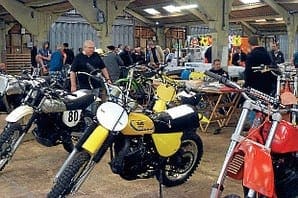 Following the outstanding success of the 2011 International Dirt Bike Show, where over 22,000 off-road enthusiasts crossed the Stoneleigh Park threshold, plans are well under way to entice even more fans to visit the largest off-road show in Europe this November.
A new aspect of the show last year was the incorporation of an 'Evoshock' Moto Jumble held over the weekend only. The classic and Evo/twinshock market sector continues to enjoy rapid growth and rising popularity and, given that the display and moto jumble areas proved to be such a hit, the organiser has determined that they will again make up a substantial part of the show. An historic model display feature in hall three will, over the weekend, lead through to the fully enclosed and covered retail area with free-of-charge entrance for show visitors. Goods sold will be typical of the era up to and including the mid 1990s.
Space for the Moto Jumble will go on sale towards the beginning of August. The pitch costs will be minimal for basic floor-only sites, with the flexibility to incorporate a vehicle from which to sell merchandise.
For stand space booking details contact the International Dirt Bike Show office on 0844 800 6481. As further information becomes available, it will be posted to www.dirtbikeshow.co.uk

Enjoy more Classic Dirt Bike reading in the quarterly magazine.
Click here
to subscribe.
Comments
comments