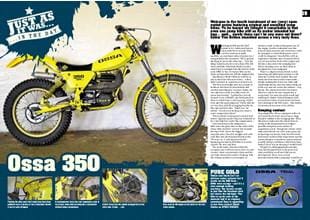 • Editor's intro
Tim Britton sets the scene.
REGULARS
• In balance
The world of old motorcycles is a massive one and off-roading happens all over the place… thankfully
• News
What's happening in the world of old off-road motorcycles? Find out right here
• Original and unrestored
It may seem as though every old dirt bike has been restored several times over but no, there are still some original and unrestored – like this Ossa
• Dirt Products
Looking for something to make your bike go better, or you to look better? Then it could well be here on our products pages
• Smith tales
In the rough and tumble world of professional scrambling respect was earned and friendships formed as the protagonists battled for supremacy
• An hour with…
… some of the stars of televised motocross featured in Ian Berry's new book from Panther Publishing
• Dirt Talk
Have your say about what's going on in the world of off-road and we'll print it in here
• Moto Memories
Its 1971, the race for the number one spot in the 500cc world championship is between two racers, one Belgian and one Swede
• Wright or wrong
Our man joins the debate over big bikes v small bikes and casts an eye over the upcoming Evo scene
HOW TO
• Rebuilt to ride
Jerry Thurston's Montesa rebuild moves on a pace and things start to come together
• Tech talk
Prettying up the plastic bits, repairing them too. Actually, taking pretty poor plastics and making them like new
FEATURES
• Side piper Ceezee
No one will deny the impact Eastern bloc two-strokes like the CZ made on the international MX scene in the 1960s. Here Vic Allan tries out the single porter
• Something special
Take one MXer, add a dash of flair, some serious thought, a bit of ability – make that a LOT of ability – and this will be the result
• ISDT an Olympian contest
A brief history of ISDT time from the very first one to the centenary celebrations being held in 2013
• You need
Oh yes, you do, you need one of these… this is where we dictate to you what you ought to have in your shed… turn to p36 to find out what you should be having in there
• Iconic engines
First in our short series on engines we deem 'iconic' which is an admittedly subjective term but having one used by around 10 makers is a good start
• The roadster to success
The ISDT was much more production orientated 50 years ago and a showcase for the roadster range of a manufacturer like BSA
EVENTS

• World of sport
We've been out and about doing stuff, being there and just enjoying old bikes. Maybe your event is in there
• Stunning Stafford
It's time for the International Classic Motorcycle Mechanics show, with lots of off-road stuff going on
• Fabulous Farleigh
Is this the biggest Twinshock and Evo event in the known world? It might well be, Nick Haskell went along
Subscribe to Classic Dirtbike
Or search for specific bike articles
Or read it on your desktop: subscribe to the digital version of Classic Dirtbike – now available for iPad and Android
Enjoy more Classic Dirt Bike reading in the quarterly magazine.
Click here
to subscribe.
Comments
comments