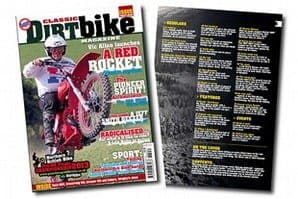 REGULARS
• Ed speak
Our comfort zone.
• In balance
It's a simple world, that of trials riding, so why does the editor make it difficult? It's a rhetorical question, so no answers please.
• News and more news
If it's going to happen, has already happened or is expected to happen it will be in here, but only if clubs, organisers and enthusiasts tell us all about it.
Subscribe
All you need to know about making sure your copy of CDB drops on your doorstep regularly. If it doesn't then make sure you tell us and we'll sort it.
• Dirt products
Got anything to sell to the off-road world? This is where we tell those that will need it all about it but you've got to tell us first.
• Tech talk
How easy is it to fit an electronic ignition kit? Watch the editor having a go and see what you think.
• Smith tales
Man's best friend and its place in motorcycling.
• Dirt talk
This is where your views appear. Comments on what's in the mag, what should be in the mag and help for others. Keep 'em coming.
• Moto memories
The SSDT at the front and back this issue. Mick Andrews on his way to win two in the presigeous event.
• Wright or wrong
Wrighty puts the world of general motorcycling to rights and offers a view on why the modern scene is suffering.
FEATURES
• Rockin' Red Rocket
Vic Allan gets to grips with a stunning Honda that's as close to a works bike as the public can get… we think.
• Original and unrestored
It may seem incredible that an Off-road bike can survive 40 years or more without being restored. Incredible but true for this little Moto Guzzi.
• Where's Armstrong?
Alive and well in the central belt of Scotland, Chris Montignani tells us all about it. Anyone bring the advert reference to mind?
• Heanes Metisse
With no works support British ISDT riders looked elsewhere. Ken Heanes went Metisse, Andy Westlake tells us about it.
• Nearly but not quite
The 1967 ISDT nearly didn't happen for the UK. Our archive feature explains one option the team had for bikes.
• X-Lite under way
Following on from our look at Vesty's bike in the last issue, he was mad enough to let us ride it.
• You need…
… a Jeff Smith Beezer. Our light-hearted look at bikes we say you really need in your shed. Feel free to disagree.
• The young guns
Classic sport is the growth area for younger riders and so it should be too as all us older ones start creaking and groaning. Messrs Chell and Pedder current classic scrambles champs.
• An hour with…
… legends of the USA MX des Nations teams. Norm DeWitt does the listening, the lads do the talking.
• Kramer versus Kramer
Well made, good looking and incredibly fast. Kramers are still little known here in UK sport. We look at two restored as therapy.
ON?THE?COVER
Honda was pretty cagey about letting ex-works bikes loose in the real world. Luckily there are talented people who can overcome such restrictions and build the next best thing. Vic Allan rode it, Nick Haskell photographed it, we printed it.
CONTENTS…
The trials world was about to change when Malcolm Rathmell – captured by Nick Nicholls on Laggan Locks – won the 1973 SSDT in May. Why? One month later the UK helmet law was introduced and the flat-cap era had gone forever. To mark the momentous occasion we've introduced a bit of colour into this originally black and white shot of the famous section.
EVENTS
• World of sport
A whole host of events here… those that weren't snowed off at least.
• Telford tops again
All the best from the classic, twinshock and evo off-road show at Telford.
Subscribe to Classic Dirtbke
Or search for specific bike articles
Or read it on your desktop: subscribe to the digital version of Classic Dirtbike – now available for iPad and Android.
Enjoy more Classic Dirt Bike reading in the quarterly magazine.
Click here
to subscribe.
Comments
comments