Guests, stars, bikes, bits and bonhomie… got to be the Classic Dirt Bike Show 2020, sponsored by Hagon Shocks.
Words Tim Britton Pics Fiona Watson, Tim Britton
Despite the best attempts of Storm Dennis – if you were caught up in the horrendous floods it heralded, I hope you're all sorted now – the Hagon Shocks-sponsored Classic Dirt Bike Show at Telford's International Centre was still packed full of enthusiasts catching up with friends, checking out the latest restorations and pre-season rebuilds, as well as signing up for whichever series they fancied.
Not only that, there were people hauling bits and pieces and full bikes which they'd sourced; discussions took place on how to best improve the performance of what they already had and plans were being made for the future.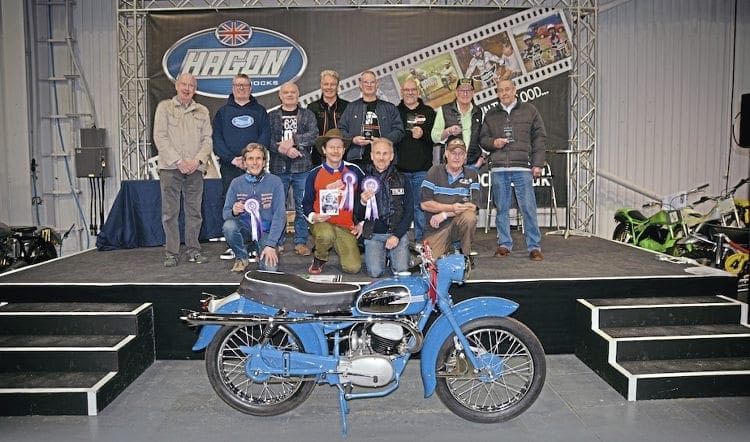 This show has seriously caught the attention of the dirt bike world and covers prettymuch everything from the mid-Fifties to the Nineties.
Inside the halls were machines designed to compete in trials, scrambles, MX, enduro, speedway, grasstrack, ice racing and the odd road racer too, and it wasn't just two wheels as there were sidecars as well… including the first public appearance in the metal of our Enduro Project.
This mad idea to attach an ex-Jack Matthews sidecar to the editor's own Can-Am, and then do some sidecar enduros, will reach fruition later this year… all I can say is I'm easily led where motorcycles are concerned.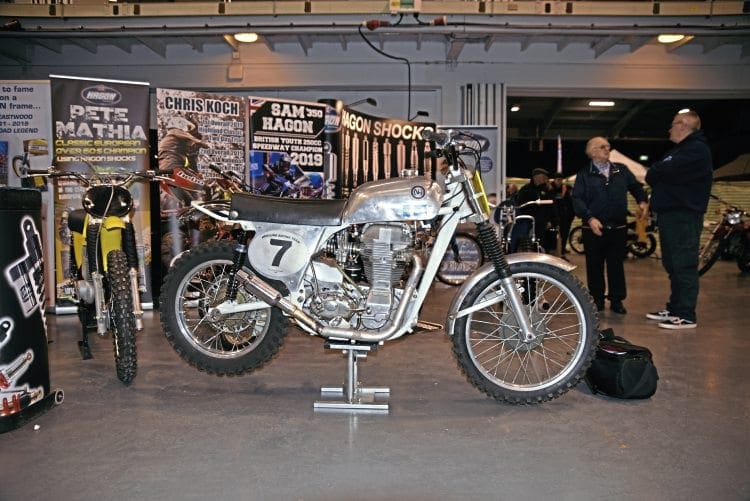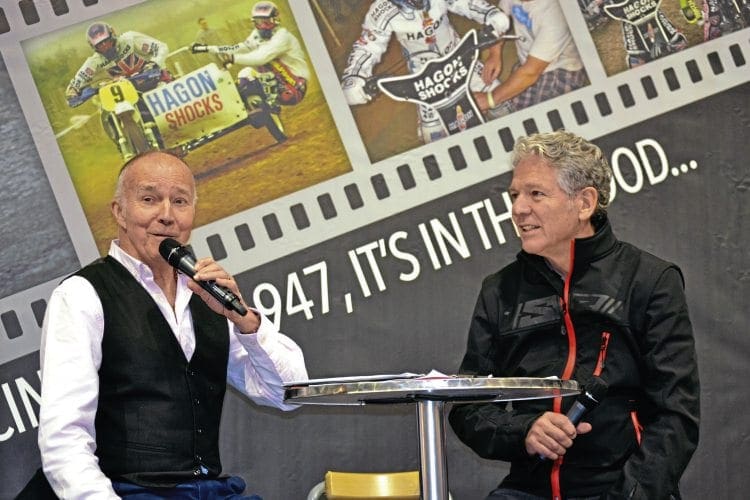 Like many fellow enthusiasts I had a shopping list and even managed to buy some bits on it too, so home with me came a carburettor, some fork seals and engine seals.
What I didn't find, or rather didn't get time to look round for, were the fittings for the oil tank I'm making. This is the problem with Telford, there are so many people to chat to and catch up with that often complete aisles are missed or only given a cursory glance.
The show does have attractions in the form of special guests and for 2020 champions from either end of the Seventies were on hand to be interviewed by Jack Burnicle on stage.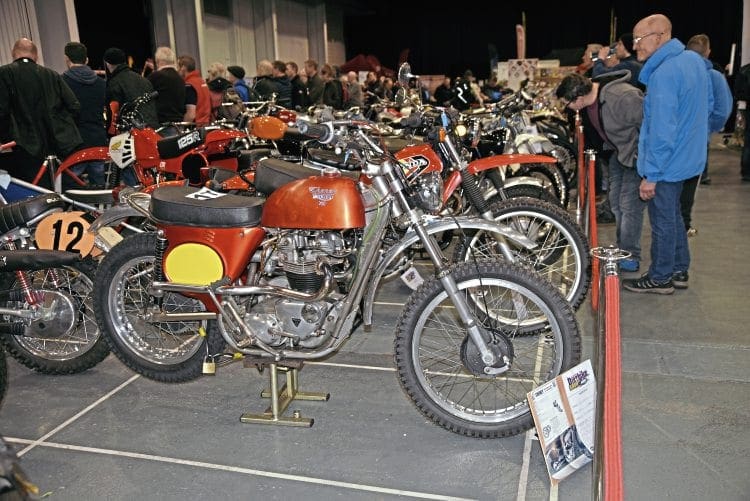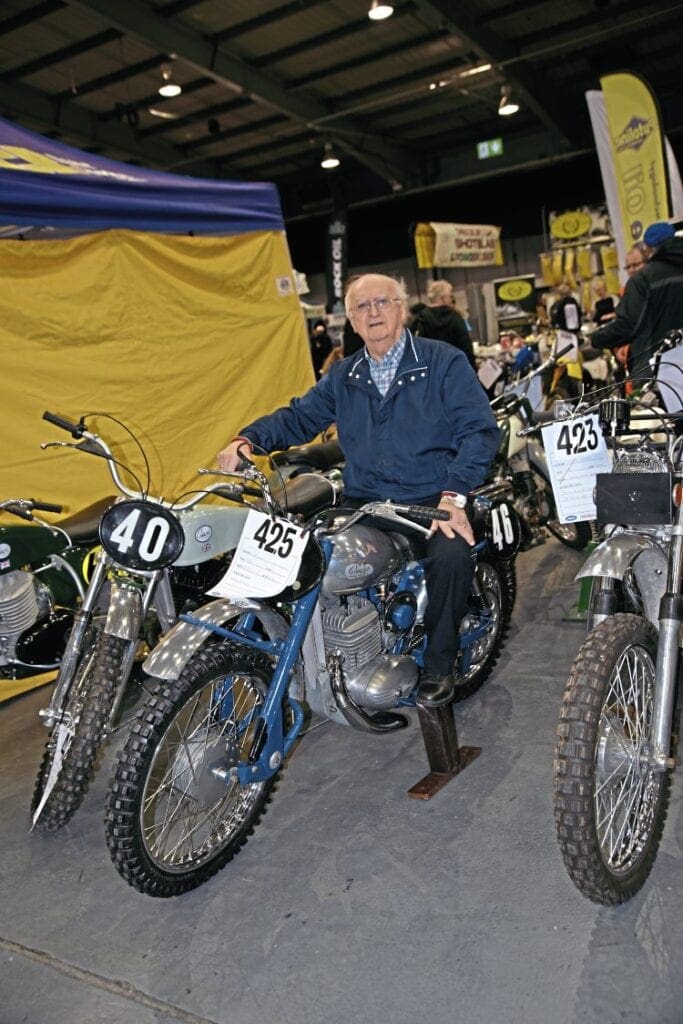 Bryan 'Badger' Goss won his British Scrambles championship in 1970, thus heralding in the new decade. The Yeovil-based rider, dealer and importer had, for years, been classed as a 250 man, yet dominated the 500cc championship on a privateer Husqvarna prepared by Triss Sharpe before taking up the Maico gauntlet and becoming the importer for the German maker.
Signing out the decade was Californian Bernie Schreiber, who burst on the European trials scene in 1978 with some great wins for a teenager, then dominated the 1979 series despite Bultaco having troubles which would see them go under.
Bernie is still the only American rider to win a trials world championship. Both champions were popular with showgoers and their autographs were in high demand.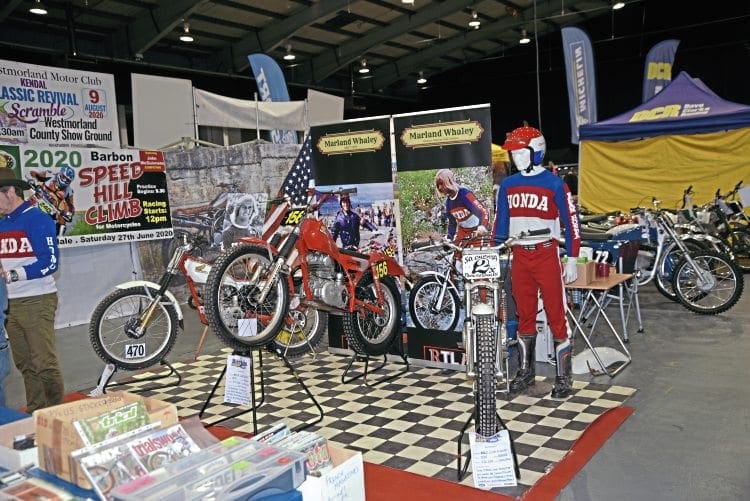 The show always attracts riders of all calibres and alongside club riders were works riders and former works riders all proving the dirt bike world never really lets you go, nor are there any support groups which will help you deal with the addiction… actually having written that I realise there are support groups to help, only they won't cure you but encourage you to embrace the addiction.
Take the lads on the Sportax stand opposite the CDB stand… all sorts of Rotax engines… "that your Can-Am? When you want to make it go faster and squeeze a bit more power give us a call…"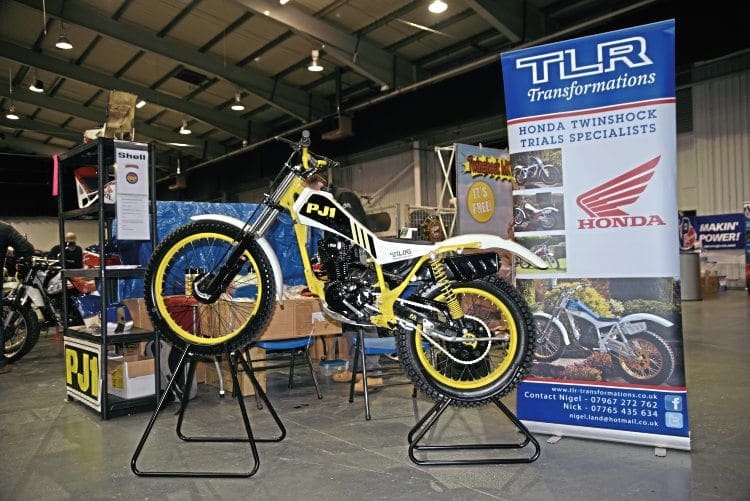 I doubt I'm alone in not seeing everything I wanted to see or meet everyone I wanted to meet, but that is the nature of this show… roll on 2021.
View more images in the Summer 2020 issue of Classic Dirt Bike – on sale now!
Read more News and Features online at www.classicdirtbike.com and in the Summer 2020 issue of Classic Dirt Bike – on sale now!
Enjoy more Classic Dirt Bike reading in the quarterly magazine.
Click here
to subscribe.
Comments
comments