Words and pics Andy Withers at AW Sportsphoto
The Classic Dirt Bike sponsored AMCA British Classic Motocross Championship got off to a cracking start at Yatton Keynall near Bath on April 23.
The Pre-65 and Pre-74 classes were run as one race which produced close racing throughout, particularly in race one.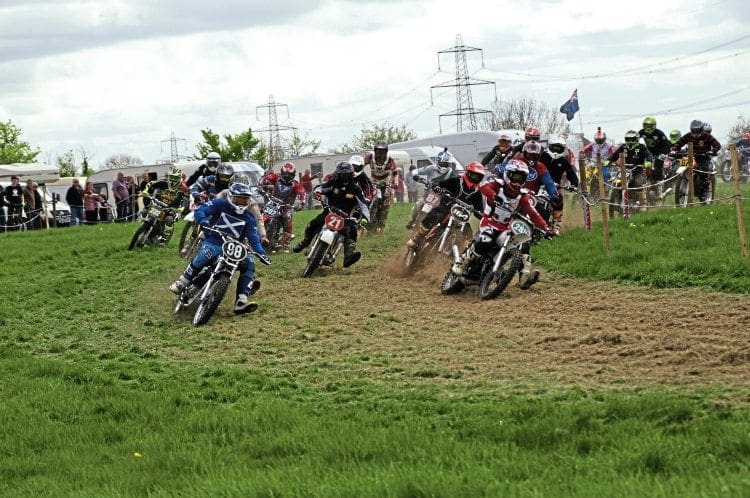 Kris Winder on his 250cc Elsinore Honda won both Pre-74 races after battling with 2016 Pre-65 champion Liston Bell riding a Triumph Metisse who took both Pre-65 races.
Tim Dallaway, the 2016 Pre-74 champion changed classes to the Pre-65 on his ex-Roger Neale Triumph Metisse but his challenge was hampered by a misfire however he did claim Pre-65 second places. Glenn Davey on his CZ claimed third overall as runner-up last year Lewis Bell lost his chain twice in race one to restrict his scoring.
In Pre-74s, Winder pulled out a big lead in race two but was chased home by a host of CZs in the hands of Keith Rice, Keith Best, Andy Stanton and John Littler.
The series is set up for some exciting battles in Pre-65 between Bell and Dallaway, and in Pre-74 between Winder and the CZs.The next round is on May 14 at Acorns Newcastle Under Lyme.
Read more News and Features in the Summer issue (No. 43) of CDB – out now!
Enjoy more Classic Dirt Bike reading in the quarterly magazine.
Click here
to subscribe.
Comments
comments