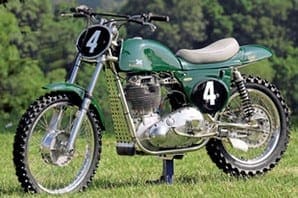 An entire hall at the 19th Carole Nash Classic Motorcycle Mechanics Show, at Stafford County Showground, Weston Road, Stafford ST18 0BD on Saturday, October 20, and Sunday, October 21, is devoted to dirt bikes.
Whether you've got a battle scarred BSA, a hard wearing Husqvarna or a half dead Honda, why not bring it along and give it a well-earned rest on public display at the show. Dirt bikes are a vital part of the Classic Motorcycle Mechanics Show and organiser Classic Bike Shows is keen to make sure they get the prominence and recognition they deserve.
Classic Bike Shows organiser Glynis Roberts said: "This year we've got Yrjo Vesterinen performing live trial demonstrations with Classic Dirt Bike editor Tim Britton to the side of the dirt bike hall.
"They will be joined by Brian Marr, who provided the trials demo at the Carole Nash Great Scottish Bike Show 2012. It's shaping up to be a great show for dirt bike aficionados."
More than 1000 traders showcased their wares at last year's Carole Nash Classic Motorcycle Mechanics Show and this year it looks certain to be larger still – offering an even greater selection of bikes, parts, tools, leathers, maintenance services, insurance, workshop manuals, books, magazines, memorabilia and even gifts.
Club stands are being booked up fast too, more than 60 at the last count, so you can see a bevy of beautiful 1960s, 70s and 80s machines looking their very best.
Gates are open 9am to 6pm on the Saturday and 9am to 5pm on the Sunday. There's free parking on both days and dogs on leads are welcome.
Pre-booked one-day tickets cost £10 for adults, £8.50 for senior citizens and £3 for under 15s. Two-day tickets cost £20, £17 and £6 respectively. Weekend camping costs £40.
You can even arrive on Friday and get a three-day ticket. These cost £30, £25.50 and £9. One-day tickets on the gate will cost £12, £10.50 and £4.
Call our pre-booked discount ticket hotline today on 01507 529529.
To apply to put your dirt bike on display call 01507 529431 or email groberts@mortons.co.uk
To book a stand, call 01507 529430.
For more information visit www.classicbikeshows.com
Enjoy more Classic Dirt Bike reading in the quarterly magazine.
Click here
to subscribe.
Comments
comments