I have finally got round to getting myself a trials iron to hit the twinshock scene again after a 38-year hiatus from my last ride on my 1975 325 Bultaco.
I've bought myself a nice, easy bike to ride, an SWM 350 Jumbo – by all accounts they make a 340 Bult feel underpowered.
Once I got the thing I had a quick spin and it has some serious throttle response. There is a practice ground at Buxton, about an hour away, so a lot of visits are planned and will be needed I suspect.
The good thing is Hillsborough Motorcycle Club have their club meetings in a pub about a mile from my place and they do quite a lot of trials very close to me, including a Kia Twinshock round with a lot of routes such as an easy beginners' route.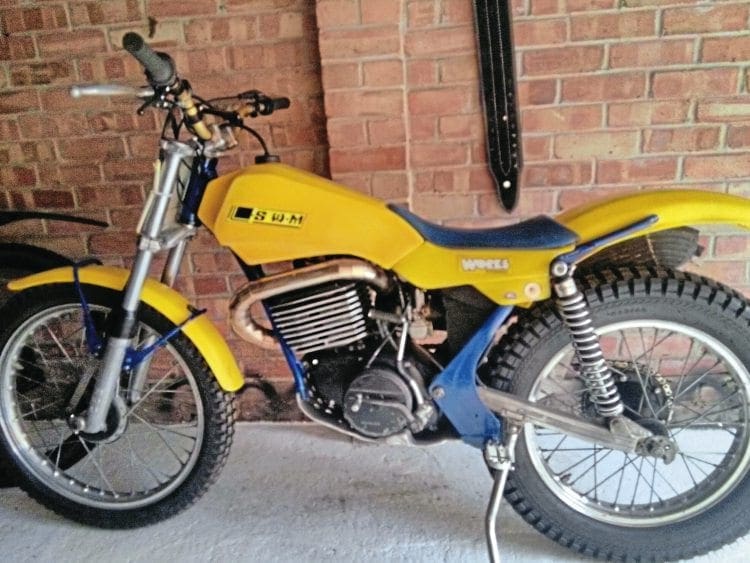 Once I've got the idea of how to ride a trials bike again I'll give it a go. Might not make the Nostalgia next year, but definitely will be there sometime.
My brother John also has a 280 SWM so I might persuade him to go too.
I will do a lot more when I retire in two or three years' time – I'm treating it as my retirement project really.
Geoff Rawlings
Email
See Geoff, I warned you all those years ago when we were on the tools, this sport never leaves you. You can't be cured, so you might as well embrace it. Tim
Read more Letters, Opinion, News and Features in the Spring 2020 issue of Classic Dirt Bike – on sale now!
Enjoy more Classic Dirt Bike reading in the quarterly magazine.
Click here
to subscribe.
Comments
comments