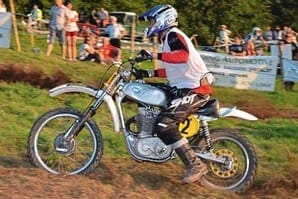 There were classes for all bikes, from Pre-65 through Twinshocks to Moderns in both trials and motocross. There was even a Specials class to accommodate the odd speedway and grasstrack bike!
The Bainbridge hill climb was a 'must attend' event back in the day which was bemoaned by many when it disappeared from the calendar some 30 years ago. When the Bainbridge club chose to resurrect the event last year it had no idea what to expect – and was almost swamped by the number of riders and spectators that turned up on the night!
The venue last year was the traditional one at Bainbridge but when that became unavailable, club members simply found another at Sorrel Farm near Aysgarth, deep in the Yorkshire Dales. And what a venue, with a cracking hill and stunning views.
More than 80 riders turned up to sign on and compete and a stunning evening, following a sweltering sunny day, saw more than 2000 spectators turn out to witness a slickly run event with all riders getting plenty of runs for their £20.
That no one really knew what was going on didn't matter in the slightest, as there was nonstop action, with MC Wilko keeping up a fast-paced, amusing commentary for several hours without knowing the identity of a single competitor.
It was simply a fantastic evening, with a brilliant atmosphere, very reminiscent of how it was back in the day, with veteran riders like John Bethell and Mike Barnes giving their CCMs a big fistful, joined by the likes of Peter Jackson and his snarling BSA Gold Star.
It was so good that even after the final run many spectators simply refused to go home and stayed on to enjoy the sunset and talk bikes.
An amazing event that had many who attended already looking ahead to 2015.
Enjoy more Classic Dirt Bike reading in the quarterly magazine.
Click here
to subscribe.
Comments
comments