What does it take to win the Pre-65 part of our sponsored scrambles series? John McCrink investigates.
Words: John McCrink Pictures: John McCrink and Eric Miles
When Liston Bell won the Scottish Classic Racing Motorcycle Club's Pre-65 Over 350cc Scrambles Championship back in 2011, everyone agreed that the lad could really ride a bike.
However, two particular onlookers who had watched his progress with interest were none other than the late John Bethell and Malcolm Bell.
These two guys knew an awful lot about the classic scrambles scene across the UK and both agreed that Liston really should venture south of Hadrian's Wall and try his luck against the cream of not only English scramblers but the Welsh boys as well.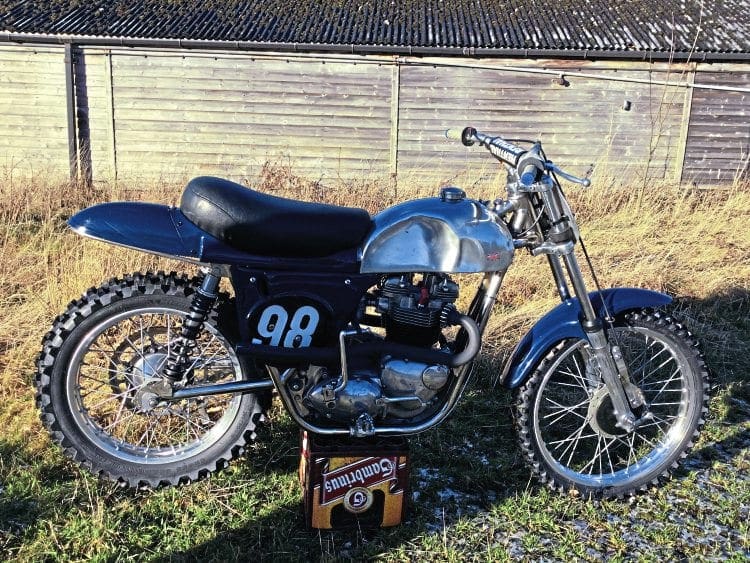 He had already made a big impression at meetings in Cumbria and achieved some excellent results at that most demanding of circuits and the spiritual home of British scrambling, namely Hawkstone Park in Shropshire.
But what John and Malcolm really had in mind was that Liston and his young brother Lewis should have a real go at the increasingly popular and hugely competitive British Classic Scrambles Championship, started a few years back by Dave Gittins.
It wasn't until 2013 that Liston competed in the championship proper and what a first season it was with him finishing a creditable second.
He did exactly the same again in 2014 mounted as usual on a real man's machine, a rip-snorting 750 Triumph Metisse no less!
Hoping for third time lucky, 2015 was actually less successful due to machine problems and some bad luck as well but he still managed to finish a respectable fourth overall in the championship. 2016 was the real defining year for Liston in the British Championships but we'll get to that later.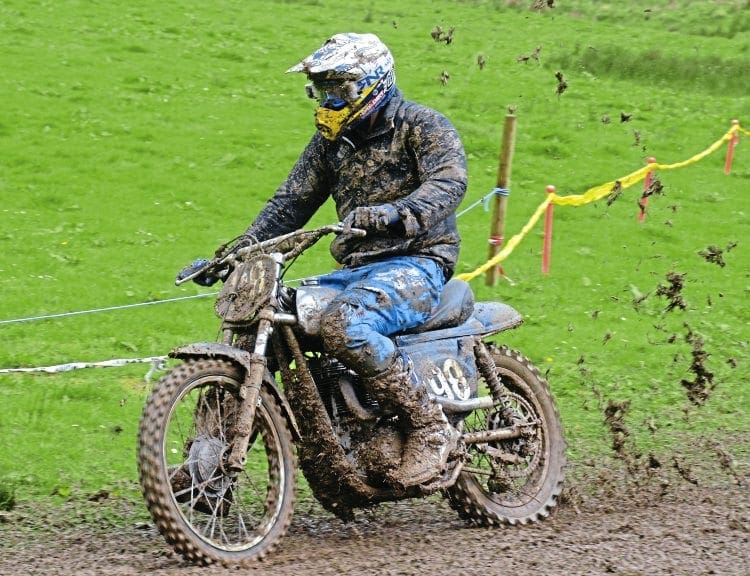 Liston is a modest, quiet and unassuming lad who likes to do his talking on the track.
To see him on the big Metisse at full pelt is a joy to watch. The rorty sound of that massive 750cc Triumph Twin on full song is nothing short of music to the ears of all classic scrambles fans.
Incredibly, in spite of all that horse-power available to him, Liston still seems to be trying to squeeze that wee bit more out of the motor whenever he can.
So-called experts have always reckoned that a big twin is no use on a wet, muddy track, well nobody bothered to tell Liston. From what I've seen, both spectating and being passed by him (several times) in practice, he's even quicker in the wet!
Some of his controlled slides are great to witness and the uncontrolled ones even better! Perhaps the best compliment I can pay young Liston is to compare him to fellow Triumph Metisse rider, elder statesman, scrambles legend, three times Classic European Champion and maestro himself Terry 'TC' Challinor.
Perhaps Liston's natural ability on a bike is 'in the genes' as they say.
After all, his dad Mike is a very able scrambler and both his grandfathers Ian Bell and Willie Dalling were most accomplished competitors in trials and scrambles.
Indeed, Ian was multi Scottish Scrambles Champion in the Fifties and carried on competing late into life. Willie did the same and chalked up numerous trials and scrambles wins over many, years.
So with such a pedigree in the family it's little wonder that Liston and his younger brother Lewis feel that they've got a lot to live up to.
Early in 2016, Liston's bike was being made ready for another attack on the British Championships in the hope that he could go that little bit further and actually clinch the title.
The bike wasn't being prepped by himself but by Lewis no less, not only his mechanic but one of his closest rivals for the championship itself.
This must surely be a great example of true brotherly love when you're prepared as Lewis is to make one of your nearest rival's engines as quick and reliable as possible.
Mind you, to watch the brothers racing each other out on the track, it's pretty obvious that they are both hugely competitive and that no quarter is asked or given.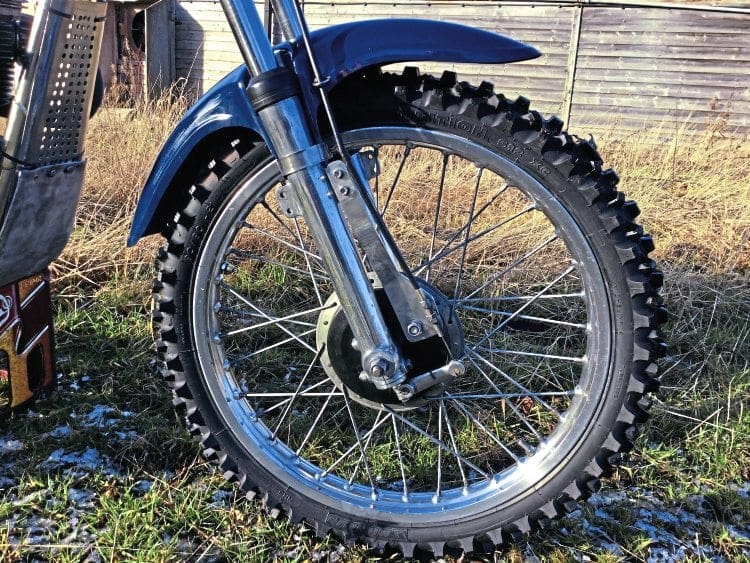 The origins of the Metisse are well known to most folk in the classic scrambles scene but let's just quickly reflect on how this legendary marque came into being.
Today we take for granted readily available and ready-to-race bikes but back in the late Fifties and early Sixties home-brewed specials were the order of the day.
However, things changed in 1958 when two Hampshire-born brothers and accomplished scramblers Don and Derek Rickman assembled a hybrid using a modified BSA frame and gearbox, Triumph engine and Norton forks.
Dubbed the MK1, the bike performed better than it looked and earned the nickname Metisse: French for half-breed or mongrel.
Later versions were much improved aesthetically with innovative use of glass fibre for petrol tank, mudguards and side panels and available in a fairly wide range of colours.
The well designed duplex frame was nickel-plated and could take a variety of four-stroke single or twin engines and the Petite Metisse became available with a choice of two-stroke motors.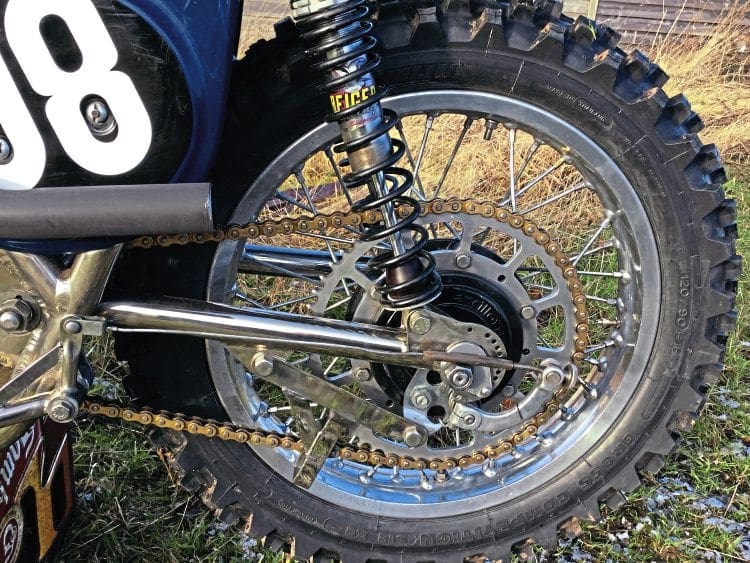 When the production model hit the tracks it soon became the machine most scramblers wanted and numerous wins were chalked up at all levels, both home and abroad.
Almost unwittingly the Rickman brothers became serious motorcycle manufacturers.
They went on to develop road and road-race machines as well and even had a foray into the four-wheel world, producing glass fibre bodied component cars and even sports cars.
But back to the Metisse scramblers and Liston's bike in particular. This bike was bought from ex-Scottish Scrambles Champion Willie Wallace who had planned to race it at the 2010 Veteran Motocross des Nations.
Unfortunately Willie suffered a serious hand injury at work which left him with little feeling or strength in the hand and certainly ruled him out of manhandling a 750 Triumph Metisse round a motocross track.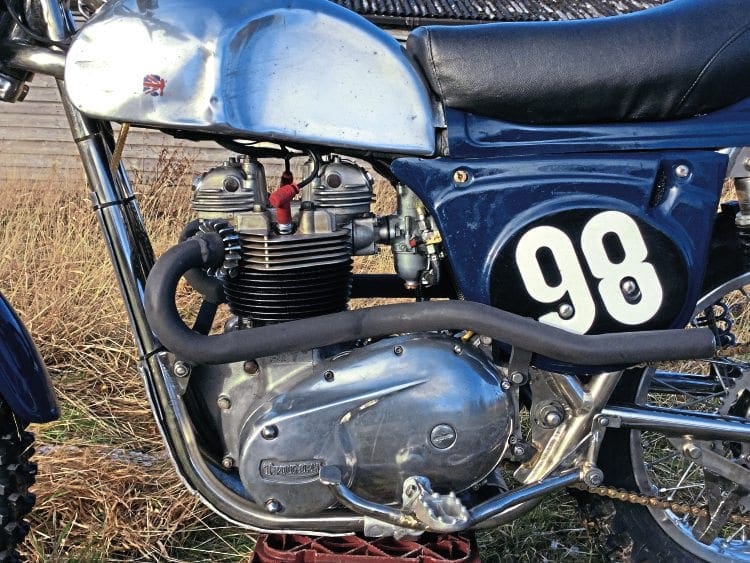 So with common sense prevailing (unusual amongst motorcyclists) he sold the bike to Liston who took to it immediately and as mentioned earlier quickly started to appear in the results both at home and south of the border.
Dave Gittins would definitely approve of Liston's choice of machine because I clearly recall a quote of his in an Australian bike mag a few years ago "Triumph Metisse, simply the best, better than all the rest".
With the previous three years' experience under his belt and the Metisse as well prepared as possible, Liston entered the 2016 British Championships with great enthusiasm and a degree of confidence.
He was aware that the competition was fierce but he would give it his best shot and with a bit of luck might just go all the way. He would certainly try.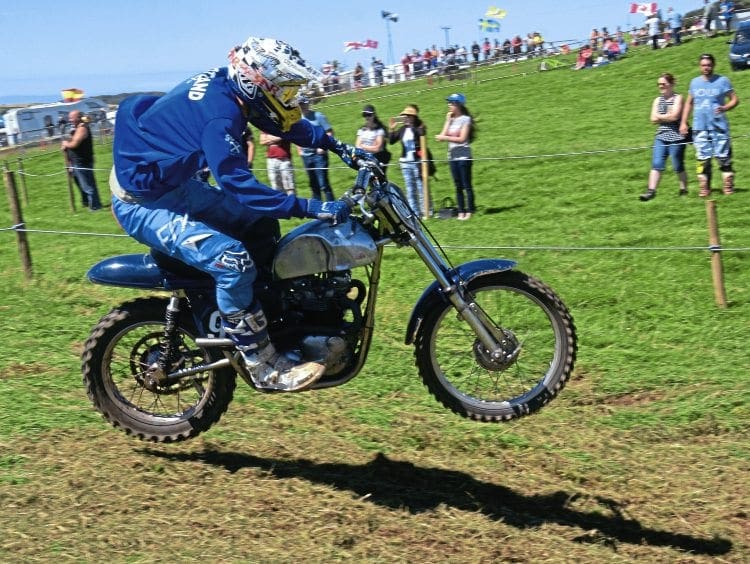 And try he did, chalking up steady finishes and wins at all the rounds on a wide variety of tracks all of which, with the exception of Blencarn in Cumbria, are an awful long way from his home town of Gorebridge near Edinburgh.
All the effort and travelling proved worthwhile because Liston rode really well and did enough to clinch his first AMCA/Classic Dirt Bike British Scrambles Championship.
It also needs to be acknowledged that younger brother Lewis finished a creditable second on his superb 500 Cheney Jawa. Something tells me that Team Bell will be the ones to watch again in 2017 and that Liston might well be looking over his shoulder quite a lot.
So, let's take a look at Liston's championship winning steed? The frame is a beautifully crafted 1996 MRD item utilising an equally well made Wasp manufactured swing-arm.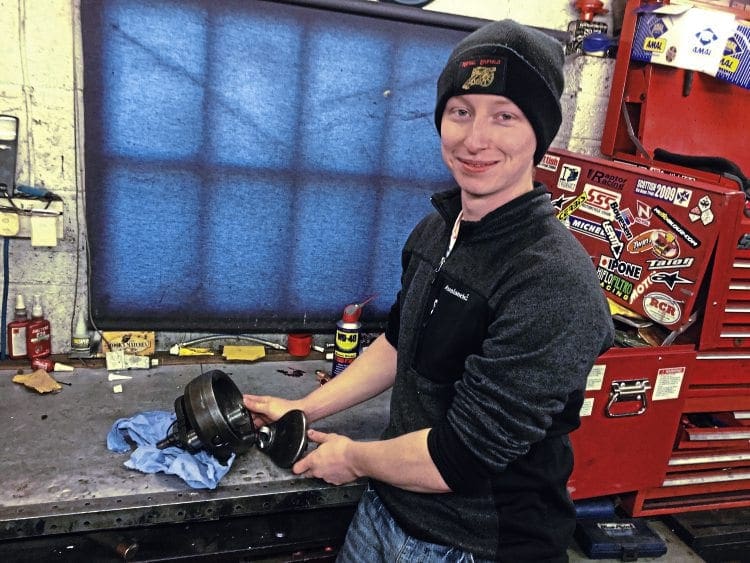 Front forks are period Cerianis which work really well. Rear suspension is provided by the ever popular and acclaimed Reiger units which Liston rates highly and he should know because he does make them work rather hard.
Both front and rear wheel hubs/brakes are Italian Grimeca and do a reasonable job of slowing down this fantastic lump of British made heavy metal.
The power-plant is based on a Triumph TR6 Trophy with a Routt Bore Kit supplied by Burton Bike Bits. These kits were originally designed by Hubert 'Sonny' Routt from Maryland USA.
In 1970 Triumph asked him to produce them so that they could compete in the newly devised AMA 750cc Twin Dirt Track Series.
When he wasn't actually making accessory bore kits for Triumphs Sonny was usually setting records on his own twin-engined drag bikes.
The gearbox is standard Triumph with the popular and excellent NEB clutch fitted. The 750cc motor breathes through a 32mm Amal Mk1 Concentric and is fuelled by standard, premium, unleaded petrol. Sparks are provided by a robust and reliable Rex Caunt Ignition.
All things considered, it's quite a package and as Liston has shown it is certainly up to the job proving reliable throughout the year, until that is late in the day at the last meeting of 2016 and (fortunately) with the championship in the bag the trusty old Triumph twin decided enough was enough for one season and snapped the crank.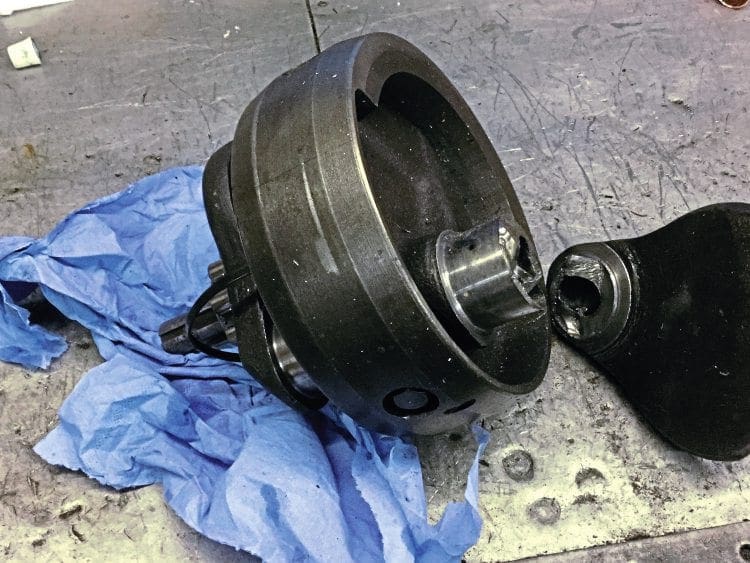 Remarkably the motor continued to run but Liston admits that it wasn't a pleasant sound. Needless to say, during the winter, brother Lewis once again obliged and the engine was meticulously rebuilt and is back in the fray.
It's great to see a younger generation appreciating and enjoying the big old, heavy scramblers that their fathers and grandfathers had so much fun on all those years ago and at the same time providing such nostalgia and excitement for everyone who attends a classic scrambles event.
The atmosphere is heady with the sound of big four-stroke twins and singles and the equally period ring-a-ding two-strokes. Oh and when you get that whiff of Castrol R and a lung full of two-stroke smoke it's quite simply magic. Somebody really should bottle it!
Team Bell are undoubtedly enjoying their scrambling and being among old friends and rivals once again. It's not all about the racing, it's also about socialising with like-minded folk from across the whole country and coming together to enjoy a pastime that they are all passionate about.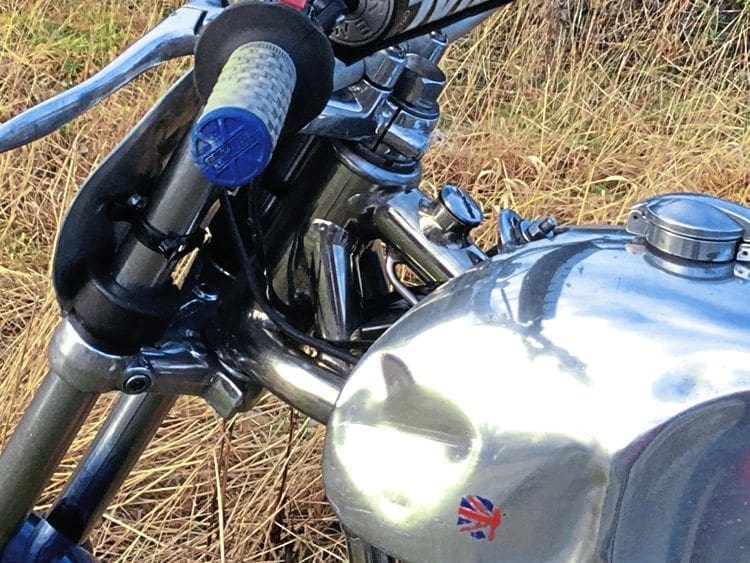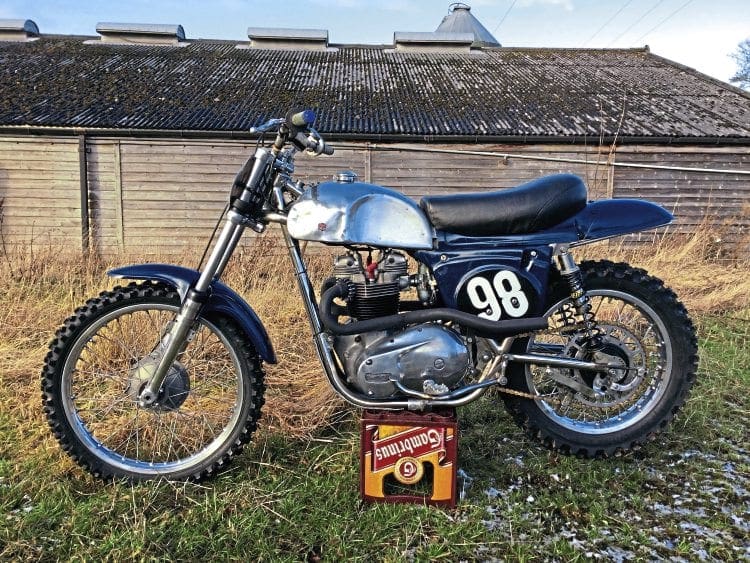 So throughout this summer Liston will endeavour to retain his crown. He knows it wont be easy with so many great riders around all keen to topple him, none more so than younger brother Lewis, but he'll do his best.
There's a still a lot of the season to go and Hadrian's Wall and the Welsh Marches will be criss-crossed many times, but one thing is certain, Team Bell are up for it.
Read more News and Features online at www.classicdirtbike.com and in the latest issue of Classic Dirt Bike – on sale now!
Enjoy more Classic Dirt Bike reading in the quarterly magazine.
Click here
to subscribe.
Comments
comments