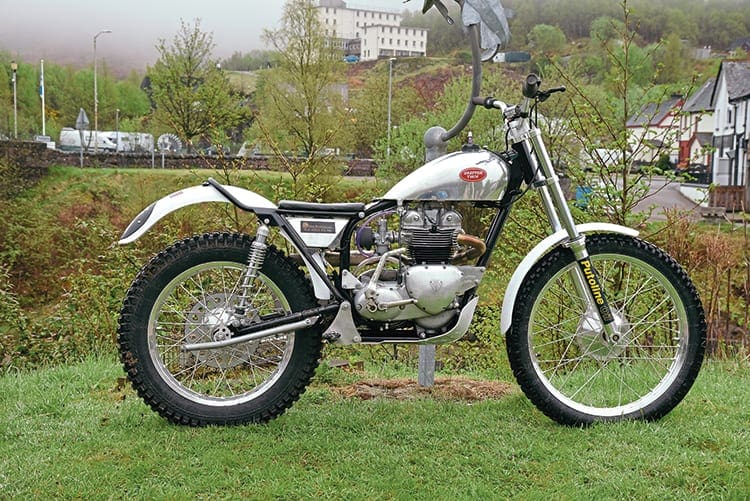 Way back in time when the UK had a decent sized motorcycle industry, accepted wisdom decreed success in trials required a four-stroke single of 350cc or 500cc capacity, with no rear suspension – woe betide anyone who dare say otherwise. The problem with accepted wisdom is there are those who have little time for it and go against it either intentionally or because they feel it doesn't matter.
Looking at the rear suspension aspect to begin with, Royal Enfield works rider Johnny Brittain had little option but to ride a trials bike with rear springing, as that's what his employers made. He was pitied for this as the world stayed rigid… until fate stepped in and one of his contemporaries also tried rear suspension – suddenly the world went sprung.
"Okay," said the pundits "but they're still riding big bikes so we were right…" Nobody mentioned this to Bill Lomas when he rode a 197cc James two-stroke to success in a national trial, or to Roy Peplow when he won the SSDT on a 200cc Cub and the list of instances where the accepted wisdom falls flat goes on.
I'm not sure if 2017 Pre-65 Scottish winner Gary Macdonald had heard those who said 'yes, a good win but it's a lightweight bike…' about his win on a Drayton Bantam. The inference being had he been mounted on a bigger bike, things would be different… And so they were, as for 2018 the Kinlochleven joiner won on a bigger bike, a 350 Triumph twin. It is an interesting concept as both Triumph factory riders of the classic period – John Giles and Roy Peplow – rode unit twin based machines and allowed later that neither machine was exactly brilliant for trials. So, the accepted wisdom became 'Triumph unit twins are no good for trials' except there were those out there who felt otherwise.
Read more in the Autumn issue (No.48) of CDB – out now!
Enjoy more Classic Dirt Bike reading in the quarterly magazine.
Click here
to subscribe.
Comments
comments