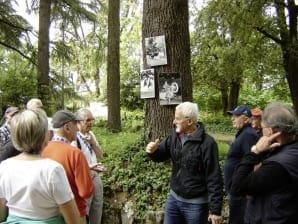 For several years before the Autodromo's construction began, Club Romagnolo (now known as Club Romagnolo Auto e Moto d'Epoca – CRAME for short) was running international MX on the heavily wooded hillside that lies within the extensive infield, nowadays known as the Acque Minerali municipal park. Named after a nearby corner, the landscaped recreation area today consists of gravel paths with views for walkers, an open air cafe and, of course, Senna's famous bronze statue.
Leading British scramblers competing regularly at Imola from 1949 onwards, frequently finishing at or near the front, included Harold Lines (Ariel), Basil Hall (BSA & Matchless), and Bill Nicholson (BSA). Their results were later repeated by Les Archer (Norton), Phil Nex & John Draper (BSAs).
This is not to imply British riders won every race, because competitors from Belgium and Sweden ensured that the honours were shared, but the quality of that era's entry confirms Imola's credentials on the international scene; and also ensured the club was regularly allotted Italy's round of the 500cc world championship, which started in 1952.
The course's steep slopes, similar to those at Rollswood, may not have been Italy's best but, located just 2km from hotels and with every facility on site, the choice was understandable. In fact by 1960 Imola was hosting the Italian 250 MXGP as well. The road race circuit evolved in similar fashion, swiftly achieving global renown; and, by all accounts, respective dirt/road organisers worked harmoniously together.
Recent visitors to Imola will recall that the circuit's main gate is just across the street from the southern end of town. When a club official was asked if the townsfolk ever protested about noise he looked incredulous. Then, breaking in to a smile, he said: "Si, they complain if there isn't enough!"
A run of remarkable reunions
In late May 2014 the third in a series of rider reunions was held, with each function running two years apart. A successful pilot event in 2010 saw a more lavish gathering in 2012, on which occasion the UK was represented by Les Archer, Jeff Smith, and freres Rickman, matched against four Swedish world champs – the late Bill Nilsson, Sten Lundin, Rolf Tibblin, and Torsten Hallman; plus Otto Walz (Germany) and Albert Courajod (Switzerland) and a clutch of ageing Italian 'crossers.
The 2012/2014 reunions ran to similar formats, this article therefore describes how a galaxy of champions coped with a totally unexpected bombardment of hospitality. Both reunions were choreographed by Luciano Costa, dynamic chef d'equipe, and were sponsored by ASI, Italy's well organised national federation. ASI are funded by a levy on every event where bicycles, aircraft, quads, or even speedboats, are involved; i.e. anything with a wheel or an engine.
2012's entourage totalled 30 guests, comfortably billeted in a pleasant city centre hotel, fortuitously within strolling distance of two of the evening's ceremonies.
By 2014, guest numbers had escalated to over 40. In addition to all previous attendees the list now included Dave Bickers (who sadly died just a few weeks later), Alan Clough, Bryan and Triss Sharp, plus the sons of Bill Nilsson and Rene Baeten. Accommodation this time around was a hotel up in the foothills, boasting four swimming pools and five viewing terraces, 10kms north of Imola. With such a high standard, and so tranquil a location, the MX contingent could not stop shaking their heads at their good fortune…
Back on the bus

The reunions' extensive social sessions clearly required a fleet of mini-buses which, aside from undertaking countless trips to Bologna's airport, were required to remain on duty from breakfast through to late evening, Friday to Monday; what a nice surprise therefore to learn that the 'chauffeurs' – club members, and keen MX fans – deemed it a privilege to be conducting such precious cargo around the Emilia-Romagna landscape.
Space precludes a record of every function, but here's a brief itinerary for 2014: 2-mile walk around the original MX track; visit eclectic 50-bike private collection; inspect CRAME's new downtown HQ; admire 45 bikes in the official concours event; enjoy open air banquet and film show; attend the city centre parade presentation and then inevitably, the ongoing round of receptions, lunches and dinners (plus speeches), which included awarding several exquisitely crafted mementoes to yesteryear's champions.
It wasn't until Sunday morning, ironically, in one of Imola's scenic squares, that anyone actually heard a bike running. At this juncture the visiting champions, by now kitted out in original riding gear, were provided with a period MX machine for the parade, its engine thankfully already running. They then followed a handful of affable police riders through the streets to the Cafe Acque Minerali which, in days gone by, was precisely where the starting straight entered the woods. And to the relief of several champions this 2000m gallop out of Imola was the sum total of saddle time to which our anciens pilotes were committed. Let's clarify that last statement; they had no objection to riding of course, but one or two quietly murmured how donning full period riding gear (which in certain cases was even stiffer than its wearer) triggered the odd creak and groan!
On arrival at Acque Minerale, riders changed into civvies and spent a leisurely afternoon beneath the trees… not unlike the Goodwood Drivers Club, albeit with public access. Alongside the cafe, the club had displayed more than 500 monochrome photographs, chronicling a quarter of a century of Imola MX, 1948 to 1973. Captioned in English the photos were a bonus for participants, as well as for dozens of serious MX buffs who'd journeyed from all over Europe. The champions willingly signed autographs and photo albums, chatting with these staunch followers of the sport.
On the former pits and start/finish area several dozen classic scramblers now roared into life, their relatively youthful riders displaying a wide variety of skills charging round the 1000m demo track on Bianchis, BSAs, Bultacos, and so on. Sheer bliss on a sunny, Sunday afternoon.
Norton triumphs at 2014 Imola concours
By prior arrangement Luciano had agreed the inclusion of Alan Wright, Peter Lockwood and John Preston, all part of the UK classic scene. In addition to helpfully lending his own Monark to Sten Lundin, Peter had transported the National Motorcycle Museum's Championship winning Archer Norton for Les; their pukka Metisse prototype for Don or Derek, plus a B44 for Jeff Smith; John was bringing his John Draper type 650cc Rocket Gold Star scrambler. As well as enhancing the parade this handful of British bikes were obvious entries for Saturday's dead engine concours, which was restricted to pre-1975 MX machinery.
At short notice I was press ganged onto the judging panel. Never before have I seen so many different MX machines in one place; how about this for a line-up: Aermacchi, AJS, Aprilia, Ariel, Bianchi, Bultaco, BSA, CZ, DOT, FN, Gilera, Greeves, Jawa, Maico, Matchless, Mi-Val, Montesa, Moto Guzzi, Norton, Ossa, Rickman-Metisse, Sarolea, TriBSA, and Velocette, each in fair, good, or excellent condition.
Senior readers will recall the Miss World contests on television, and how the judges always claimed they were overwhelmed by the challenge. Well, selecting a best motocrosser was only slightly less stressful, but we were at least allowed to kick the tyres if undecided. It's fulfilling to report that all three Italian judges unanimously agreed that the NMM's Archer Norton was best in show, and their immaculate Mk2 Metisse was runner-up – a splendid result for the museum, who'd proved very supportive in loaning three priceless machines for an overseas event. It should also be noted that Les, Don and Derek, weren't too displeased with the result either!
A walk in the woods

Imola Reunion's piece de resistance occurred on Friday morning, during a first day visit to the track. As soon as we arrived we were led into the woods by Luciano and his eager gang. With great care the club stalwarts had strung a 4" high visibility tape marker the complete length (2500m) of the original course, leading off the path through a rocky stream, before going uphill and down dale and eventually back to the finish.
Some of the climbs were simply too steep to walk, but the tape kept us on course overall. Best of all though, whenever we came to what had once been a dangerous descent or a hazardous jump, there, on a tree, were huge photos of Archer, Bickers, Smith et al, negotiating the self-same spot 60 years ago – yet another brilliant touch.
It goes without saying that the champions were knocked sideways by the effort invested in planning this retro-hike. Some Imola citizens, either with dogs on leads, and/or prams, couldn't understand why an assortment of elderly foreigners were so excited by the undergrowth beside the paths on which they regularly walked, but after Luciano explained: "Circuito Motocross," they nodded sympathetically.
Following a contemplative pause at the Senna statue it was a contented clutch of septuagenarians who, some three hours after setting off, descended on the cafe where a cappuccino and bun cost just over a pound! To spend four activity packed days in this company; especially that walk round the course, was a unique experience.
Enjoy more Classic Dirt Bike reading in the quarterly magazine.
Click here
to subscribe.
Comments
comments