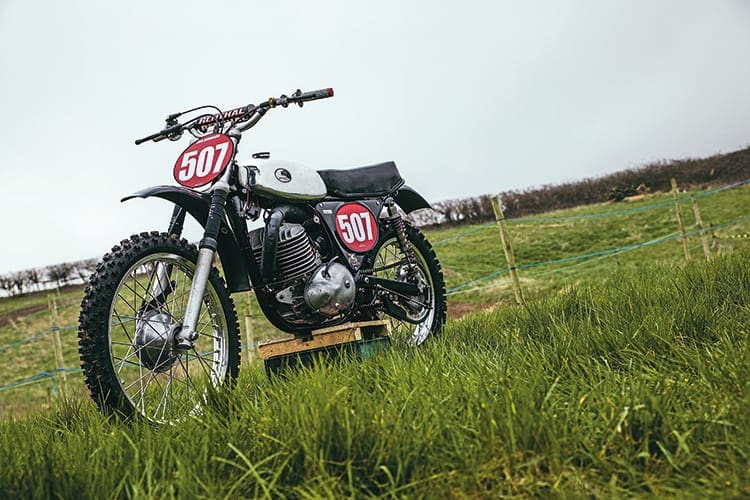 Occasionally academia glances over at our world, though it's generally to offer reasons why we shouldn't be rushing around on motorcycles because they're not safe, are noisy and anti-social. However, there was at least one academic whose attention to our scene was quite welcome, at least for Greeves. This was Dr Gordon Purves Blair and he was part of Queens University Belfast, hence the QUB tag. That said, the tag could easily have been CAD which normally stands for Computer Aided Design, but in this case would have meant Computer Aided Development as Dr Blair pioneered the use of computer predictions for the way a two-stoke engine works.
Now, it doesn't take much more than a glance at the calendar to realise all this development work was done nearly 50 years ago. The world has moved on a lot since those days, though without such pioneering stuff today's thinking would have no base.
The Greeves Griffon QUB pictured on these pages came to our attention when an email from its owner Allen Goddard arrived with a query from him along the lines of 'would we like to know more…'
Along with the photo was a brief specification of the machine which was clearly something a bit special. So, the response was 'yes please and when can we come see you?' Which is how we came to be in Northamptonshire for the classic scramble one fine weekend in April. We'll get the obvious out of the way first, a QUB isn't Pre-65, we know that, the Pre-65 MX club know that and the owner knows that, but the Pre-65 club runs all sorts of classic races, including the Greeves Championship series or a few rounds at least.
Read more in the Autumn issue (No.48) of CDB – out now!
Enjoy more Classic Dirt Bike reading in the quarterly magazine.
Click here
to subscribe.
Comments
comments