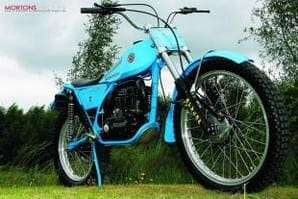 Ian's a motocrosser first and foremost – he races a pre-65 650cc Triumph Metisse as well as modern bikes – but he'd always fancied a go at trials and bought this Bultaco from Steve Garlick, who had restored the bike about two years previously. Now Ian has embraced the twinshock trials scene wholeheartedly and rides as often as he can.
He has ridden a few of the ACU classic rounds and Bill Pye's Sun Inn three day trial – which Ian rates as one of his favourite events. Having ridden there a few years back, I can appreciate why, as the craic in the Sun Inn of an evening has to be experienced to be believed! Ian's next riding ambition is to tackle the Manx Classic Two Day – which may be on the cards for this year.
Simple job
Taking the 175 engine out to 250 is a simple job, Ian explains. It's really just a case of swapping the piston, head and barrel and Steve Garlick sourced the parts and undertook the work when he rebuilt the bike. The frame was powder coated at the same time and had the wheels rebuilt and the fork stanchions re-chromed. In fact though, the bike was in pretty good, original condition and Ian tells me that the chrome brake linings – often a problem area with Bultacos – are still in mint condition.
All the parts for the rebuild came from 'Mr Bultaco' Dave Renham – although Steve modified a bash plate from a later, white-framed model to fit, purely because he had one available. Renham's also supplied an alloy inspection covers for the primary drive cover, to replace the plastic originals.
Bultaco's Model 221 was a relatively rare sight in the UK, though it's hard to tell one apart from its bigger brother, the Model 199. Apparently, the idea behind the 175 was to compete head on with Montesa's 172 but, while Montesa effectively scaled up their 125 model, Bultaco went about it by just fitting a smaller bore barrel and piston to their existing 250. The result, not surprisingly, was a bike that felt like an underpowered 250 rather than a lively lightweight and relatively few were sold.
All in all, Ian's delighted with the bike and can't speak too highly of Steve's workmanship. He likes the 'traditional' handling of the Bult and the ease of obtaining spares and it seems to have enough power to keep him happy for now. Mind you, I wouldn't bet against him eyeing up a 350 before too long. After all, bigger is better, isn't it Ian?
Enjoy more Classic Dirt Bike reading in the quarterly magazine.
Click here
to subscribe.
Comments
comments