Classic Dirt Bike is all about motorcycles made for the rough stuff and those who ride them. It features news and reviews on everything from pre-65 to Twinshock and Evo in trials, scrambles, enduros and motocross. Off-road events from across the world are given full coverage and legendary riders are interviewed too.
It's all illustrated with photographs of classic machines in action, both newly taken and from the extensive Mortons Archive. Workshop guides are part of the package and technical features offer advice on how to get the best out of a classic dirt bike.
So don't miss out – get involved and take out your magazine subscription now!
Summer 2016 – Issue 39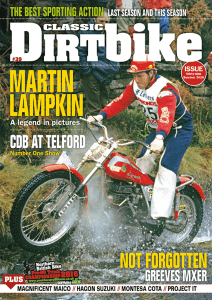 In the Summer 2016 issue…

In Balance Getting spares used to be easy when the factory was open – these days it pays to have a few bits in stock so maintenance is stress free.
News, views and reviews Our regular look at what's happening in the off-road world, events to go to, series updates, perhaps a book or DVD or two.
Original and unrestored A mid 1970s Montesa Cota with original tyres and sprockets on? How come? It's been in a private collection that's how.
Something Special Things rarely come much more special than a bike with a sheet alloy chassis, even better if it's the only one ever fitted with a particular engine.
You need… a HL500 in your shed. Yes, our regular section where we tell you what you ought to be riding or having in your shed, feel free to argue.
Dicko's view This issue Dicko becomes a 'people person' as he listens to those around him at Telford show and realises it is all about the people.
Smith Tales The elder statesman of motocross comes over all philosophical over his analysis of his failures…er…just read the column.
Dirt Talk What are you talking about in the CDB world? All sorts of things as it happens, bring it on we say.
Moto memories This is where we delve into the archive at CDB and pull out a tasty image for your delight. Here we have two riders vying to be world champ.
King of the IT crowd With lots of bits away it was time to strip the engine and see what the damage was inside… a mix of worn-out and pristine.
Dirt Products Got something to help the off-road world go faster, keep their feet up longer? Tell us, we'll put it in this bit.
Tech Talk It seems such a simple idea, find a topic of interest to off-roaders and do a spread on it… this issue is about ignitions.
Sporting world Just because it's been winter doesn't mean the sporting action stops. Okay maybe it does mean we've the chance to use up some held over events but that's the way it is and anyway, summer is on the way for a full sporting calendar.
Show Time! Wrighty's show got a new name The Classic Dirt Bike Show and a new sponsor, Hagon Shocks. Were you there? We were and here's our snapshot of the show and the Classic Dinner Bash.
Forgotten 500 Colin Sparrow reminds us that Greeves did have a few ideas to pursue as the Japanese took over the MX world.
Martin Lampkin – a tribute It's never an easy thing to document someone's life in a magazine. Not so much what do you put in, but what do you leave out?
The winners The Classic Dirt Bike backed classic British scrambles championship has two classes. Dave Gittins tells us all about the two winners for 2015.
A chat with… Mike Barnes. Chris Montignani catches up with 'The Border Raider' and finds out what makes him tick.
Magnificent Maico It is possibly easier to custom-build a Maico to an individual spec now than it was when they could be bought from the factory. Iain Clark's 1974 400 is superb.
So don't miss out – get involved and take out your print or digital magazine subscription now!