Classic Dirt Bike is all about motorcycles made for the rough stuff and those who ride them. It features news and reviews on everything from pre-65 to Twinshock and Evo in trials, scrambles, enduros and motocross. Off-road events from across the world are given full coverage and legendary riders are interviewed too.
It's all illustrated with photographs of classic machines in action, both newly taken and from the extensive Mortons Archive. Workshop guides are part of the package and technical features offer advice on how to get the best out of a classic dirt bike.
So don't miss out – get involved and take out your magazine subscription now!
Autumn 2016 – Issue 40
Current issue: Issue 40 – Next issue: Issue 41 – On sale: November 17
In the Autumn 2016 issue…

In Balance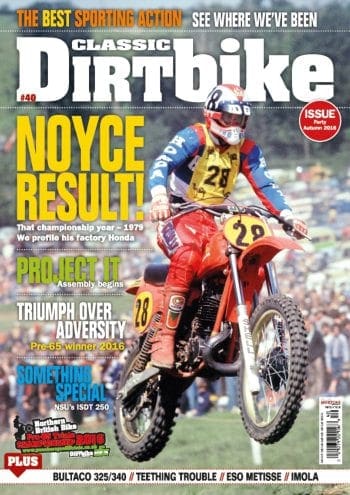 It seems hardly no time at all since CDB was launched onto the off-road world, yet here we are at issue 40… A lot's gone on in that time.
News, views and reviews
Our regular look at what's happening in the off-road world, events to go to, series updates, perhaps a book or DVD or two.
You need…
Our take on what we reckon ought to be in your shed, feel free to disagree with us as this is only our opinion and we'd love your thoughts.
Something Special
A factory machine has always been regarded as something special, so equally a replica of an NSU ISDT machine from the 1950s can be described as 'special'.
Subscribe! Subscribe! Subscribe!
As CDB is subscription-only in the UK you've either subscribed, nicked a mate's copy or seen us at a show. If it's one of the latter two… subscribe here.
Dicko's view
The Dickinson mind wanders a little this issue as he starts on one subject and finishes on another… It's called old age.
Smith Tales
It had to happen, our man has decided to wind down a little. In his final regular column for us he reflects on the past 30 or so gems of wisdom.
Dirt Talk
What're you talking about in the CDB world? All sorts of things as it happens, bring it on we say as it fills a couple of pages and makes a nice spread.
Moto memories
Sadly for the MX world Sten Lundin passed away recently. Our Moto Memories feature is a tribute to the Swede, pictured in action by Nick Nicholls.
EVENTS
Sporting world
Just a taster of action from the sporting world as there are many more events happening than we can fit in a quarterly magazine.
Show Time!
A snippet of time from the Carole Nash Classic Motorcycle Show, or the off-road action at least and Ian Berry went to the Dave Bickers Scramble.
HOW TO
King of the IT crowd
A tale of cranks and cogs as bits of the engine are inspected, forks are tweaked, barrels are bored and the project progresses.
Dirt Products
Got something to help the off-road world go faster, keep their feet up longer or remain more on time in an enduro? Tell us, we'll put it in this bit.
Tech Talk
It seems such a simple idea, find a topic of interest to off-roaders and write about it… this issue is about gears.
FEATURES
The winner
There's not a competitor in the world who doesn't want to find out about the opposition and what makes it tick. We inspect a 500 Triumph that's a winner.
That was the year…
…that Graham Noyce was world champion. Focus of our archive piece this issue is 1979, the year Graham Noyce took the Blue Riband of the MX world.
A champion's machine
On his way to becoming world MX champion in 1979, Graham Noyce had two 500cc Hondas. This is the one he crossed the line on at Namur to lift the crown.
Italian hospitality
Imola reunion: Ian Berry soaks up the atmosphere at this prestigious motocross event.
Extra Special One
Alan Arnott saw Bill Nilsson racing an ESO engined-Metisse in the 1960s – he thought it looked a stunning machine then and convinced the engineer/racer to build his own… 50 years on.
So don't miss out – get involved and take out your print or digital magazine subscription now!